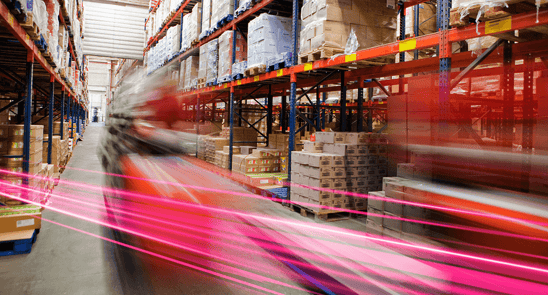 As technology continues to advance and more businesses adapt to Industry 4.0, manufacturers look to automation to increase efficiency in facilities across the United States. Advanced technologies like cloud computing, AI and machine learning, and robotics have been proven to increase reliability and productivity in businesses across the globe.
But many logistics processes require upgrades in order to be ready to adopt advancements like automation. Optimization in a warehouse can increase efficiency, streamline workflows, and increase overall customer satisfaction without sacrificing quality. What can facilities do to prepare? Here are three ways a warehouse can optimize for automation.
Defining goals
As a first step, it's important to understand what you hope to achieve by bringing more automation to your facility. Are you looking to bump up production? Reduce the time it takes to complete repetitive tasks? Increase profits over a period of time?
This step is especially critical in 2021, a year in which manufacturers throughout the supply chain are working to recuperate after slowing business in 2020. According to Deloitte's 2021 manufacturing industry outlook, manufacturers have seen factory orders decline by 22% and industrial production reduce by 16% in the past year. Although 63% of respondents to Deloitte's survey have a positive outlook on improvements for 2021, setting strong goals, such as increasing focus on data capture and analysis, will help U.S. industries identify weaknesses and opportunities for growth.
Documenting what challenges you're looking to overcome and achievements you aim to make is vital to not only reduce roadblocks within your facility, but also to determine what technologies to adopt when the time comes to implement automation.
Upgrade manual processes
Manual processes worked in the past when technology wasn't as heavily relied upon in manufacturing and logistics, but they slow down production today. For example, walking and manually picking orders accounts for 50% of total time spent on these processes in material handling facilities. With a rise in demand for features like same and next-day shipping, upgrading manual processes into a digital format is critical for sectors like retail and logistics.
Although the conversion process can be cumbersome, businesses enjoy so many benefits of digitization, including:
Saving time
Increasing productivity
Streamlining workflows
Having a single access point for information on multiple devices
Increasing interoperability, or the ability for devices to communicate and for data to be seamlessly transferred from one system to another
Updating these tasks may entail importing files onto a network, upgrading to digital inventory maintenance, measuring space utilization, and storing information securely on the cloud. According to Forbes' Five Predictions For The Manufacturing Industry In 2021, technological advancements like these have been proven to improve the resiliency of the manufacturers who adopt them and, ultimately, entire supply chains.
Employee training
Once goals have been defined and technologies have been upgraded, it's time to train staff to understand what you're looking to achieve and how to use the new software or equipment you've chosen. Sharing your goals with staff makes it easier to achieve buy-in on an organization-wide scale and allow them to prioritize tasks according to business objectives.
Learning new software can seem intimidating, so it's important to include staff in the early transition process, keeping transparency throughout, and providing them with education to new processes early on.
By taking time to prioritize software and hardware-specific training, you will equip your teams with the information they need to safely and seamlessly use new programs and pieces of equipment.
The Rittal value chain prioritizes the unity between mission-critical industrial automation enclosures and the technology that powers them. Through our strategic partnership with EPLAN, we help industries worldwide cut costs, save hours of work, and streamline repetitive tasks to help U.S. facilities grow.