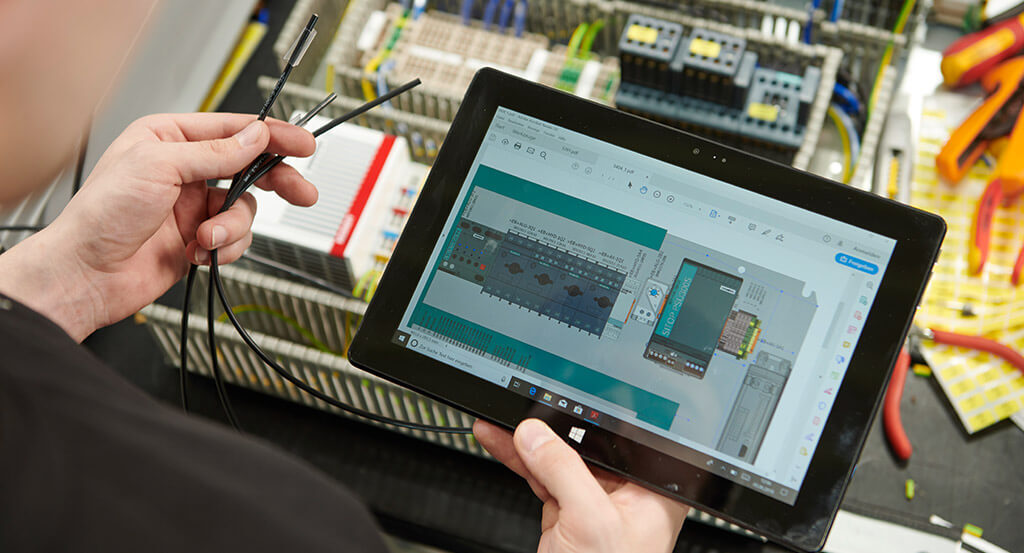 If you want to play the game, you have to know the rules. Think about baseball. What is a double play? What makes a foul ball? You have to understand these elements and their implications to follow the on-field play.
The same principle applies with today's variant-rich manufacturing landscape and the concept of industrial automation, which comes with its own unique set of language and terminology (or rules, so to speak). A firm grasp of the language associated with industrial automation is critical to understanding the steps you need to take to ensure your workflows are optimized, your processes streamlined, and your business model competitive.
With this in mind, let's identify and define 5 key terms in industrial automation that will provide a foundational understanding of this concept and give you the insight you need to assess where you are in your automation journey.
Human Machine Interface (HMI)
Human Machine Interface (HMI) is the ability of humans to engage with machines and associated software systems at any point in the design or production process, though typically this interaction takes place on the production floor during assembly or modification. This interface can take a variety of forms or contexts, including pendant arm systems, PC enclosures, and industrial workstations or consoles.
What makes Human Machine Interface critical in industrial automation is the ability of the user to monitor, control, and alter the tasks inside the machine at all times. This real-time glimpse into a machining or modification processes allows for increased troubleshooting and visibility into the holistic production process, but it also helps protect the user from harm should human intervention be necessary during production.
In the case of Rittal's Human Machine Interface solutions, command panels feature modular and ergonomic design and can be combined with a variety of support arm systems and pedestals for easy integration and reduction of downtime. Rittal's HMI consoles and workstations are equipped with world-class seals to prevent intrusion from humidity, dirt, or other contaminants, and Rittal's HMI enclosures are touchscreen-enabled for out-of-the-box interfacing.
Busbar power distribution
Industrial automation systems require reliable power distribution methods to avoid overloads or spikes that can not only cause injury or system damage, but also result in significant energy loss, repair costs, and production downtime. This is where traditional wiring relying on cable connections and connectors that require loads of space to manipulate have become a thing of the past and busbar power distribution is what helps power industrial automation.
Busbar alleviates the pain points in panel design, engineering, and operation via a number of factors, but each primarily hinges on the high level of customization and unique design capabilities compared to traditional wired panels, which essentially function as a one-size-fits-all hat. Busbar, on the other hand, functions as a snap-back hat where each busbar strip can be specifically tailored to not only industry specifications but also company-specific needs.
This flexibility and ability to maneuver around alterations or changes in production parameters without production bottlenecks is one of the hallmarks of industrial automation. As for the aforementioned value propositions, Busbar allows for:
Reductions in the use of space relative to the panel and enclosure
Easy troubleshooting in the event of switchgear interruption or failure
Time savings during installation, maintenance, and upgrades
Increased operational efficiency
Integration of supplemental panel or enclosure elements to enhance or augment performance
Climate systems
You're likely aware of climate control and its place in the industrial manufacturing space. If you're operating machines or deploying any kind of industrial enclosure, it's imperative to keep the climate inside these enclosures or machines controlled based on the environment. Fans, filters, and exchangers are common verbiage in this application, but where the automation aspect comes into play is increasing the visibility, control, and data/reporting available with a holistic, connected climate system.
Gone are the days of thinking about cooling or heat dissipation as disparate functions. In today's manufacturing space, one hand works in tandem with another in order to create more powerful, responsive cooling systems than ever before. Rittal's Blue e+ line of Industry 4.0-ready cooling systems provide enhanced energy efficiency as well as a variety of features that promote longer component life, flexibility and ease of use:
Hybrid cooling processes with dual parallel cooling circuits
Multi-voltage capacity for a variety of power grids
Remote, IoT-enabled system notifications and alerts
Integration with monitoring apps for mobile devices
Touch-screen displays and use interface
Climate control systems like the Blue e+ also provide real-time data and performance updates for 24/7, 365 peace of mind from anywhere in the world.
AI/machine learning
No, we're not talking about sentient, human-form robots running amuck through society — instead, we're talking about AI (sometimes referred to as machine learning) and its ability to not only automate repetitive production floor or data gathering and sorting tasks but also to react to alterations or changes in production parameters with little to no human interaction based on data and outcomes from previous production sets.
For example, let's look at the automotive industry, which is a space that requires high degrees of specialization and customization based on certain projects, product lines, or customers.
AI and/or machine learning can create schedules to improve efficiency and streamline workflows, source and procure component parts from massive databases, alter production concepts or design parameters based on country or customer specifications, and avoid potential production bottlenecks before they happen.
Each of these automated actions reduces cost and production downtime while delivering a more cohesive final product to customers.
Integrated planning
Design and planning is no longer a process that takes place before production. In today's industrial manufacturing environment, design and planning takes place before production with material sourcing and procurement, during production with variants or changes in component materials or specifications, and even after initial production with modifications.
It then stands to reason that integrated, digitalized planning platforms with ultimate insight and real-time views into each stage of the process are a necessity for plant engineers in particular to wrap their arms around the entire manufacturing lifecycle. The EPLAN platform is just such a solution. Eliminating the manual tasks associated with panel building and enclosure assembly and modification, EPLAN puts total control and insight into the palm of today's panel builders and engineers.
With EPLANs end-to-end efficiency and holistic view of the production process, companies will experience reductions in downtime, increases in energy consumption, and significantly improve ROI.
Learn how our modular enclosures can support your industrial automation goals.

Download our guide

today!