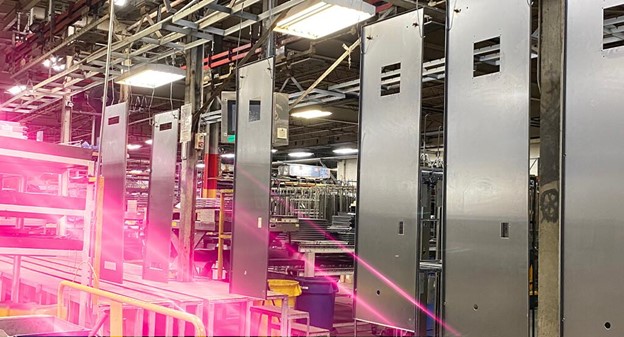 Smarter. Faster. Cheaper.
If there are three things at the top of mind for today's global manufacturers, it's likely some combination of the elements "smarter, faster, and cheaper" with the end goal being to achieve more optimized production. But the challenge for many manufacturers across industries like automotive, food & beverage, and retail & logistics is understanding the necessary steps to retrofit legacy industrial automation systems to better facilitate peak operational efficiency.
The good news is manufacturers who can overcome these challenges can experience significant increases in both product output and business expansion. A recent study by McKinsey & Company revealed automation could raise global productivity growth by as much as 1.4% annually, which means global producers need industrial automation solutions that can be integrated quickly and seamlessly to capitalize on this potential.
In this blog, we'll look at five smart upgrades manufacturers can make to their industrial automation programs to provide a clearer path toward enhanced efficiency, productivity, and growth.
Energy-efficient climate control solutions
To unlock greater productivity and cost-reduction, there may be no better place to start than with industrial control panel climate control and building a holistic climate control system based on energy-efficient operation. Many of today's manufacturers are deploying outdated climate units that lack the Industry 4.0 and IIoT capability to provide detailed analytics into unit condition or performance, or manufacturers are simply using so many climate units that it's difficult to maintain such a large network of industrial air conditioners.
In either case, the result is increased maintenance costs, unplanned downtime, and a shorter lifespan of critical equipment. Combine these challenges with the global move toward sustainable manufacturing practices and new regulations on energy consumption, and manufacturers can find themselves in quite a quandary.
However, Rittal's dedication to creating end-to-end climate efficiency can help manufacturers overcome these obstacles. Our climate control systems achieve the ultimate in temperature stability inside enclosures via Industry 4.0 and IIoT-connected accessories. For example, our Blue e+ line can utilize network connectivity and hybrid cooling engineering to reduce energy costs by up to 75%.
In addition, the power to monitor and adjust cooling outputs and temperature levels with more accuracy, precision, and real-time flexibility help control energy consumption and reduce maintenance costs or downtime.
Considering adding "Industrial control panel" in front of climate control to make it clear we are talking about panel level climate control. [TM1]
Identifying the right enclosure for your application
Industrial enclosures are the foundation of your manufacturing programs. They protect your electronic controls and equipment that operate vital machinery throughout plant operations. However, it is critical to use the right enclosure for the application, and protection ratings, material types and finishes, design and engineering, and type of manufacturing facility all play an important role in maximizing the protection of all electrical components inside enclosures.
The design and engineering of the enclosure may be the most foundational element as it impacts almost every other consideration we just listed — specifically the relationship between design and engineering and the type of manufacturing facility. The most common types of industrial enclosures in today's manufacturing space are modular and unibody style enclosures, and they each bring something unique to the table.
Modular industrial enclosures are cabinets designed to protect sensitive electronic components where panels, doors, or other mission-critical component parts can be altered or swapped without time-intensive tasks such as cutting or welding. Unibody industrial enclosures are designed and engineered as stand-alone cabinets that are ideal for elevated levels of protection and security in harsh manufacturing environments. While alterations on unibody enclosures are not as simple as with modular enclosures, the unibody construction allows for greater panel or wire volume and configuration within the enclosure.
With Rittal's line of modular and unibody enclosures, it's easier than ever before for manufacturers in every industry from food & beverage to automotive to find their ideal enclosure. Our TS 8 modular enclosure provides superior protection and durability for automotive producers, while the VX SE Free-standing Enclosure Systems and its versatile panel and wiring configurations is well-suited for the food & beverage space or material-handling space where flexibility and scalability are key.
Maximizing production floor space
Production floor space and how to maximize the use of space in a manufacturing facility is quickly rising up the ranks of concerns for today's manufacturers. As producers open more production or distribution centers in new markets around the world, companies need industrial automation systems that help them reduce the amount of space taken up on the actual production room floor to help mitigate facility build-out and maintenance costs.
Fluctuations in consumer demand or buying behavior means manufacturers need the versatility and flexibility to scale automation solutions quickly and seamlessly, and enclosures that help maximize production floor space make the task simpler.
The VX SE Free-Standing Enclosure System is just such an enclosure solution to help manufacturers not only reduce the space their automation systems take up on the floor, but optimize the space automation systems take up for previously achievable levels of efficiency and productivity. A single-piece body construction provides maximum stability and torsional rigidity while width dimensions up to 1800 mm may replace up to three bayed enclosures.
With minimal ordering and assembly work due to the solid side panels and roof, the VX SE provides the space-saving qualities and ease of installation manufacturers need to stay ahead of the competition.
Automated panel and enclosure modification
The main challenges for manufacturers in panel or enclosure modifications are the ability to reduce the time and cost of manual tasks, decreasing lead times, and the ability to execute complex, precise, and custom modifications to meet the demands of unique applications. Moreover, manufacturers who still rely on manual modification processes are more likely to encounter errors or downtime due to labor shortages.
This is where automated modification solutions provide significant value in helping manufacturers reduce the time, money, and errors associated with more traditional manual modification processes for enclosures such as drilling, tapping, hole punching, wire processing, and more. Rittal Automation Systems (RAS) help manufacturers reduce labor costs and improve delivery times by automating the modification process which streams and optimizes their machining, assembly, and wire processing.
RAS solutions range from hand tools to fully automated machines that eliminate the manual interventions of industrial panel modification and assembly. Machines like the Perforex MT Milling Terminal, Perforex LC laser center, and smaller worktop machines are engineered for precise cutting, tapping, milling, and wire processing that manufacturers in any industry encounter as today's enclosure applications become more varied and unique. The variety and flexibility of cuts or wire processing these machines provide allows for repeatability and scalability based on customer demands or market forces. The time-saving wire processing machines virtually eliminate the manual processes of wire stripping, crimping, and other time-consuming tasks.
Digitalized design and engineering for a connected value chain
At one time in the manufacturing space, the design and engineering process was fraught with errors in schematic creation, sharing, or alterations due to the manual nature of these tasks, and data from the production to delivery of the enclosure was not easily sourced, stored, or used to close gaps in efficiency or productivity. However, Industry 4.0 and IIoT have created digital bridges between each step of the design, engineering, modification, and assembly process that optimizes each link in the value chain, and manufacturers need a digitalized design and engineering platform that unifies phase.
Designed to provide end-to-end visibility and transparency from controls design through panel engineering to the manufacturing process, EPLAN is Rittal's sister company and a provider of digital software and CAE services for machine, plant, and control cabinet engineering. Rittal's modular enclosures paired with EPLAN's Solutions provide automation architects with streamlined workflows for installing electrical controls, wiring, and panel assembly, and enable system integrators to reduce downtime and leverage greater degrees of customization.
The synchronization of each individual action along with detailed reporting, real-time updates, and data/schematic storage and sharing help companies overcome some of the more common stumbling blocks in the industrial manufacturing landscape. These include increased pricing pressures, skilled labor shortages, delivery pressures, efficient workflows, and more.
Rittal's innovative, forward-thinking approach to industrial automation programs can help you upgrade your infrastructure to a more productive, competitive place in today's global manufacturing landscape.
View our on-demand webinar to learn how Rittal solutions help manufacturers achieve more with less.