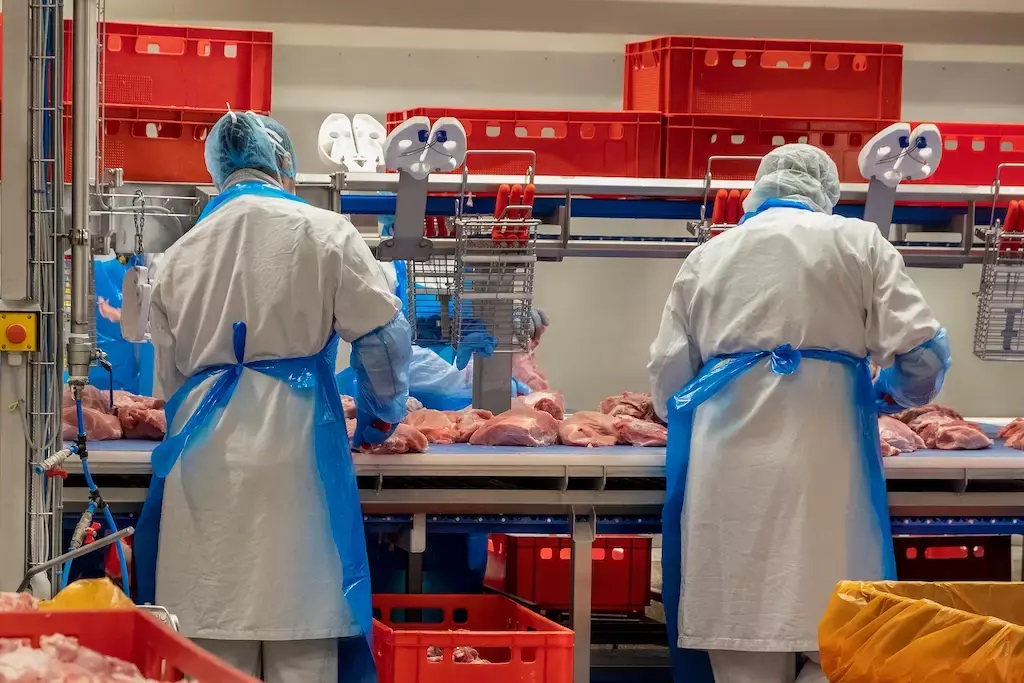 Hygiene is an absolute must in the food industry as is the smooth running of production systems. This is especially true for a major slaughterhouse, Compaxo, located in the Netherlands which processes around 35,000 pigs every week. The company sources its housings and enclosures exclusively from Rittal. These offer robust protection for electronic components and boast a hygienic design suitable for all areas of production.
Hygienic design (HD) is essential for products deployed in the food industry. HD is based on very specific principles. For instance, all surfaces and parts must be easy to clean. They are therefore designed to avoid the accumulation of dirt and dust – roofs have a 30° angle, and all surfaces have a minimum 3° angle. This helps prevent any pooling and allows debris to wash off easily. Moreover, there are other features that safeguard cleanliness in manufacturing: For example, Rittal's HD enclosures have an all-round seamless silicon gasket that can be easily replaced – and is colored blue.
This helps ensure that if any part of the seal should break off, potentially contaminating the food, it can be easily detected and removed. The enclosure hinges are located underneath the seal, simplifying exterior cleaning. Specially designed stainless-steel closures further aid efficient, reliable hygiene. The upper sides of the enclosures are inclined at 30°, which helps liquids drain away easily and discourages employees from depositing unwanted items.
"Rittal gives us enhanced workplace hygiene." – Marco Neijenhuis, Technology Department, Compaxo
Trusted quality
The HD enclosures comply with all U.S. and European standards and regulations that apply to the food industry. Compaxo is a great believer in the quality of Rittal's HD products, as Marco Neijenhuis from the Technology Department confirms:
"Everything is easy to clean. And the IP X9 protection rating effectively prevents the ingress of moisture – meaning our systems operate more reliably."
Tightness tests are performed in the accredited Rittal laboratory, where the enclosures are subjected to 80° C (176° F) water under high pressure. The intelligently engineered surfaces not only mean that cleaning is extremely quick to perform, but there is less need for cleaning agents.
"What's more, we save time and energy, helping to minimize our carbon footprint," concludes Neijenhuis.
Learn more about our products and solutions for the Food & Beverage industry.