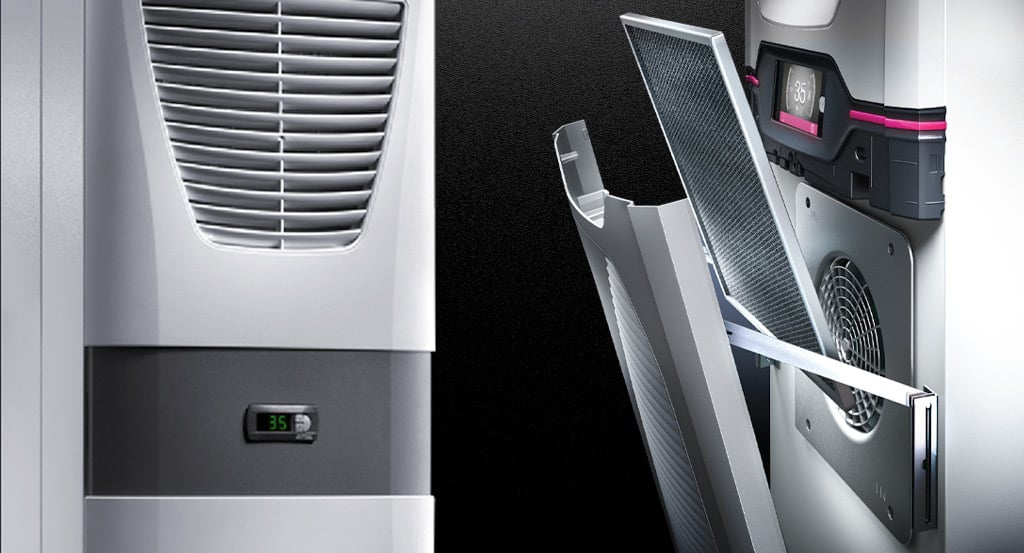 You're at a car dealership debating which two models of that new SUV is right for you. One of the models has more cargo or storage capacity, driver assist features, smartphone integrations, while the other is less expensive, more compact, and is a model you're more familiar with relative to what you've owned in the past.
When it comes time to sign on the dotted line, which way do you go?
Context matters. The factors you must account for buying a SUV such as your lifestyle, needs, and budget are the same for climate control systems in today's industrial automation and manufacturing landscape. Enter Rittal's lines of cooling units and climate systems: Blue e and Blue e+.
In order to understand which line of innovative, dynamic cooling and climate systems makes sense for you, you first have to understand what you need to support your production architecture and then you can determine which cooling system supports those needs.
While Rittal can be an invaluable partner in both parts of this process, let's focus on briefly breaking down the Blue e and Blue e+ lines for a better understanding of the value each product family brings to the table.
Blue e: Applications and benefits
Going back to our car comparison, Rittal's Blue e line of switchgear and electronic cabinet cooling units is essentially the latter example: the more compact SUV that is best suited for a smaller number of passengers or cargo storage while still providing top-tier value in terms of ROI, familiarity, and ease of use or deployment.
In less metaphorical terms, Rittal's Blue e line offers modular cooling and air conditioning units with a 'nuts and bolts' approach. The Blue e line includes TopTherm air conditioners, wallmount units, and chillers to provide exceptional climate control for small or midsize manufacturing or industrial settings with an emphasis on superior plug-and-play capability.
The heart of Rittal's Blue e line includes:
TopTherm air conditioners are the staple of Rittal's Blue e line. These units combine high output with superior energy efficiency and temperature stability controls to not only reduce your energy consumption and costs, but also prolong the life of your switchgear and electronic cabinets. The TopTherm line puts durability and reliability at the forefront with nano-coated condenser coils and integrated condensate evaporators to resist corrosion and reduce maintenance time and cost while maintaining reliable cooling capacity. Available in both wallmount and roofmount and with multiple mounting position capacity and the option for filterless operation, TopTherm provides the flexibility and modularity necessary to remain competitive and cost-conscious.
Wallmounted air conditioners provide the same exceptional level of climate control and cooling capabilities as the TopTherm product but with an emphasis on outdoor applications or those with harsh climate considerations or elements. This line of cooling units is the industry standard for indoor or outdoor enclosures where water is a primary concern, such as wastewater facilities, transportation and toll booths, outdoor kiosks, and food and beverage production facilities. In addition, the use of nanotechnology helps resist filiform corrosion on condenser coils which offers greater energy efficiency. Coated condenser coils do not impact the cooling capacity of the unit and in most cases can be operated without a filter, further reducing maintenance-related downtime.
Blue e Chillers are designed for specific or targeted cooling applications where climate control is still a top priority but without an emphasis on cooling an entire network or system of switchgear panels or cabinets. In essence, Rittal's Blue e Chiller acts as a spotlight where high-efficiency and controlled cooling is concentrated or directed to a specific location or element. Designed for the ultimate plug-and-play scenario, this chiller comes fully-wired ready, equipped with standardized water connections, and is available in two enclosure sizes for four cooling capacities.
Blue e+: Applications and benefits
Whereas the Blue e line in our car buying analogy was more akin to the entry-level SUV, Rittal's Blue e+ line of cooling units and climate systems offers more broad, holistic, and technologically advanced air conditioning units designed for companies with variant-rich production lines and with more complex industrial and manufacturing structures.
What's perhaps the biggest value proposition of Rittal's Blue e+ line is the level of automation and digitalization driving the ultimate in energy efficiency, cost reduction, and elimination of manual intervention from plant engineers or managers.
With Blue e+, gone are the days of monitoring climate conditions on-site or building in human interfacing into production facility workflows, and arrived are the days when the integration of IoT, mobile-enabled capability, and real-time insights and analytics are the driving forces behind an effective climate solution.
Blue e+ also provides a variety of game-changing features, including:
Hybrid cooling

that relies on two parallel cooling circuits working to circulate air throughout the enclosure. The integral heat pipe dissipates heat from the enclosure as soon as the ambient temperature falls below a specified setpoint, providing passive climatization. This inverter technology provides optimal and adequate cooling output at any time with increased energy efficiency compared with more conventional cooling methods, along with increases in the lifespan of the enclosure, the enclosed components, and the cooling unit itself.

Global applications via multi-voltage capability to connect to all standard power grids worldwide. Possible input voltages range from 110 V (single phase) to 480 V (three-phase) at grid frequencies of 50 or 60 Hz, which means a considerable reduction in the number of device variants, but also to a greater simplification of spare parts procurement resulting in enhanced supply chain logistics. The ability to operate around the globe regardless of specific voltage standards means Blue e+ puts companies in a position to rapidly and effectively compete in such a marketplace where streamlining workflows and optimizing efficiency are the name of the game.
Technological integrations that put more power than ever before in the hands of those on the production room floor whose job it is to ensure the right level of cooling and control takes place at the right time for the right application. Other integrations within the Blue e+ series include a touch-screen display, multi-lingual system messages, and standardized communication interfaces to ensure easy integration in a production plant's control systems. In addition, remote and mobile monitoring, data transfer and sharing, and real-time insights to avoid breakdowns and/or maintenance costs increase cross-organization communication and collaboration for a more productive and data-driven end-to-end experience.
The right choice for you?
Climate control is not a black and white proposition, and that is especially true for Rittal's Blue e and Blue e+ cooling units, as modifications and retrofitting can certainly be made to the Blue e line via series of IoT adapters to bring the standard Blue e line closer to the automation levels and digitization levels of Blue e+. But by and large our SUV buying analogy holds true for evaluating Blue e and Blue e+ based on your enclosure and automation needs.
Whichever product or solution makes the most sense for your business, the good news is Rittal's lines of cooling units and climate control systems have you covered.
Prepare to configure your climate solutions by downloading our comprehensive

climate control guide

!