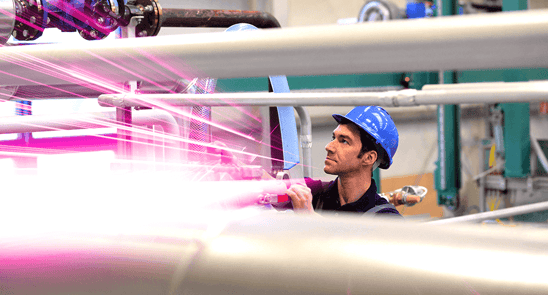 On January 25th, 2021, President Joe Biden signed the Executive Order on Ensuring the Future Is Made in All of America by All of America's Workers. The goal of the executive order (EO) is to maximize the purchase and use of goods and supplies manufactured within the United States under federally-funded contracts and financial aid and to expand on the Buy American Act (BAA).
The Buy American Act was originally established in 1933 to provide a preference for goods and materials produced within the United States and to ensure the continued growth of the U.S. economy. Since its inception, the act has been expanded upon numerous times and is updated regularly.
What does the new EO mean for the future of United States manufacturers? It has the potential to be a tremendous boon for domestic industries. In this blog post, we explore the meaning, benefits, and how to comply with The Biden Buy American EO.
What it means to buy American goods
The EO followed directly after the Federal Acquisition Regulation (FAR) finalized a new rule that defines what makes a product American-made and describes incentives included in the Buy American Act. It encourages the use of both goods and manufacturing materials like iron and steel that are made in America and establishes a price preference for domestically made products and construction materials in federal procurements.
For an item or material to qualify, the FAR states that a manufactured product or material:
Must be manufactured within the U.S.
The cost of its components mined, produced, or manufactured within the U.S. must exceed 50% of its total — this requirement is also referred to as the "component test."
The FAR has historically required large businesses that offer domestically produced products or construction materials to receive a 6% price preference, whereas competitors who buy internationally manufactured products and materials do not receive preferential pricing. And the preferences vary based on a company's size; for example, the price preferences jump from 6% to 12% for small businesses.
Just before the presidential inauguration on January 20, 2021, FAR published a rule regarding a component test for goods and supplies, which assesses the content of a piece of material. Some key details about this rule include:
Increasing the component test threshold from 50% to 55% for end products and construction materials
Setting another component test threshold of 95% for products that are made either predominantly or entirely of iron and steel
Increasing price preferences of large businesses from 6-20% and 12-30% for small businesses
The rule was originally published in July of 2019 and became effective as of January 21, 2021. However, the Biden Buy American EO could change that. Either on or before July 25, 2021, the FAR Council is required to "consider proposing for notice and public comment" a rule to change the FAR'S BAA provisions.
How industries can comply
With the Buy American EO, manufacturing companies are incentivized to buy goods and materials that are produced within the United States. How can you comply and benefit? It's critical to ensure that materials and products like enclosures are manufactured in the United States. In order to qualify, a company must meet two conditions:
The procurement of goods and materials must be intended for public use within the United States.
Items and materials must be present in the United States in sufficient quantities and quality.
When considering items like electrical enclosures to protect your mission-critical technology, research companies that manufacture goods and materials in the United States. For example, Rittal wallmount enclosures and popular freestanding enclosures like the TS 8 are made in the USA at a 105-acre manufacturing facility located in Urbana, Ohio.
To summarize, the "Buy American" plan strongly encourages companies to buy American-made products and materials by providing financial aid to companies looking to buy domestic products.
Every year, the United States spends $600 billion on federal procurement contracts and with the Buy American EO, this will be put to use. It will directly benefit companies that buy American products while providing lucrative jobs for American manufacturers. The plan updates the definition of an "American-made" good and makes sure to dedicate itself to benefitting small to midsize businesses by granting them additional financial aid.
To comply, ensure that the products and supplies you buy are produced in America. Companies like Rittal make it easy — Rittal designs and manufactures leading industrial and IT enclosures, racks, and accessories right here in the United States.
Learn how our US-based Modification Centers can help you achieve end-to-end efficiency!