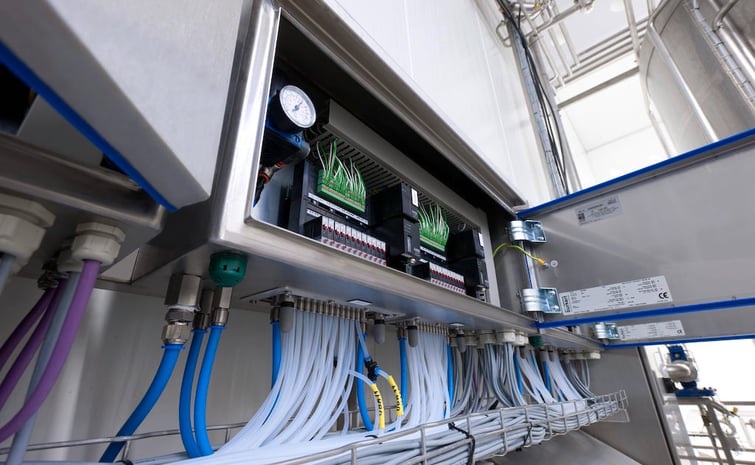 The beer market has seen huge growth recently, particularly with craft beers. By 2026, the craft beer market size and share is set to cross $200 million USD. Craft breweries are cropping up all around the USA. With the help of Rittal's NEMA-rated enclosures, Deutsche Beverage is ready to supply the brewing equipment necessary to meet demand. Deutsche Beverage believes that behind every great beer is a great brewing system. The Charlotte, North Carolina-based company was founded on quality, customer service, and leading technology to help its customers manufacture beer, wine, liquor, and coffee. Here's how they do it.
Adaptability
Deutsche Beverage started out as a construction company. The change to brewery equipment manufacturing was driven by the need for adaptability. The company understands the needs of each of their customers, which includes both experienced and novice brewers. Their solutions are tailored to the size and sophistication of the operation. As their customers adapt to the needs and tastes of the market, Deutsche Beverage helps ensure their control systems and brewing equipment can suit any beverage production need.
Deutsche Beverage produces the tanks, piping, funnels, holding barrels, and other components breweries need to produce the highest quality beverages. The company does not keep a warehouse stocked with any of the equipment it produces. Rather, every order is custom built to a customer's specifications.
Why Deutsche Beverage Chose Rittal
Because the company keeps minimal inventory stocked, they rely on their suppliers to deliver products in a timely fashion and meet specifications every time. Inherently, enclosures may not be a primary concern for brewers. However, the right custom enclosure, when delivered quickly, helps meet the aggressive timeframes customers demand from Deutsche Beverage.
Deutsche Beverage chose to use Rittal because of its customer service and engineering support. Rittal service makes it easy to do business through quick turnaround on quotes, CAD drawings, custom orders, and panel modifications. From cutouts to holes, Rittal makes it simple to suit the needs of Deutsche Beverage and its customers.
Deutsche Beverage also turns to Rittal for sales support. They appreciate Rittal's support staff expertise in beverage applications. This enables Rittal to answer enclosure configuration questions from Deutsche Beverages' customers, particularly novice brewers.
Beyond the enclosure customizability and attentive support that Rittal offers, Deutsche Beverage also utilizes their wide range of accessories. Optimized enclosure design and setups often require air conditioners, cable management systems, and other components. With Rittal as a partner, Deutsche Beverage has quick and efficient access to the industrial automation components it needs - and that easily integrates into the optimized enclosure design. They save time and frustration from hunting through the catalogs of random manufacturers.
How Rittal Enclosures Suit Beverage Operations
Beyond being a good fit for Deutsche Beverage, Rittal's enclosures offer many unique benefits that are ideal for the brewing industry at large.
Rittal enclosures come in hygienic stainless steel varieties, making them easy to wipe down and sanitize. This means that both novice and experienced brewers can rely on Rittal enclosures used in brewing operations and are exposed to frequent washdown environments and need to comply with strict cleanliness requirements to meet the FDA Food Safety Modernization Act (FSMA) standards..
Brewing operations obviously involve liquid. For these situations, brewers appreciate that Rittal offers hygienic design solutions, such as wallmount enclosures with sloped roofs to prevent the buildup of moisture. Enclosures also protect equipment controls — such as those for temperature monitors and mixers — from the environment inside a brewing house. This extends the life of the equipment in which a brewer has likely invested much money.
However, one of the best ways that Rittal's enclosures aid Deutsche Beverage's customers is by staying out of the way. Beverage producers do not want to have to spend time worrying about their enclosures. If it's at risk of failure, or even just in the way, it's an annoyance they would rather not have.
Because Rittal's enclosures come in a wide variety of sizes, they allow setups that separate uses. Control panels can be small, and unobtrusive cable runs can connect them to larger enclosures that hold server equipment and related modules.
Furthermore, Rittal provides enclosures that easily bay together and stand out of the way, freeing up more floor space for brewing operations. In fact, as brewing companies grow, one of the factors that they find inhibits their expansion is merely running out of floor space. All that craft beer requires holding someplace, and if too much space is occupied by enclosures, less is available for holding finished brews.
Even though Rittal's enclosures are feature-rich, modular, and delivered on time, another element that both Deutsche Beverage and their brewery customers appreciate is that the cost of Rittal's enclosures are lower than competitors' prices. That means that Deutsche Beverage can deliver low-cost, high-quality brewing solutions to all of its customers.
Conclusion
Deutsche Beverage counts on Rittal to quickly deliver modular, customized enclosures for beverage solutions. Brewers rely on Deutsche Beverage to help them grow their business and ensure continuity of operations. Rittal supports Deutsche Beverage and its customers every step of the way.
Whether it's lagers or IPAs, Rittal's enclosures and related accessories make it easy for brewers to get set up and start brewing.
Download our Modular Enclosures Buyers Guide to learn more!