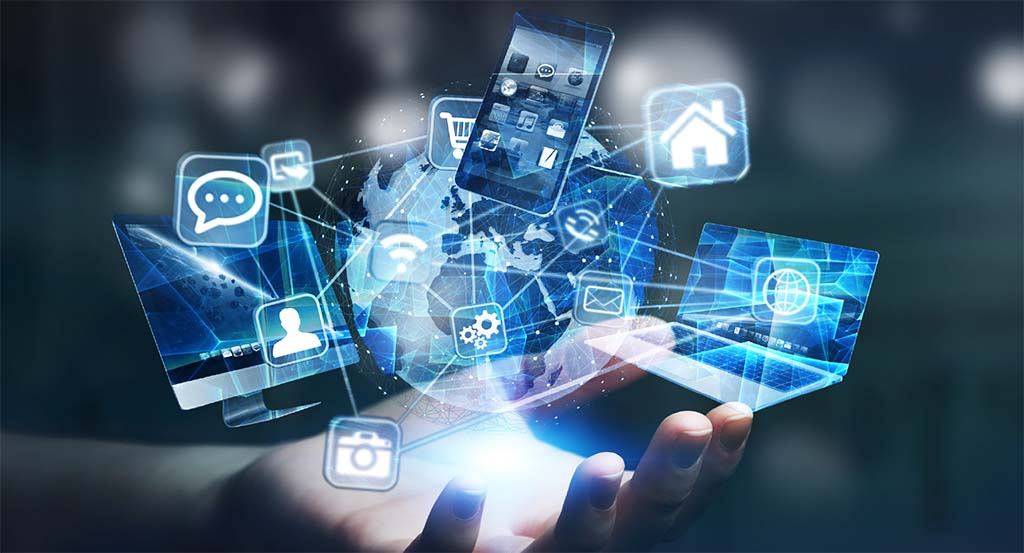 "Experience is the best teacher."
Julius Caesar is generally credited with this wise saying, although many have lifted it over the centuries. Yet, even today, it carries special significance when it comes to Edge computing.
Today's data-heavy applications and storage needs demand proximity to connect and interact with machines. Nothing beats the speed and accuracy of Edge computing. And, although a relatively new advancement in technology, Edge computing has been around long enough for a lot of trial and error … and to gain wisdom from that experience.
Although Edge installations can be set up in numerous ways — heavy security/light security, monitored/unmonitored, etc. — when efficiency is the goal (and when is it not?), we can learn a great deal from real-world experience.
Success Stories
Edge deployments are self-contained and modular; they are stand-alone installations in non-IT spaces. From a high-level perspective, all Edge installations look the same – a small, standalone application deployed at a very local level. However, they are far from uniform. Each requires a different solution based on needs and priorities, as the examples in this article show. These are not scaled-down versions of traditional data centers with standard requirements and procedures for building them. Although an Edge installation will support all the traditional components of a larger data space (power, cooling, security, etc.) each is unique to the installation environment and application demands.
Please Note: For privacy purposes, the names/locations of the following examples have been removed and replaced with a name that generally describes that Edge installation.
Edge of the City
A large municipal police department's primary requirement was security for the Edge installations within individual police stations. The stations varied from old to new, single-story to multiple, some with IT-dedicated rooms, some without. Once inside, however, was the need to provide significant improvements of existing set ups with minimal disruption to network operations.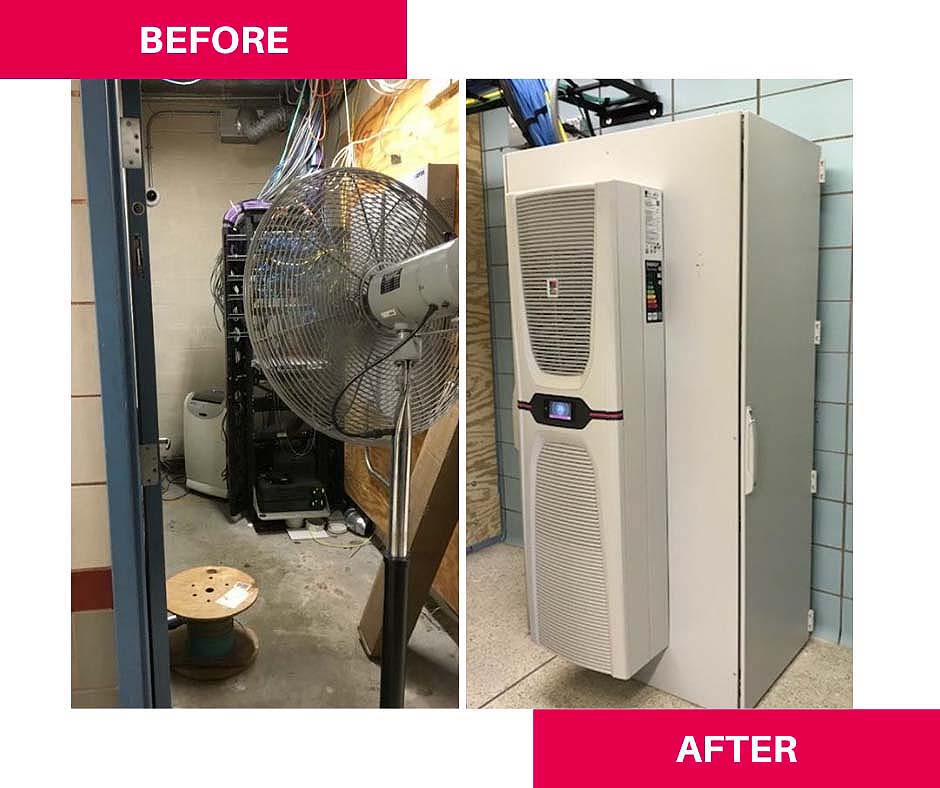 As the photos show, the new IT cabinets needed to protect against contaminants and also have enclosure-based climate control. The solution — cabinet size and configuration, dedicated climate control, IP55-compliant, cable management, rack mount servers and storage — is clearly based on needs.
Edge in a Box
A global pharmaceutical research company's primary requirement was a flexible and secure installation. Typically located in multi-tenant office buildings, they leased spaces which could be vacated depending on a variety of circumstances – remote employees, consolidation of multiple locations, rapid response to new research opportunities, etc. In this era of `New Normal' portability of the installations was key. Also, as a global company, elevating the need for system configuration repeatability regardless of location was key.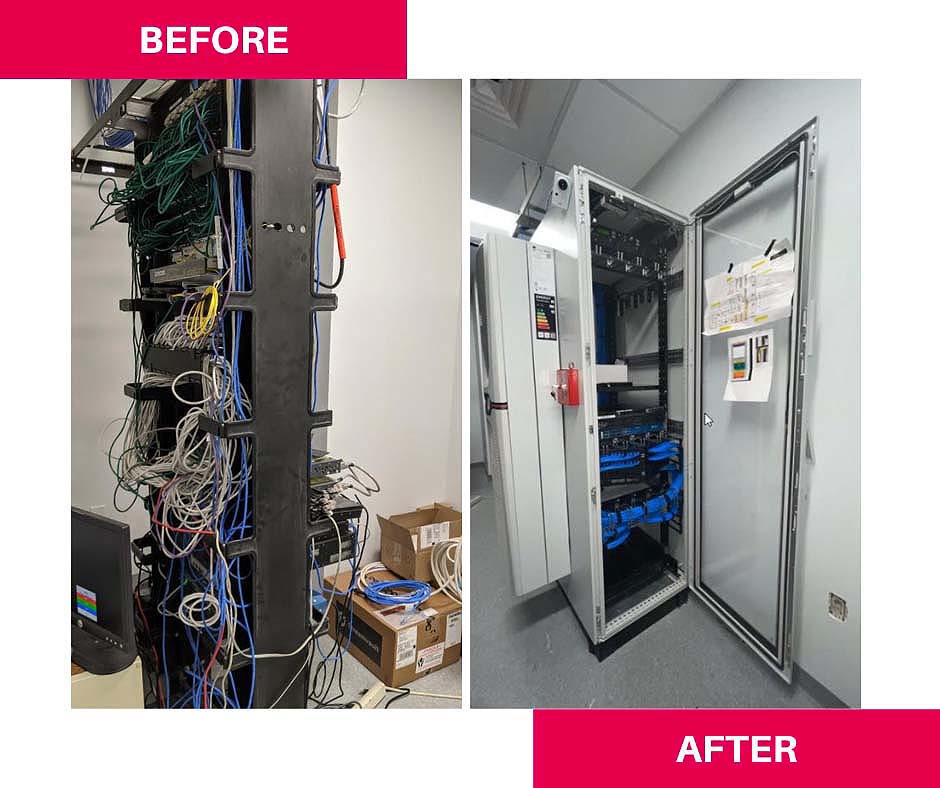 The new IT cabinets include enclosure-based climate control and enclosure-mount fire suppression. The solution enhanced electronic access control and component monitoring, supported low to medium cable density, and included enclosure-mount UPS. Efficiency in this case means portability, repeatability, flexibility, and security.
Edge at Work
A global automotive manufacturer's primary requirement was following the highest level of environmental protection. Within an automobile assembly plant, they also needed the installations to be portable and have comprehensive monitoring.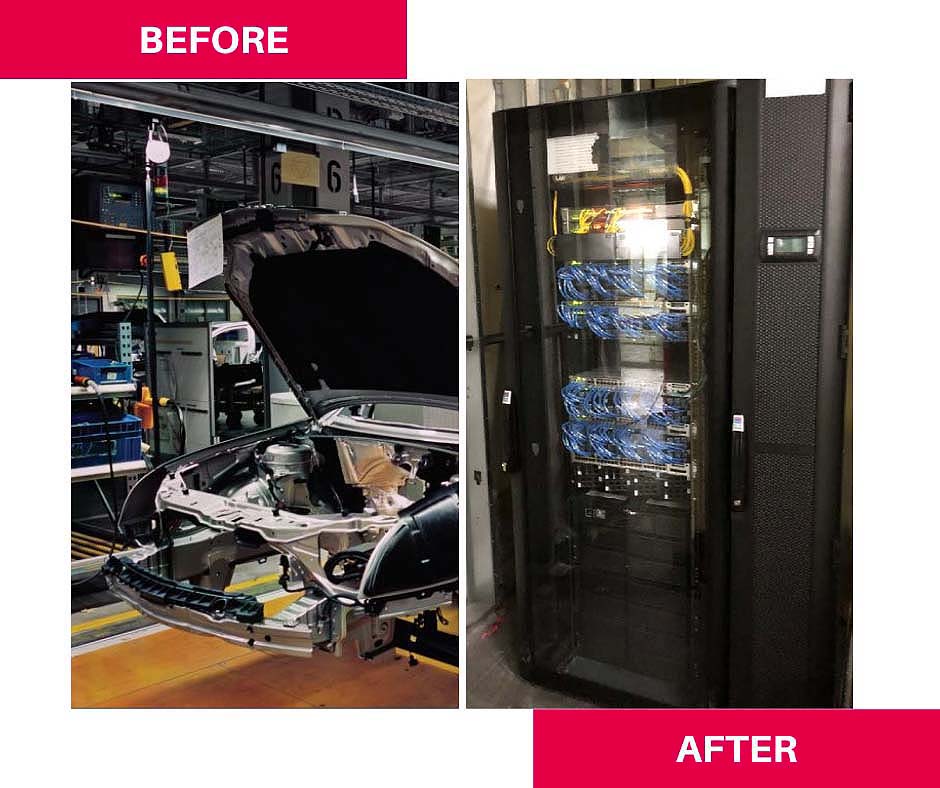 Previously there were no installations within this auto assembly plant. The new IT cabinets needed to protect against industrial contaminants (IP55 and NEMA 12 compliant), include close-coupled heat removal (12kW in-row cooling), support a medium density IT load (10kW), and have complete environmental monitoring (temperature, humidity, vibration).
Lessons Learned
The locations of these Edge installations vary, but none (by IT standards) could be considered stable, safe, controlled environments. That alone adds some challenge to installing an efficient deployment, but by no means is any situation impossible for an Edge deployment; some just require expertise that comes with significant experience.
"Efficiency," when it comes to Edge computing, is not about saving energy or reducing installation time, although they are certainly important. It really is about all criteria being met for a particular footprint, much of which may not even be known by the customer prior to contacting a stand-alone Edge data center partner.
An experienced partner should not only select the most cost-effective IT enclosure solution for each Edge application, they should also ensure that "Day 2" (the day after installation) is smooth, seamless, and goes unnoticed by anyone in and around the footprint.
If you are getting ready to move to the Edge this year, start by reading The Future of Edge Computing — Benefits for 2022 and Beyond.