Closed Loop Cooling Solutions for IT Enclosures
Every data center Facility Manager knows that one of the biggest factors influencing uptime is the effective removal of heat being generated by the equipment – and their job is to remove it. There are a number of cooling options available to do that, but this makes it tough to identify the right one for their specific needs.
This post provides an overview of the features, benefits and best applications for closed loop cooling systems, one of the most effective and efficient methods for ensuring optimum equipment performance and maximum uptime.
How a Closed Loop Cooling System Works
A closed loop system – working in conjunction with a close coupled configuration – isolates and removes heat from inside an enclosure, preventing mixing with ambient air. Considered "in-row" cooling, these systems draw in heated air at the sides and rear of the enclosure, pull it through a close coupled heat exchanger to remove heat from IT Equipment (ITE) cooling the air, and returning back to the front of the enclosure and the ITE intakes.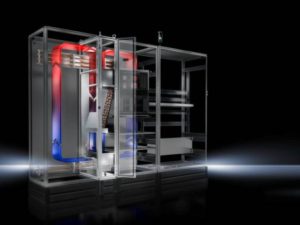 A closed loop cooling system works completely independent of any pre-existing room level climate control. In other words, the enclosure and the heat exchanger work together exclusively, cooling only the equipment in the enclosure, rather than having to contribute to overall row or room cooling.
Image: The Rittal LCP closed loop draws in the air at the sides at the rear of the server enclosures, cools it using high-performance heat exchanger, and returns cooled air back to the front of the server enclosure.
Benefits of a Closed Loop System for Rack and Row Solutions
There are several benefits of a system that focuses heat removal at the enclosure and row level:
"Cleaner" cooling.

With solid doors (front & rear) installed on the ITE enclosures, heat removal is rack-based. No dust, dirt or ambient moisture from outside the enclosure is introduced into the loop, helping maintain peak equipment performance

Reduced costs.

A closed loop system constantly monitors and regulates operational parameters to maintain optimal heat removal and temperature. Compared to a potentially unbalanced room




based system constantly trying to regulate temperatures, a close coupled system can provide improved energy efficiencies and cost savings.

Ideal for heavy thermal loads.

Whether supporting a single enclosure or multiple footprints in a continuous row,

closed loop systems more effectively extract heat in high density applications, even in extreme temperature conditions, removing the heat directly at the point where it is being generated

.

Need-driven operation.

Closed loop systems power down when the temperature inside the ITE enclosures reach a predetermined "ideal" temperature, reducing the unit's duty cycle (and, in return, reducing energy costs), unlike traditional room-based cooling systems, which are "always-on"

Equipment performance

. Closed loop systems maintain the ideal temperature inside the enclosure, helping ensure both the performance and lifespan of the equipment.
There are a variety of facility and operational conditions in traditional IT spaces where closed loop cooling may be the best solution for maintaining optimal ITE temperatures. Outside of the data center, many Edge applications – where the buildup of heat could be local AND rapid – closed loop cooling will maintain proper internal thermal conditions regardless of external environmental conditions. This higher heat removal capacity allows for higher installation densities, therefore reducing the number of server enclosures required.
To determine if a closed loop system is appropriate for your equipment, partner with Rittal, the global leader in IT enclosures. We'll work with you to identify a climate control system that's aligned with the heat output of your data center – one that provides adequate airflow, maintains constant temperature and humidity, and that provides options for scalability.