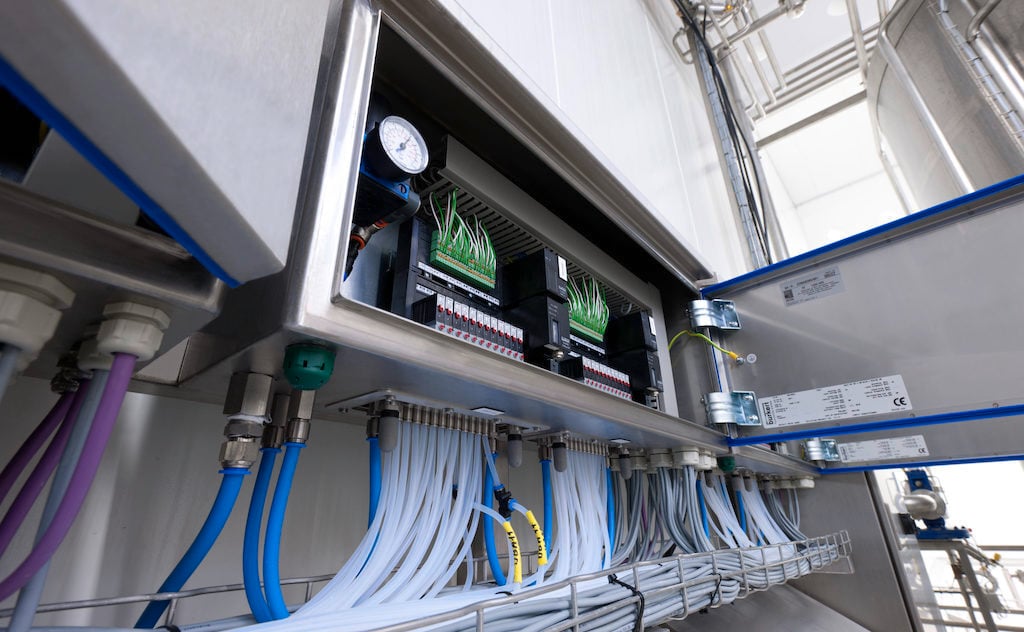 Hygienic production is a must in the food industry. Wherever food and beverages are processed, quick and easy cleaning is critical for machines, systems, and their components. And materials used in food plants have a major influence on how clean an enclosure can get — and remain after the cleaning process has ended. Enclosures built with hygienic design in mind offer strategic advantages over alternatives because they permit rapid cleaning while preventing the formation of both dirt and stagnant water.
Standard enclosures that aren't initially designed with hygiene as a key element may lead to downtime for extra cleaning. For example, in meat processing plants, up to 40% of time is spent at a standstill due to cleaning procedures.
Downtimes during production represent the "worst case" for plant operators. They mean lower productivity and, consequently, reduced sales. In hygienic-critical production situations, longer downtimes can be unavoidable due to the large amount of cleaning needed. This time must be kept as short as possible in order to increase productivity – but not at the expense of cleanliness and hygiene. In the end, the health of consumers is what counts.
One starting point is to implement housings and enclosures that are easy to clean. Many standard industrial and wall-mounted enclosures aren't purpose-built for fast, simple, and hygienic cleaning. This is because open cavities between the cabinet and the wall make cleaning more difficult; they can be dirt traps and thus a breeding ground for germs. Horizontal surfaces, where water can't run off properly, also create prime conditions for contamination.
On top of adhering to USDA guidelines and FDA regulations, installing hygienic housing ensures simple and thorough cleaning of surfaces that come in contact with food and beverages – from the machine to its enclosure.
Hygienic Design Enclosures
The specially designed Rittal Hygienic Design (HD) enclosures meet even the toughest hygienic requirements in full. Rittal has a comprehensive product portfolio that ranges from enclosures to operating housings for safely accommodating electrical equipment, food, beverages, and safety equipment like fire extinguishers. They have been meticulously designed to meet global requirements, regulations, and guidelines of the food and beverage industry.
All the external parts are made entirely of stainless steel, which means a high resistance to chemicals, cleaning agents, and disinfectants. The roof of the HD compact enclosures tilt 30°, which allows both food and liquids — including water used for cleaning — to run off quickly while ensuring visibility for enclosures mounted high on the wall.
Thanks to the roof projection with its drip edge, water is guided away from the enclosure safely and the upper area of the door seal is protected. In addition, the door edge fold has a 10° tilt. This way, residue, dirt, and stagnant liquid won't stick around and collect bacteria. The enclosures meet the IP 66 protection category in accordance with IEC 60 529, as well as the NEMA 4X protection class, and they are thus protected against splashing and water jets. They can easily be cleaned with a high-pressure cleaner.
Keeping food cool
Another critical component of keeping food and beverage facilities clean is maintaining ideal temperatures within enclosures to protect the food and beverages that are made and processed by your plant. Using water cooling climate control solutions is highly efficient, especially if a central cold water supply is already available in the production plant.
Air-to-water heat exchangers are incredibly effective within enclosures to regulate temperatures. These types of exchangers alter internal air temperature by forcing air across water coils, an efficient process that offers a variety of benefits, including reducing energy consumption and cost.
A one-stop solution for optimal processes
With its hygienic design range, Rittal offers enclosures, accessories, and climate control components specifically developed for applications in areas where hygiene is important. HD products are resistant to environmental influences such as dirt or cleaning agents while being cleaned quickly and efficiently. This both improves manufacturing productivity and decreases downtime.
Rittal's hygienic design brochure has the details for the hygienic design of housings and enclosures and outlines the hygienic design range we have to offer.