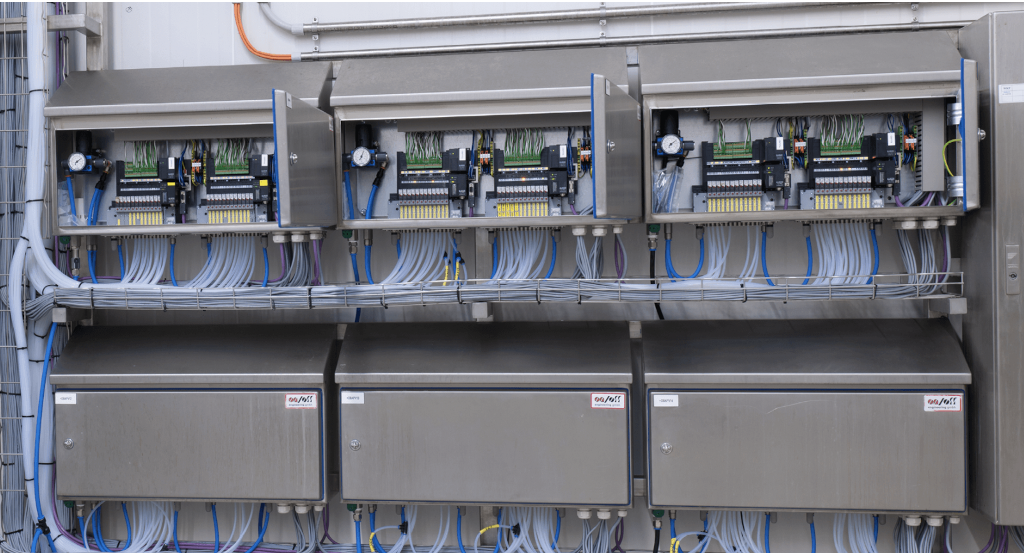 To say it's been a wild year for food and beverage producers may be the understatement of the year. As the globe continues to grapple with the COVID-19 pandemic and related complications across all sectors of the manufacturing sphere, projections for the upcoming year regarding automation in the global food and beverage space are shaping up to be just as layered and complex.
The good news is forecasted demand for packaged food and beverage products is estimated to increase from pre-pandemic levels, which bodes well for producers in terms of keeping the pipeline primed with products to meet customer demand and introducing new products to help solve consumer challenges.
However, this uptick in demand means food and beverage producers must be mindful of advances in industrial automation solutions to help optimize their production processes, unlock new efficiencies, and increase their speed to market in what looks to be a growing, competitive field. With this in mind, let's examine three important trends to watch for in 2022 to help food and beverage producers realize their growth and productivity goals, and how Rittal can be a valuable partner in helping producers get to where they want to go.
Stabilizing the supply chain
While instability in the global supply chain has been a big challenge for manufacturers across nearly all industries, it's been a particular bane for food and beverage producers who saw massive increases in demand for products as a result of COVID lockdowns and mitigations.
This is in large part why a rapid shift to creating a U.S-based supply chain for the automation infrastructure became a top action item for domestic producers to reduce lead times in product delivery, cut downtime with the integration of new equipment, and simplify the complexity of relying on a large, global network of automation and control manufacturing suppliers.
Not only does the reshoring of mission-critical automation infrastructure help producers maintain more control of their value chain, it also helps reduce shipping costs and increases their ability to scale based on consumer demand. Rittal's U.S.-based panel and enclosure production and modification centers helps food and beverage producers stabilize their supply chain by providing custom products and solutions with rapid turnaround.
In addition, Rittal's growing network of regional distribution hubs helps ensure availability of products like our popular line of Hygienic Design enclosures designed specifically for use in the food and beverage space.
Shifts in consumer behavior and expectations
Whether it's the growth of meat-free and dairy-free alternatives or packaging innovations with wine available in single-serving cans, shifts in consumer behavior and consumer expectations from the producers they patronize have shifted quite a bit during the last year. While the drum beat for more sustainable, eco-friendly food and beverage production has been growing for the last 5 to 10 years, it has now reached a fever pitch as a majority of consumers view sustainable production practices as an imperative as opposed to an option.
In fact, a recent study by the International Food Council discovered more than 50% of those surveyed are more likely to buy products from producers that have sustainability initiatives in place. What was once a niche market segment has now bloomed into a healthy majority, and producers will continue to push for sustainable production practices in large part through increasing efficiency and reducing waste.
To achieve this optimized level of efficiency and thus a more sustainable operation model, producers must pay particular attention to areas of production that use the greatest number of resources. For many, this means evaluating climate control systems to ensure cooling units are operating at peak performance, data-driven insights into redundancies are being put into action, and legacy climate systems are retrofitted under an Industry 4.0 and IIoT approach with emphasis on network monitoring, alerts for proactive maintenance, and more intuitive user interfaces.
Rittal's Climate Control Efficiency Analysis not only evaluates existing cooling strategies and and equipment on a holistic, plant-wide level, but it also provides food and beverage producers with key recommendations and action plans, including where legacy systems need upgrades and how climate control can be more targeted and reliable to reduce energy use, cut emissions of harmful agents, and save both time and money.
Data and analytics continue to lead the way
Even though many players in the manufacturing space may not conceive of themselves as tech companies, the massive amount of data they generate, store, and leverage has in some ways pushed them to think like tech outfits. Food and beverage producers are no different and the upcoming year is poised to see a continued emphasis on how real-time data and analytics impact production sequences and thus infrastructure necessary to hit production targets and be as flexible as possible to variant-rich manufacturing streams.
Industry 4.0 and IIoT have significantly changed the way food and beverage producers gather, sort, and leverage data. Today, the edge of data sourcing has moved closer and closer to the point of production, and companies that have experienced the greatest production advantages have found solutions to close the data gap between the source and the storage or retrieval. As more production and distribution hubs come online in more disparate parts of the world, the need for remote data gathering and communication has only made Edge computing more of a priority.
Rittal's Edge computing and IT infrastructure can put sensitive IT equipment in harsh operating conditions that require durable, reliable, and turnkey solutions to protect critical data, reduce the possibility of disruption or breakdown, and simplify installation. Additionally, our Edge computing solutions and modular data center solutions provide protection, dependability, and ease of installation for use in non-traditional IT environments.
Whether it's creating a more localized, stable chain of resources and component parts, creating end-to-end efficiency, or enhancing how data and analytics are harnessed and turned into action, Rittal's industrial automation products and solutions can help food and beverage producers respond to the challenges 2022 may pose and create opportunities for growth in the coming year and beyond.
Download our Food and Beverage Solutions Suite to learn how Rittal can help you prepare for the future today.