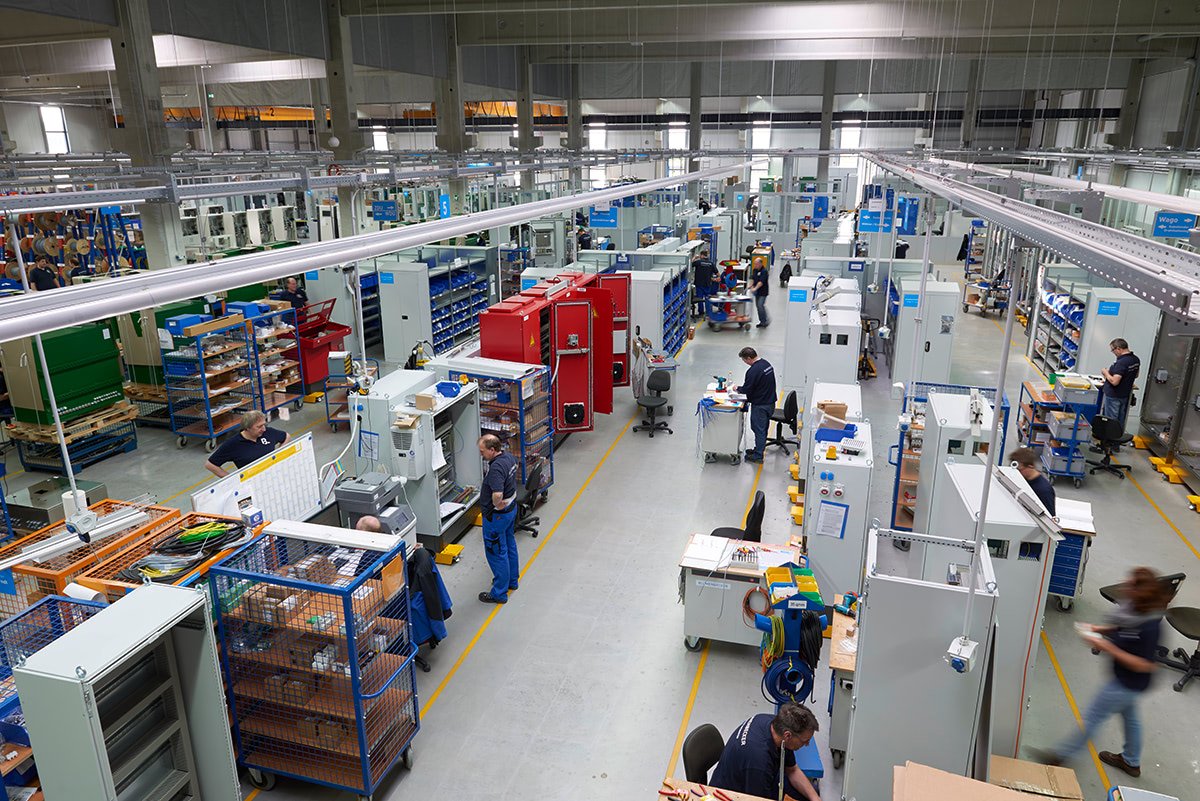 There have been 3 important benchmarks or game-changing moments in industrial manufacturing in the last 100+ years. The first landmark moment occurred in the late 1800's with the introduction of water and steam power; the second evolution ushered in the assembly line and the use of electricity in factories; and the third pivot point featured the advent of computers and the internet.
Today, we're at the forefront of another crucial plot point in which devices (or in this case machines and computers) are connected via the Internet of Things. Networks and systems are now able to communicate with each other, share data and information in real-time, and use cloud computing and storage systems make manufacturing more efficient than ever before.
Even in its relatively early stages, what's unassailable is that Industry 4.0 and its ability to help companies reimagine their end-to-end processes from engineering to production and modification to transportation is a truly revolutionary element in industrial manufacturing.
The industrial enclosure of today has certainly benefited from Industry 4.0 at each point along the value chain. No longer are today's enclosures static products but rather dynamic, connected elements that play a critical part in how companies not only deploy their enclosure solutions but also the ways in which these enclosures are produced, modified, and delivered to the end-user.
With this in mind, let's take a look at how Industry 4.0 has revolutionized the industrial enclosure both in how today's enclosures are produced and the ways companies are leveraging them in the field.
The engineering process
Before the proliferation of Industry 4.0, the design and engineering process for industrial enclosures and/or switchgear cabinets was a laborious, manual process with a variety of roadblocks in terms of collaboration, communication, and visibility into the process. In addition, the ability to accurately project the durability of building materials and the enclosures as a whole was the equivalent of a dice roll, which provided even more uncertainty.
However, with the introduction of Industry 4.0, Computer Aided Design (eCAD) programs as well as software like EPLAN have provided engineers with real-time visualizations and insight into everything from material sourcing to the creation and alteration of panel and enclosure schematics. With EPLAN, enclosure configuration data can easily be stored, retrieved, and shared to mitigate issues with downstream tasks.
Panel engineers and builders can also gain powerful predictive insights into the environmental conditions of which these enclosures will be deployed in order to combat ingress of contaminants and increase the overall lifespan of the enclosure.
The connected nature of software and networks via Industry 4.0 also provides a wealth of benefits in terms of project management. Gone are the days when the panel engineers and builders were siloed from procurement or quality assurance teams. Today, with the ability to share real-time data, insights, network notifications, and alterations in design or production, companies can work cross-functionally in ways that promote efficiency and stimulate long-term, scalable growth.
Production line efficiency
If Industry 4.0 has shaken up the planning and design process for switchgear panels and industrial enclosures, then it's safe to say Industry 4.0 has turned the production line process end-over-end in terms of eliminating manual interventions and streamlining how panels are wired and enclosures are assembled.
For example, production automation software (such as Rittal's RAS suite of solutions) coupled with Human Machine Interface (HMI) have proven to be a vital player in the end-to-end optimization of the production process. Precise machining and milling of enclosure cases or panels based on digital schematics and visualizations not only all but eliminates a number of time-consuming, manual processes, but also fosters the ability to execute more complex cuts or assemblies.
Industry 4.0 and the connected nature of the production process have also optimized production efficiency in regards to panel wiring. EPLAN's state-of-the-art visualization tools provide panel builders with flexibility and agility to respond to the variant-rich environment of switchgear panel assembly through real-time insights in the production process such as change orders, material or component part shortages, or even last-minute modifications to customer specifications.
Optimized modification programs
Modification of switchgear panels and industrial enclosures is perhaps one of the biggest pain points companies face in being as flexible and competitive as possible in a global marketplace. Modifications need to be completed quickly and efficiently and without disruption due to delays or difficulty in sourcing the appropriate component parts or materials.
This is perhaps where Industry 4.0 and the automation of design and production have provided the greatest value, virtually eliminating the manual nature of the modification process and increasing the end-to-end visibility of a previously obstructed element of enclosure customization.
For example, Rittal's modification program — with facilities in Urbana, Ohio, Houston, Texas, and Sparks, Nevada — provides state-of-the-art modification software and equipment for custom orders to be scaled based on the demands of a variety of industries including automotive, food and beverage, and retail and logistics. The ability to execute precise cuts for both standard enclosures and mounting panels results in cost and time savings across each stage of the enclosure build process.
In addition, Rittal's 5X Modification Program and PrimeXpress Program further streamline workflows by providing companies with wallmount enclosures, junction boxes, and mounting panels in a matter of days complete with custom modifications upon arrival to create even faster assembly and integration processes.
With granular insight and actionable data into the modification process, Industry 4.0 has significantly reduced the complexity and uncertainty of such an important element of the variant-rich manufacturing sector.
Climate control systems
Up until this point we've covered how Industry 4.0 has truly changed the way today's industrial enclosures are designed, assembled, modified, and delivered, but we've yet to touch on the significant ways in which Industry 4.0 has impacted enclosures once they're deployed in the field. Enter climate control systems such as Rittal's Blue e and Blue e+, which give plant managers and engineers a significant leg up in how enclosures are cooled.
Through digital alerts and notifications, touchscreen interfaces, and mobile integrations and apps, Rittal's Blue e+ line of cooling units helps plant managers and engineers to monitor and adjust cooling outputs and temperature levels with more accuracy, precision, and real-time flexibility. This level of automation both reduces overall energy consumption and operational costs, and also helps extend the lifespan of the enclosure and the electronics contained within.
Rittal's Blue e line of cooling units and air conditioners also leverages Industry 4.0 concepts to help optimize operations in the service of reducing energy use. Notifications about filter fan lifespan help engineers better plan a replacement strategy to ensure clean filters are always available and ready to be deployed to help cooling units work more efficiently.