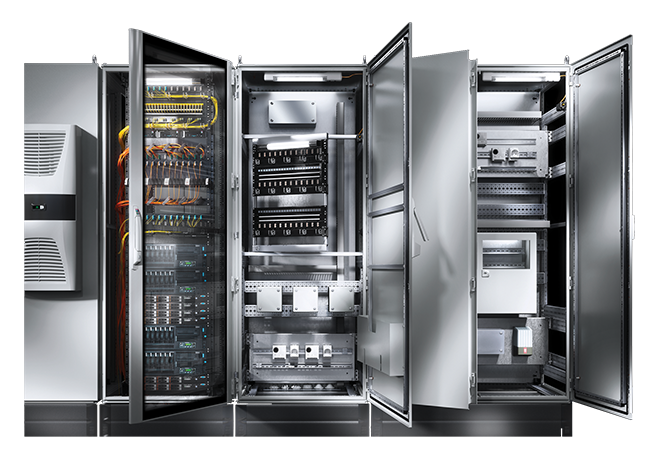 For material handlers, the last 18 months have been about two things: speed and volume. Online ordering and e-commerce in general have surged as the world continues to grapple with the COVID-19 pandemic, and retail and logistics operators have been forced to adapt to fluctuating supply chain models, space constraints on the distribution center floor, and the need for enhanced workflow automation to accelerate the last mile of delivery.
The capability to handle the increased volume of product and the demand for faster processing and delivery times starts with the control panels and industrial enclosures that help drive automated distribution center operations. To remain competitive in what has become a complex and variant-rich marketplace, material handlers need customized panel and enclosure solutions that can be engineered and integrated without incurring costly downtime or disruption.
To that end, let's examine how modular enclosures support speed to market in the logistics space and provide material handlers with the flexibility and agility necessary to bring products to the customer's door faster and more efficiently than ever before.
Reimagining the factory floor
Space on the distribution facility floor is now at a premium. The sheer number of parcels in any given distribution center and the equipment necessary to move product throughout the facility is at something of a tipping point in terms of efficiently executing processes and tasks.
Think of a modular enclosure as an adjustable hat that can be sized up or down as needed to fit a variety of head shapes and sizes. Whereas traditional unibody enclosures are rigid and lack the maneuverability to alterations in floor layout or space, modular enclosures — much like an adjustable hat — can be customized or tailored to fit specific applications within the logistics space.
Modular enclosures unlock increased efficiency and promote flexibility through a variety of avenues. Innovative modular frame structures create both inner and outer mounting levels inside the cabinet, which allows for more electronics or switchgear components within the enclosure. Increased opportunities for baying on all sides of the enclosure allow for integration into spaces with size limitations, and a variety of connection configurations make for easy cabinet wiring regardless of how the enclosure is deployed.
Faster, more efficient configurations, simplified installations, and interchangeable panels also help create optimized efficiency by streamlining tedious, time-wasting manual processes that once required high degrees of human intervention and inflated operational costs. Rittal's TS 8 large enclosure is ideal for the logistics space where unique wiring needs and assembly challenges are often encountered. Modular enclosures like Rittal's TS 8 and its capacity for enhanced automation elements are designed to help material handlers thrive in the complex and ever evolving logistics space.
Streamlined design in EPLAN
Before GPS navigation on your phone, the ability to chart the fastest, most efficient route from point A to point B was something of a difficult ask. You had to rely on static documents like physical maps which of course could not account for real-time delays like traffic accidents or road construction. Much like how GPS has provided a critical value-add in this arena, EPLAN's powerful design suite provides end-to-end visibility and transparency in engineering your modular enclosure.
Rittal and EPLAN provide panel builders with data-driven 3D modeling capabilities to reduce production line errors, account for potential variables in production or customization, and help to seamlessly integrate workflows and communication of schematics relative to change orders or other real-time fluctuations or modifications based on original specifications.
Rittal's modular enclosures paired with EPLAN's cloud-based tools create streamlined workflows for installing electronics, wiring, and panel assembly. In addition, EPLAN helps material handlers overcome a variety of hurdles, such as:
Increasing pricing pressures to be able to provide the right product at the right time within the right budget, especially as competition breeds a race to the bottom-line
Skilled labor shortages that can result in increases in scrapped materials and revisions/alterations
Delivery pressures due to the rapidly-changing and real-time demands manufacturers must respond to
Inefficient workflows via antiquated data capture, storage, and communication systems
Rittal and EPLAN give panel builders and integrators the ability to work proactively as opposed to reactively, and to achieve more nimble processes and workflows.
Integrating Human Machine Interface
Human Machine Interface (HMI) is the steering wheel that enables system operators to drive comprehensive industrial automation setups. HMI is the equipment and accessories that provides automation system operators with a bird's eye view of their machines, systems, and processes for optimal process control and efficiency. Rittal's modular enclosures are engineered for maximum capability and easy integration with Rittal HMI solutions to help material handlers create an automation framework that defines speed and accuracy.
Rittal's HMI consoles and workstations are equipped with foamed-in polyurethane seals to prevent intrusion from foreign particles, and NEMA-rated carbon steel and stainless steel HMI consoles allow for process automation and the implementation of Industry 4.0 principles while providing durability and contamination prevention. NEMA 4X and IP 55 rated, Rittal stainless steel pushbutton boxes are engineered to protect equipment from dirt, dust, sprayed water, oil, and coolants.
In addition, Rittal's arm support systems are ideal for use in static load ranges from 400 to 1800 N, and the Rittal support arm configurator makes it fast and easy to design a safe, reliable support arm system for your specific application.
Rittal also offers a variety of other HMI solutions and accessories to help material handlers maximize their investment and operate at peak efficiency. Some of these products include:
Handles: Handles on the Comfort-Panel and Optipanel operating housings facilitate optimum ergonomic positioning of the enclosures for different users. Other handle systems may be attached to the straight surfaces of modular enclosures.
Monitors: TFT monitors are available in screen sizes from 15" to 19", and in some cases monitors can be engineered with a touchscreen interface for maximum efficiency.
Signal pillars: Designed to reliably display machine and system statuses using optical and acoustic signals, Rittal's signal pillars include comprehensive accessories for mounting on different surfaces and support arm systems.

External mounting accessories: Engineered with practicality in mind, Rittal external mounting accessories allow operators to clearly display documents or other critical information without disrupting or complicating the range of motion movements or manual tasks.
An emphasis on flexibility and end-to-end visibility are at the core of what makes Rittal's modular enclosures the right tool material handlers need to do their job with speed, precision, and efficiency.
Download our Modular Enclosures Buyer's Guide to learn how we can help you increase your speed to market.