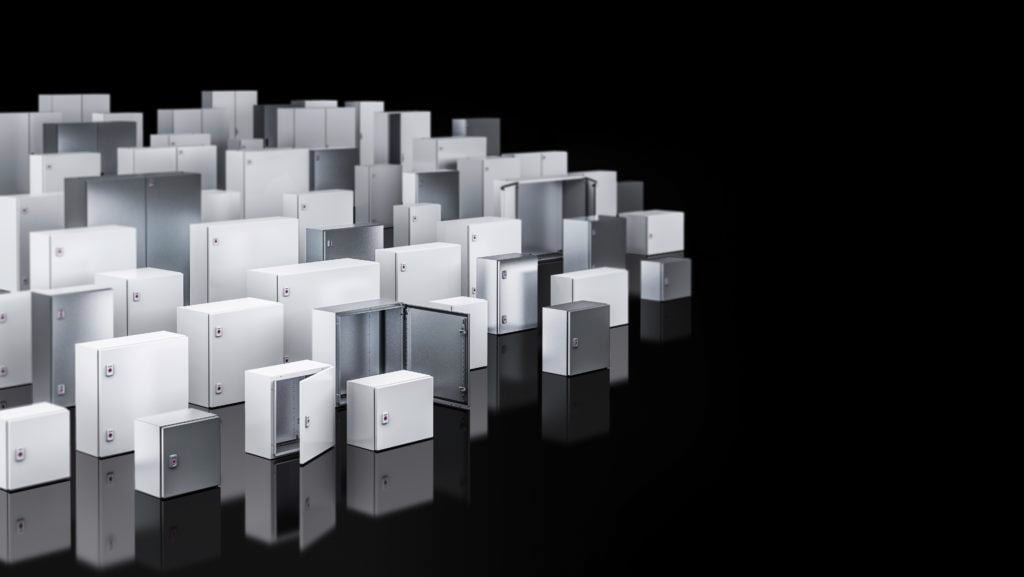 More often than not, there's an ideal tool for the job. For example, you wouldn't try cooking a steak in the microwave, as that particular tool is not engineered for properly preparing that kind of food. You'd of course cook a steak on the grill, as that type of heating application is best designed to heat the steak to your exacting specifications.
In today's industrial enclosure marketplace, there are numerous options for enclosure material, and each has its own specifications, ideal applications, liabilities, and value propositions. Each kind of material provides differing levels of protection and security for the sensitive electronics housed within, and each material plays an important role in the service life of both the electronics and enclosure itself.
With this in mind, let's examine what you need to consider about your application and how various enclosure materials can meet your needs by being the right tool for your application.
Considerations for construction material
Industrial enclosures are a necessary component of modern, automated workflows. Applications such as food and beverage plants, automotive production lines, and retail distribution warehouses benefit from these dynamic connected products. In a global marketplace defined in large part by Industry 4.0, IIoT, and data-driven decision making, companies in nearly every industry need an enclosure solution to optimize the work they do and how they do it.
When it comes to the construction material of your enclosure solution, a handful of fundamental elements apply. Regardless of your application, the following are core tenets to consider in order to help ensure a longer service life of your enclosure, as well as leverage an optimized industrial automation framework:
Physical environment: What kind of elements will your enclosure be subjected to? What climate-based factors could hamper the effectiveness of your enclosure solution and how do you need to overcome these challenges? Gas, vapors, corrosive liquids, dust particles, and other airborne substances can damage sensitive electronics, and extremes in temperature and weather conditions can also result in equipment failures or breakdowns. Understanding the nuances of your environment will help you configure an enclosure that will withstand conditions within your application.
Durability: Closely linked to the harshness of the application environment is the durability of the construction material..

[SS1]

Design standards like NEMA and IP are of course a good benchmark of how durable and well-equipped an enclosure is for protection, but there are deeper considerations as well. For example, while metallic enclosures are durable and able to carry greater loads, they are more prone to denting and exterior damage compared to non-metallic configurations. We'll cover this in greater detail momentarily, but it's nuances like these that must be understood when selecting enclosure material.
Climate control: Perhaps the most defining principle of climate control with an industrial enclosure is how well the

climate control system

removes the build-up of heat and humidity from the enclosure and the equipment housed within. The type of construction material plays a big part in how well heat can be dissipated, humidity accumulation can be reduced, and enclosures can be kept at optimal operating temperature. Take heat transfer for example: Metallic enclosures are more prone to conduct and dissipate heat, which means carbon and stainless steel enclosures are the best choice if thermal transfer is desired.
Modification capacity: Does your enclosure require custom modifications for optimal deployment? What specific kind of modifications will be necessary to integrate an enclosure into an automation framework? Cutouts and holes with carbon steel enclosures are easier on tooling

[SS2]

than modifying stainless steel, while fiberglass is much easier to modify than steel but is more labor intensive in terms of removing potentially harmful dust particles. While

Rittal's network of modification centers

have the tools and know-how to execute precise modifications no matter the application, the potential for ease of modification may inform your choice of material.
Types of enclosure material
With your enclosure requirements at the top of mind, it's now time to consider your options for enclosure materials. Plant managers and system integrators need a keen understanding of the nuances of these most common types of enclosure materials:
Painted carbon steel:

The most cost-effective metallic enclosure material, painted carbon steel offers options of wet, spray, or power coating for inner and outer layer protection. Power coating provides increased enclosure durability and scratch-resistant surfaces that make it ideal for indoor applications.

Type 304 stainless steel: Type 304 stainless steel is corrosion resistant and provides enhanced protection from corrosive solvents, alkalis, and certain types of acids. Stainless is ideal for applications that are exposed to intense washdown and sanitation processes, which makes this material well-suited for use in the food and beverage industry where sanitation practices include chemicals that can be harmful to other materials.
Type 316 stainless steel: Better equipped for durability and protection against corrosive agents than 304 stainless, 316 stainless steel features improved resistance to unique substances such as sulfates, bromides, chlorine, sea water, and high temperatures. Rittal offers 316 stainless in wallmount and other popular line of enclosures, which makes it ideal for use in pharmaceutical applications where excessive metallic contamination is a major challenge. The durability and versatility of type 316 make it suitable for both indoor and outdoor use.
Fiberglass: Lightweight, durable, and impact and corrosion resistant, fiberglass enclosures are designed for corrosive, high temperature applications. Depending on the configuration, some fiberglass enclosures can be submerged under water for prolonged periods of time while still offering maximum protection of the enclosure electronics. UV inhibitors and acrylic paint can significantly reduce fading color and fiber bloom, both of which are cosmetic disadvantages of choosing a fiberglass enclosure.
Polycarbonate: An intensely durable plastic formed from thermoplastic polymer, polycarbonate offers greater resistance from external impact compared with fiberglass and provides more resistance to wear and tear from UV light exposure. Polycarbonate is also much easier to modify than other materials, producing cleaner holes and cutouts, and poly offers a longer service life compared with fiberglass enclosures.
When choosing the right material for your industrial enclosure, doing your homework will pay off dividends. Understanding how your enclosure is going to be deployed and the appropriate material for said deployment is an important step in creating an industrial automation system that best equips you for success in the mid and long-term.
Download our new ebook, How to Select the Right Free-Standing Enclosure, to discover the right enclosure for your application!