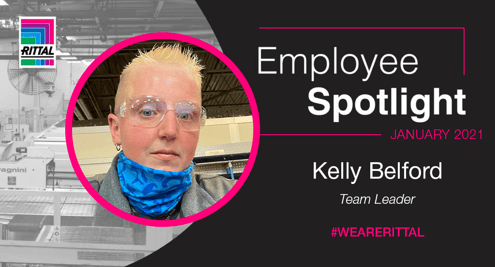 We build our corporate culture on team spirit and this would not be possible if we did not put importance on building long-term relationships with our team. It is because of our talented team that we have seen continuous growth and will continue with a bright future. Our team is #RittalResilient #RittalStrong and together, We are Rittal!
Introduction
In the time Kelly Belford has worked with Rittal, she has displayed outstanding teamwork while making a concerted effort to uplift her colleagues. She takes pride in her accomplishments and success while maintaining a clean, healthy, and safe environment. Kelly displays her upbeat, honest, and hard-working characteristics on a daily basis.

Consistently focused on keeping customers satisfied, she also never fails to keep her coworkers motivated. During the holidays, she's been known to dress up to spread cheer to her team. She's a true leader that anyone around her can rely on. Rittal is proud to have her on the team!
Question and Answers
Q: How long have you worked at Rittal?
I've worked at Rittal for five years now.
Q: Tell us about your career leading up to your current role.
I got to my role with Rittal by working hard, working well with others, and working as a team.
Q: What inspired you to pursue a career with Rittal?
I decided to pursue a career with Rittal for the excellent benefits, good pay, and the great people I work with on a daily basis.
Q: What's the coolest project you're currently working on?
I'm currently working on keeping my Six Sigma area taking first place on 6s this year. 6s is Rittal's success program that measures a dedication to safety and other factors. My team and I maintained a structure of success throughout the entire year and ensured that everyone works in a clean and safe environment every day.
Q: Who or what inspires you?
The person who inspires me the most is my wife. She is a loving and caring person.
Q: Do you have any advice for new hires at Rittal?
Come to work every day with a positive attitude and do the best you can. That's the best way to be both happy and successful in your Rittal career.
Q: What does true leadership mean to you?
To me, a true leader is a role model with a positive attitude who can provide guidance while leading your team for success. Being there for everyone is key to being a great leader.
Q: What has been the proudest moment in your professional career?
My proudest moment was when I took my team leading in 6s, when we beat our production numbers from 204 units to 282 units.
Q: What do you do for fun?
I like to shop and spend time with family. I even find work in and of itself to be fun.