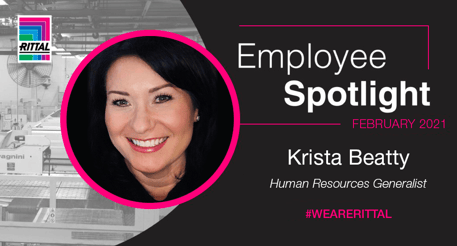 We build our corporate culture and the quality of our value chain on team spirit and this would not be possible if we did not put importance on building long-term relationships with our team. It's because of our talented team that we have seen continuous growth and will continue with a bright future. Our team is #RittalResilient #RittalStrong and together, We are Rittal!
Introduction
After an education in teaching and varied career beginnings, Krista Beatty was welcomed into the Rittal family as an On Site Manager before becoming a Human Resources Generalist. As a professional who values teamwork, she encourages her colleagues to ask questions and to not give up. At Rittal, we've been delighted to have Krista on our team for the past 14 years.
Question and Answers
How long have you worked at Rittal?
I've been working with Rittal for 14 years.
Tell us about your education and career leading up to your current role. What did you study, and what other roles have you held?
I actually attended college to be an elementary school teacher. I accepted a part time position at CBS Personnel Services while in college doing data entry and found I really enjoyed the atmosphere. After being offered a full time position as an Account Manager, I accepted.
I really enjoyed the variety of the job and I was able to meet new people on a daily basis. This position led me to my next career at Hugo Bosca. One of my old managers at CBS had become the Human Resources Manager there and contacted me about a Sales Coordinator position. The role was totally out of my realm of experience at the time, but I was interested and went to the interview. I was with Bosca for 5 years and gained a wealth of knowledge and experience in this role. I was able to travel with the position and met many new people.
While at Hugo Bosca, I was contacted by CBS about returning. This is where I came to work with Rittal, as they were one of my customers. I then became the On Site Manager full time at Rittal, tasked with managing up to 100 temporary associates at a time.
What inspired you to pursue a career with Rittal?
While I was the On Site Manager at Rittal, I really got to know the employees and I was always made to feel a part of the Rittal family. An opening for a Human Resources Generalist came open and the Human Resources Manager at the time asked me if I would be interested in applying for the position.
I was not sure at first as I was a new Mom and really was not looking for a change because I enjoyed my position as On Site Manager, but I am glad I took a chance and applied.
What's the coolest project you're currently working on?
Currently the HR team is working on reintroducing Rittal to Champaign and surrounding counties. We're holding an open interviews event on Saturday, February 20th at the Champaign county fairgrounds. We're planning to introduce open positions and pay rates for the new year.
Who or what inspires you?
My family inspires me. They are my biggest supporters and always encourage me. Even when I do not believe in myself, they do and they let me know I can do anything!
Do you have any advice for new hires at Rittal?
My advice for new hires would be to ask questions if you don't know something. Do not get discouraged and give up. Keep trying. Everyone can feel discouraged and have bad days, but ask for help when needed.
What does true leadership mean to you?
True leadership to me means encouraging and enabling others to do their best work and having the ability to understand your team, as well as inspiring others to work together toward a common goal.
What has been the proudest moment in your professional career?
While working at Hugo Bosca, I was awarded employee of the year that was voted on by the entire company. It was a huge honor to be recognized by my co-workers and to receive this award.
What do you do for fun?
I have a daughter who is a freshman in high school who keeps me busy. She is involved in many activities and has done school and competitive cheer for several years. I love spending time with friends and family. Going to the beach is also something I enjoy. It gives me a chance to recharge. There is nothing better than sand, the ocean, and sun.
Join our team and discover how rewarding a Rittal career can be!