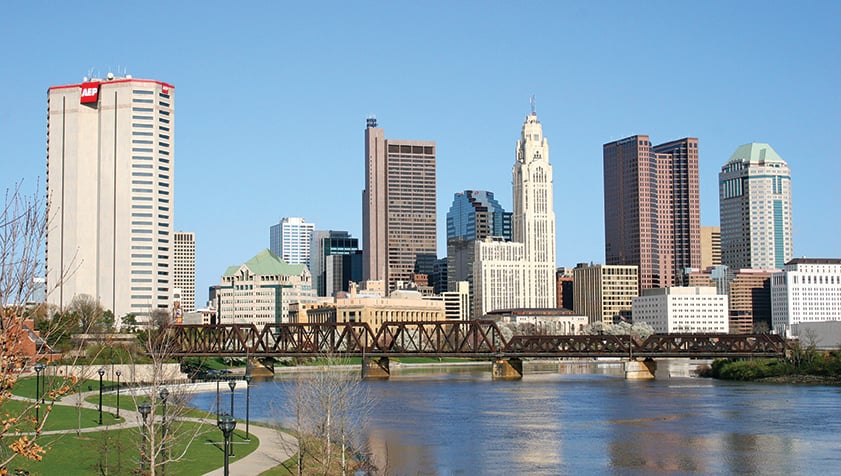 Businesses, Schools, and Governmental Agencies Flourish with Dublink 100GB Broadband Network in Place.
Metro Data Center (MDC) was established in 2011 in Dublin, Ohio. The company is a full-service hosting and data center that specializes in serving the data needs of small- to mid-sized businesses (SMB), as well as local schools and governmental agencies. MDC's core values center around the 5 C's: Colocation, Cloud, Connectivity, Consulting and Community.
As part of its commitment to the community, MDC built and maintains the city of Dublin's Dublink 100GB broadband network, which provides ultra-high-speed connectivity to local users through 125 miles of fiberoptic lines that run underground throughout Dublin.
Through several state and regional infrastructure projects, including the Smart Mobility Ohio Project, the Smart City Initiative, and the Transportation Research Center hub, MDC has become central to the community.
From cloud hosted services and dedicated servers to the speed and connectivity of the Dublink 100GB network, MDC offers its clients optimized, secure productivity backed by on-site systems and 24/7 monitoring and maintenance. Comprehensive resources, services and expertise assure optimal performance, and the ability to meet and resolve clients' needs within minutes. Metro Data Center is a carrier-neutral environment that also offers a blended internet option to its SMB clients.
Metro Data Center provides scalable fiberoptic network capacity with points of presence (POPs) via Level3, CenturyLink, Oarnet, Spectrum, and XO. MDC specializes in linking SMB organizations to IT solutions that help to grow their business. Some small- and medium-sized businesses are vulnerable to problems caused by lack of IT staff, expertise and solutions. To meet this need, the city of Dublin established the Dublin Entrepreneurial Center, and the TechDEC, a community of entrepreneurs working together to grow each of their businesses. Today, TechDEC hosts more than 150 established companies and startups that are owned, operated and staffed by local residents.
MDC also created a pod-based approach to improve energy efficiency and service larger customers. Each pod utilizes as many as 20 cabinets, and feature cold-row containment. Currently six pods are in use and the facility has the capacity for 12 pod deployments. This pod approach has achieved significant energy efficiency improvements with measurable kilowatt savings recorded quarter over quarter.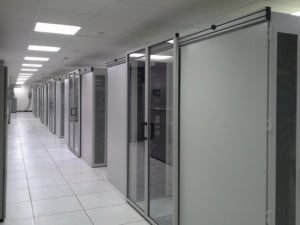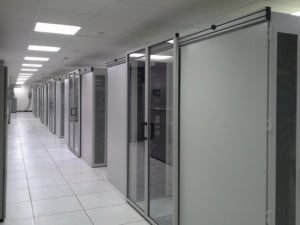 Starting at Zero
When MDC took over the space from a global software security development company, it contained zero racks and 32,000 square feet of open space. MDC began to make necessary infrastructural changes to maximize air flow, optimize the floor plan and organize racks to facilitate the company's rational growth strategy.
Rittal, with a manufacturing facility in nearby Urbana, Ohio, was chosen as a partner because of the quality of its products, particularly the TS IT enclosures. MDC required racks that were physically robust as an essential aspect in choosing enclosure products. Rittal enclosures offer a variety of options to facilitate cooling, cable management and on-the-fly configuration changes and are an excellent fit for MDC requirements.
General Features
Metro Data Center is a top-tier provider and has the physical and colocation capacity to meet the needs of thriving Dublin-area business and public community. The site spans nearly 55,000 square feet. This includes 5,903 square feet of raised data center floor space, 364 square feet of demarcation locations yielding 200 total rack spaces available in server cabinets. The center is able to provide the highest quality infrastructure services available, including extensive redundancy, stability and security.
Metro Data Center accomplishes this through data colocation with businesses; fully redundant power (2N); carrier neutral access to most central Ohio carriers, and blended internet services to others. Finally, MDC offers workgroup recovery services including office space, telephones, computers and conference rooms.
Power Management
One of the strengths of the facility is its state-of-the-art power management plan. This begins with fully redundant (2N) active power transmitted through dual electric feeds from two substations provided by American Electric Power.
Electrical wiring to the center is supplied via two unique routes through dual transformers, dual switch gear, and dual 625 KVA-UPS systems, all of which are autonomous in supplying the center's (2N) power at 480 volts. Single-corded servers get in-rack Automatic Transfer Switches for redundant power.
The MDC also uses dual transient voltage surge suppressors (TVSS). The purpose of TVSS is to prevent damage to data processing and other critical equipment by limiting transient voltages and currents on electrical circuits. Sources of dangerous transient currents and voltages can be as rare as lighting strikes, or as common as the switch-on of elevators, heating, air conditioning, refrigeration or other inductive load equipment.
Site technicians perform automated generator run tests weekly and manual generator load tests quarterly. They offer enhanced quarterly preventive maintenance on all facility equipment with full-time, year-round emergency support on all facility equipment, including the generators, and UPS and battery units.
Cooling
Designers of MDC employed a number of strategies for facility thermal management, including the use of N+1-rated glycol pumping stations and dry coolers and Rittal cold row containment systems. The Rittal solution maximizes cooling per cabinet and raises overall site efficiency. All cooling equipment is supported by generator back up, including seven 30-ton glycol-based air handlers.
Data Security
Metro Data Center has passed the Statement on Standards for Attestation Engagements (SSAE) Service Organization Control 2 (SOC2) audit from A-lign. The SSAE SOC2/AT-101 was developed to put requirements in place for independent accounting firms to examine and issue reports on controls over subject matter other than financial reporting.
The Service Organization Control (SOC) 2 report is performed in accordance with the AT 101 and is based on the Trust Services Principles, with the ability to test and report on the design (Type I) and operating (Type II) effectiveness of a service organization's controls, as with SOC 1/SSAE. The SOC 2 report focuses on a business's non-financial reporting controls as they relate to security, availability, processing integrity, confidentiality, and privacy of a system, as opposed to SOC 1/SSAE 16 which is focused on the financial reporting controls, according to the SSAE website.
Physical Security
Metro Data Center uses Honeywell security Systems, including integrated video surveillance, full-hand scan biometrics, and interior and exterior infra-red cameras. The security system components provide (N+1) security system features for full redundancy.
Cabinet doors are secured using Medeco highly secured locking systems that are uniquely keyed for each customer. This system installs into the Rittal standard handle and can be modified or changed as the customer using the rack is changed. The physical layer of security also allows for a master key function for Metro. This system can be installed both in the factory as well as by Metro personnel as needed. Closed-circuit TV (CCTV) camera systems are used for continuous visual surveillance.
Monitoring systems provide accurate information on the state of all infrastructure that is required to maintain efficient power, cooling and energy usage within the facility. MDC also monitors physical access to the facility with state-of-the-art, full-palm scan biometric control systems and alarms.
Conclusion
With a pod approach to organizing the data center, MDC has created a model in energy-efficient design that scales to meet the needs of more and more customers without significant infrastructure investments. Rittal helps ensure that MDC has the cabinet and cooling solutions that scale to meet growing customer needs.
Through its consulting services the company has delivered IT strategy and deployment solutions that enable SMB customers the ability to focus on their core competencies in order to grow their business. By targeting SMB customers and fostering local economic development around IT services and infrastructure, MDC is revolutionizing the role of data centers and creating a blueprint for the Midwest.
To learn how Rittal can improve your colocation business, download our Colocation Infrastructure Handbook now.