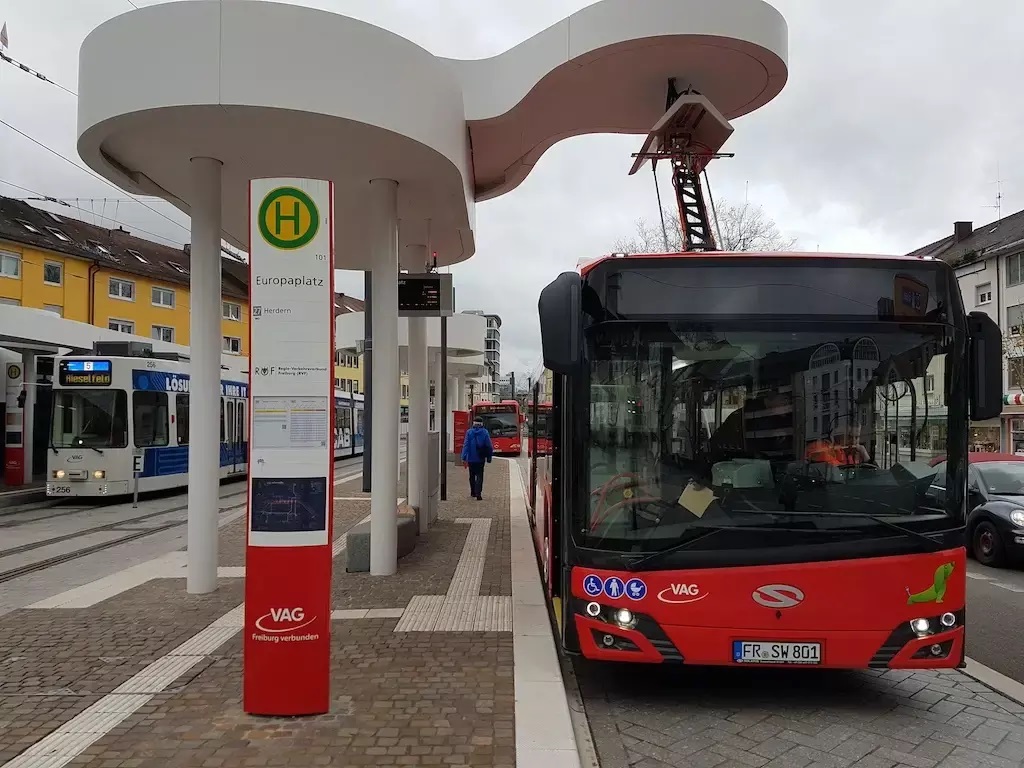 Freiburg, Germany - the city in Breisgau - is one rich attraction. The great climate provides optimal conditions to run e-buses. An ingenious charging infrastructure from SBRS GmbH designed with components from Rittal affords protection against wind, weather, and personal access which helps to ensure optimal electrical charging of the buses.
The company, SBRS GmbH from Dinslaken, Germany, which has already managed similar projects in Brussels, Münster, Osnabrück, and Venice was commissioned to build the charging infrastructure in Freiburg. The system integrator developed, planned, and delivered the complete charging infrastructure from the charger to the lightning protection and completed the civil engineering work and cabling. For the housing technology, SBRS GmbH decided on a Toptec enclosure baying combination from Rittal.
Fully charged without delay
When charging in occasional intervals, e-buses can be charged in just five to eight minutes; after all, the next passengers are already waiting at the bus stop to be brought from point A to point B. These intermediate charges at bus stops are implemented through automated contacting via a so-called pantograph.
In most cases, these are supplied from an infrastructure housing that is intended for outdoor installation. This means that the housing must withstand all weather conditions and must not pose any danger to people, e.g., through an electric shock. The safety requirements for such a charging infrastructure are high because the charging stations can have a charging power of >450 kW and output voltages of up to 1,000 volts.
The charging stations for the e-buses in Freiburg, Germany at "Europaplatz" are located in the bus depot and at the terminal. They have a protection class of IP55 and thus offer protection against contact, dust, and penetrating water. For the system integrator, SBRS, it was clear from the beginning that they would rely on Rittal for the housing technology:
"We appreciate the modular system of the Rittal enclosures. The charging infrastructure can be developed quickly and easily with Rittal products. In addition, the products are available worldwide - that helps us in our international projects." – Dr. Stephan Nahmer, member of the executive board and head of project management at SBRS GmbH
Shielded from electromagnetic waves and solar radiation
The basis at the Europaplatz stop in Freiburg is a Toptec outdoor enclosure incorporating EMC design for shielding electromagnetic waves. The enclosure combination is accessible in three places:
Rittal installed filter fans for air conditioning using the ambient temperature to help ensure ventilation as required.
A double-walled housing concept creates a "chimney effect" and prevents heating from solar radiation. This means that warm air flows are directed upwards and outwards via the ventilated roof overhang.
A high level of protection against corrosion is achieved through the use of high-quality materials such as stainless steel and aluminum.
The collaboration between Rittal and SBRS GmBH contributed to a state-of-the-art infrastructure to help ensure electric powered buses stay charged. This allows the end user to provide the expected service to their customers while eliminating their fossil fuel usage and supporting clean initiatives.
To learn more about Rittal's modular enclosures and climate control solutions, check out our Automotive Solutions Suite. Utilizing our standard product offering, the Rittal experts can help you create a custom solution to fit your unique needs.