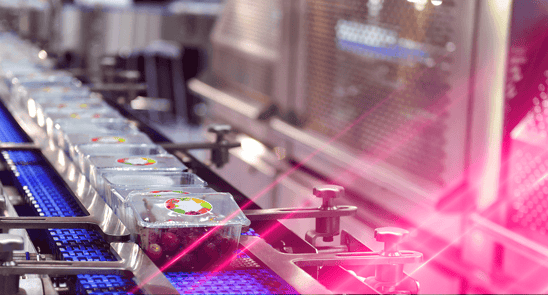 The past year has been one of immense challenges for the food and beverage industry, from increased regulations and restrictions to the unprecedented impact of a global pandemic. At the same time, the industry has responded with increased innovation to help food and beverage processors secure the safety and sanitation of their plants while protecting the food supply chain. Going into 2021, plant managers are keeping compliance top-of-mind — and leveraging cutting-edge technologies to increase efficiency at the same time.
State of the Food & Beverage Industry Today
Prior to the U.S. outbreaks of the novel coronavirus, U.S. food processing and manufacturing plants employed roughly 1.7 million Americans and were responsible for 15% of the total value of goods shipped from all manufacturing plants in the U.S.
In the spring of 2020, these plants began facing unprecedented challenges due to the COVID-19 global pandemic. The spread of the virus caused temporary plant closures, most publicly in the meat processing sector, and exposed weaknesses in the food supply chain that brought food and beverage manufacturers increased consumer attention — not all of it positive.
Early surveys showed that, as a result of the pandemic, Americans felt more concerned about the availability, safety, affordability, and quality of their food.
In mid-2020, in order to provide our own customers with strategic insights on consumer sentiment, we surveyed a representative sample of U.S. food consumers to understand how their attitudes toward food and beverage manufacturers and processors had been affected by COVID-19.
Nearly three-quarters of respondents said that they were either somewhat confident, not so confident, or not at all confident that the majority of the food in their local grocery store is processed in a hygienic plant — and 35% said their confidence level dropped after the global pandemic became a daily reality for American consumers in February 2020.
Download the full consumer insight report.
These statistics may be shocking to food and beverage manufacturers whose job it is to maintain hygienic facilities, but the survey results also indicated that the pandemic gave food manufacturers a unique opportunity to inform and educate the public by modeling transparency around food safety and hygiene and publicizing the investments they have made in hygienic equipment and technology.
The Regulations Shaping the Food & Beverage Compliance Landscape
Whether the majority of end consumers realize it or not, food and beverage manufacturers take compliance with the FDA's Food Safety Modernization Act (FSMA) incredibly seriously — especially given that the risk of contamination is a recall, and the average cost of a recall is around $10 million, plus brand damage and lost sales.
FSMA was signed into law in 2011 and went into effect in 2016. FSMA:
Shifts from a reactive to a proactive stance
Modifies "Current Good Manufacturing Practices" (CGMPs)
Increases FDA enforcement efforts, including audits
Gives the FDA mandatory recall power
Specifies that equipment must:

Be sanitary and cleanable
Be non-toxic
Not introduce contaminants to food
Before the pandemic, we know that:
There were 385 recalls in 2018, costing those companies a total of $3.85 billion
Recalls were up 10% from 2013-2018
Recalls in meat and poultry were up 83% from 2013-2018
But FSMA is not the only organization influencing equipment standards. Several organizations have created standards that affect the food and beverage industry, particularly with regard to the enclosures that plants should select in order to meet sanitation and cleanliness standards. These organizations include:
NSF International: An independent, non-profit NGO that creates standards for food, water, and consumer goods and certifies products
American National Standards Institute (ANSI): A non-profit organization that oversees the development of voluntary consensus standards for products, services, processes, systems, and personnel in the U.S.
3A Sanitary Standards, Inc. (3A-SSI): Maintains a large inventory of design criteria for equipment and processing systems developed using a modern consensus process based on ANSI requirements
NAMI (North American Meat Institute): A non-profit, industry trade association that provides guidance and regulatory assistance to meat packers and processors
Here at Rittal, we specifically look to NSF/ANSI/3-A SSI 14159-1-2014, otherwise known as "Hygienic Requirements for the Design of Meat and Poultry Processing Equipment." This standard establishes minimum food protection and sanitation requirements for the materials, design, fabrication, and construction of meat and poultry processing equipment.
The Challenges of Frequent Washdowns to Valuable Machinery and Electrical Equipment
Keeping food and beverage plants sanitary is mission critical. At the same time, strict sanitation requirements can lead to a harsh environment for valuable machines and equipment. We all know that water and electricity do not mix! The primary equipment challenges we often hear about from our customers include:
Daily high-pressure cleaning
Exposure to high temperatures and wide temperature fluctuations
Use of aggressive chemical cleaning agents
Need for frequent machine maintenance due to breakdown of foam gaskets and other components
Risk of water ingress
Risk of bacteria growth
So how do food and beverage manufacturers ensure that our plants are equipped in a way that ensures food safety and sanitation, while decreasing these risks and protecting equipment?
How Hygienic Design is Helping Food & Beverage Plants Stay Compliant while Saving Time
We have found that applying hygienic design principles can help food processors meet and exceed industry regulations and standards while actually increasing efficiency.
First, we look at the different hygienic zones within the plant to understand what level of hygiene is needed within each zone, from basic hygiene zones that have no open processes or washdown requirements to high hygiene zones where food might be splashed on machines, floors, and surfaces. You might call these zones something else within your plant, but virtually every plant in the industry has the concept of food-contact zones and non-food-contact zones.
Keeping these zones in mind, we engineer enclosures to protect the equipment, designed specifically for each of these zones and integrating principles of sanitary design.
Hygienic Design enclosures are designed and engineered to be cleaned and sanitized easily. Hygienic design has three goals:
Improve the overall sanitary conditions of processing equipment, production lines, auxiliary equipment, and facilities
Reduce the time and resources required for cleaning, sanitizing, and inspecting equipment
Reduce maintenance, repair time, and cost due to water ingress
Take, for example, the average meat plant, operating in three shifts. 1 day is equal to 24 hours, or 1,440 minutes. The average meat plant spends 40% of that day cleaning, or 576 minutes. We have found that 5%, or 28.8 minutes, of cleaning time is saved thanks to Hygienic Design enclosures. That's 6,912 minutes a year. If there are 240 working days in a year, those minutes saved add up to 115 hours — over 14 8-hour shifts.
And Hygienic Design enclosures introduce efficiencies beyond cleaning time. When it comes to inspecting, there is no need to open a Hygienic Design enclosure, as there are no gaps between the door and enclosure body. Additionally, Rittal uses a signature blue gasket, which can be clearly seen from a distance and is easily distinguishable from foodstuffs. In a 90,000 sq. ft. plant with 13 lines, these smart design features save an average of 3 minutes per enclosure. In a plant with 150 enclosures, that's 450 minutes, or about 7.5 hours saved per inspection.
Food & Beverage Compliance in 2021 and Beyond
At the beginning of the COVID-19 pandemic, we did see some relaxation of industry regulations. The FDA initially ceased non-mission-critical inspections in March, then temporarily transitioned to remote inspections. But FDA regulatory enforcement inspections will most certainly ramp up in 2021 as the pandemic comes under control, and food and beverage plants should always operate as if there could be an inspection at any time. If your plant has yet to invest in hygienic design enclosures and supporting technologies, now is the time.
We've made it easy with our Food & Beverage Buyer's Guide — download yours today.