Much of the conversation about industrial enclosures in food production facilities is about protecting the electronics that power the actual food production sequence. While these enclosures are without doubt a mission-critical element of a healthy industrial automation framework, there are a variety of other applications where food-grade industrial enclosures help drive efficient and productive workflows.
By way of example, think about a stage play. The actors on stage portraying the characters get much of the spotlight and fanfare, though we know the actors are not the only ones who contribute to a successful performance. The stagehands, prop masters, costume designers, and hair and makeup artists play a vital role in creating an immersive experience for the audience, even though they're mostly out of sight.
With industrial enclosures, the light shines brightly on the boxes or cabinets that directly correspond with food production, but we can't forget about the enclosures that protect foundational elements of a production facility, such as safety equipment, employee interfaces, packaging or labeling equipment, and more — all of the behind-the-scenes necessities that, just like controls, help to keep the line running. These components within a food production facility require the same sanitation, safety, and durability, and yet they rarely take center stage.
Let's take a peek at the metaphorical backstage of food facilities and specific instances where Rittal's Hygienic Design line of enclosures protect the perimeters of the hygienic zone to help producers adhere to safety and sanitation regulations and save time and money.
Protecting the equipment that protects workers
As with any manufacturing facility, safety is a top priority. This includes protecting workers from the hazards of engaging with large, complex machines and combating the potential for fire hazards.
This is exactly the challenge a North American producer of frozen pizzas needed to overcome when placing fire extinguishers throughout their production facility. Government regulations stipulate a fire extinguisher must be placed every 75 to 200 feet throughout the facility, and given that much of that square footage is on the production floor within either medium hygiene or high hygiene zones, this producer needed a series of small enclosures with the right hygienic design and engineering.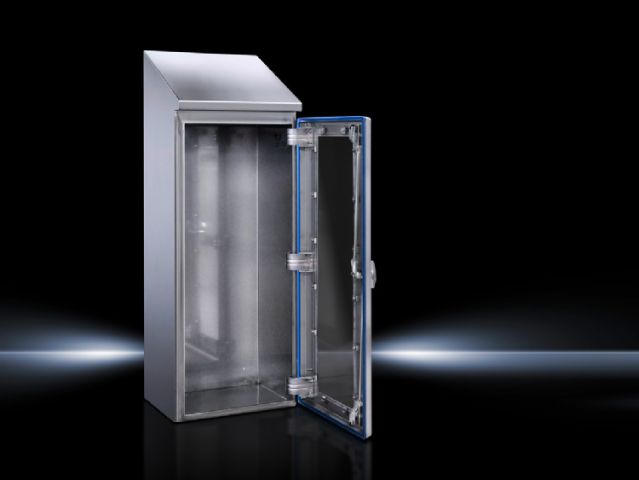 Rittal's Hygienic Design fire extinguisher enclosure provided the versatility, accessibility, and sanitary design principles for rapid integration into the production facility. Available in a variety of sizes and dimensions to accommodate the widest spectrum of commercially available extinguishers, Rittal's HD extinguisher enclosure provides:
Stainless steel construction for maximum durability and protection

30° slope top for water runoff and to prevent pooling during cleaning

Simple removal of fire extinguisher with T-handle

Quick inventory check through integrated viewing door
Ease of installation and mounting as well as superior cleaning capabilities make the Rittal HD fire extinguisher enclosure the box of choice for protecting the equipment that protects the integrity of production spaces and health and safety of workers.
Time is of the essence
Many of the workers on the floor in a food production facility are paid hourly, which means they have to clock in and clock out at the beginning and end of a shift. For both efficiency and ease, the time clocks used to track employee attendance and hours are more often than not located on or directly adjacent to the production room floor. Production floor operators have to open and close an enclosure to interface with a touchscreen or other dynamic display, which can be a potential exposure hazard to the food production line.
A large North American meat producer encountered this exact challenge and needed an enclosure that could easily house a digital time clock and the associated hardware to accurately track hours worked while still adhering to mandates set out in the Food Safety Modernization Act. Enter Rittal's Hygienic Design command panel enclosures designed specifically to house monitors, PCs, and other digital or screen displays.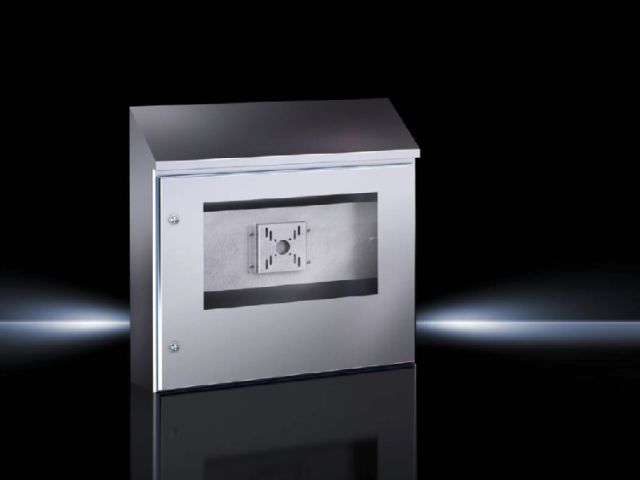 The HD line of command panels is engineered with height-adjustable mounting boards for screens up to 24" in size, as well as brackets for TFT table height adjustable for screens up to 24". Stainless steel construction provides unparalleled protection and durability while allowing for easy cleaning and intense washdowns for the highest levels of sanitation. Polycarbonate viewing windows make for maximum visibility of screens or displays, and silicone seals prevent ingress of water or other damaging or corrosive agents.
It's all about the fine print (ing)
Whether it's labels for shipping finished food products to a distribution facility, invoices or receipts for transport or logistics, or printing productivity or metrics reports as close to the source of the data gathering as possible, food production facilities need to incorporate printers and labeling stations into their production sequences. And because printing often needs to happen within a hygienic zone, food producers need a solution to protect these printing and labeling stations.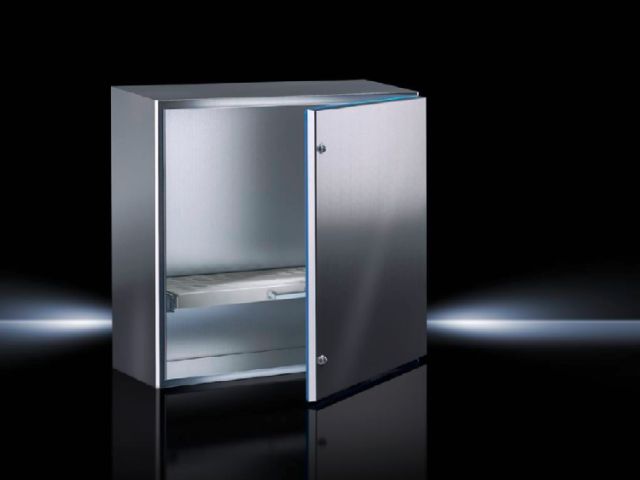 The Rittal Hygienic Design printer enclosure is designed and engineered for seamless installation of printers and labeling equipment into the production space. Stainless steel and IP 66 rating offer strength and durability while HD locks and silicone seals combat ingress potential. Variable mounting options, side rail integration capability, and HD supporting structure with leveling make the printer enclosure both highly customizable and compatible with a wide range of printing and labeling equipment.
With Rittal's line of HD enclosures for the perimeter of today's food production facility, producers can rest easy knowing the highest level of sanitation and protection can be achieved in every nook and cranny.
Learn more about the hygienic enclosures you need by downloading our Hygienic Design brochure!