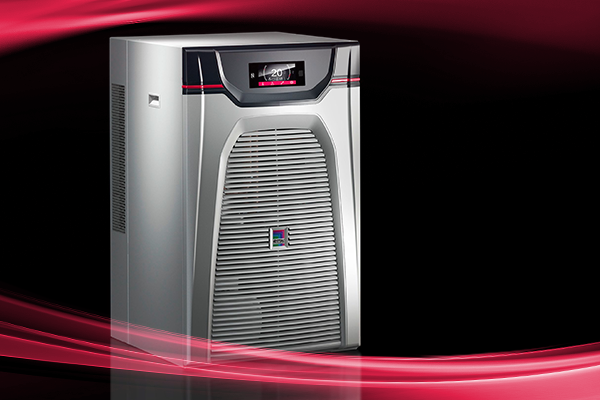 When temperatures reach 104°F, things become uncomfortably hot for electronics. However, iron foundries can regularly reach even higher temperatures.
At its production site in Lohr am Main, Germany, Bosch Rexroth GmbH, operates its own foundry and sand preparation plant. When looking at the best climate control solution to help protect critical control manufacturing technology, the company opted for a liquid-based cooling solution in the form of Rittal's TopTherm chiller.
"The concept of a liquid-based, centralized cooling solution was very popular."
Andreas Geeb, Bosch Rexroth AG
Radiated and residual heat is found virtually everywhere inside a foundry. To help solve this problem, Bosch Rexroth AG partnered with Rittal to find a solution that would keep processes running smoothly regardless of the extreme ambient conditions — ideally without increasing costs.
Independent of ambient conditions
For Bosch Rexroth AG, "the only sensible solution" for dissipating heat without increasing the ambient air temperature was a centralized climate control infrastructure using water as the primary coolant. Rittal's TopTherm chiller recooler features built-in redundancy and is connected to the plant's water supply network to protect technology from overheating. Air and water heat exchangers were also used for industrial enclosure climate control.
Up to 40% reduction in energy costs
Rittal's climate control solutions offer considerable cost benefits in terms of procurement, energy savings, and maintenance. Using the air/water heat exchanger eliminates the need to install a cooling unit with a separate cooling circuit inside each enclosure because heat energy is transferred to a single cooling circuit — this process results in energy savings of up to 40%.
Less maintenance and increased dependability
Service and maintenance costs are also greatly reduced when using this climate control solution as only one compressor and one cooling water pump are required for peak performance and operation. Leak sensors also ensure excellent dependability by triggering on-screen error messages, notifications to the relevant monitoring units, and the closing of solenoid valves. Additionally, the eco-mode setting engages or disengages the internal fan based on the temperature inside the enclosure which further reduces energy consumption.