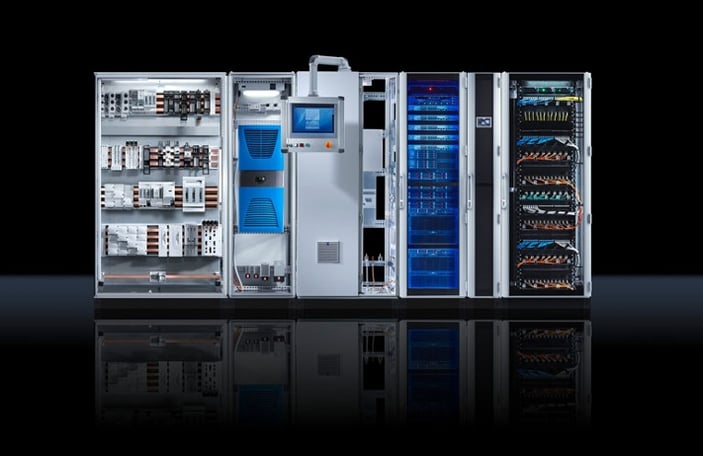 Products marketed in world markets must document that they comply with government directives. That's important to a global organization like Rittal, and explains why its products carry the CE label (European Communities = Communautés Européennes), documenting a product's compliance with the respective EU Directives.
CE labelling is not the same as certification, where a manufacturer voluntarily has the positive properties of his products confirmed by test institutes. It is a legally prescribed label for all products which meet EU Directives. The main aim of CE labelling is to eliminate trade barriers within EU Member States. The CE symbol is an administrative symbol, and was not originally intended for consumers and end clients. It serves as an indication to market supervisory authorities that the labelled products meet the requirements of the technical harmonization directives, particularly safety requirements. This is like a "technical passport" for certain products within the European Economic Area. CE labelling is based on the harmonization concept of the European Union and the associated growing importance of European standardization.
The purpose of such a passport is consumer protection, with the main emphasis on health, safety and the environment.
In the US, under OSHA's NRTL (Nationally Recognized Testing Laboratory) requirements, products must have the specific mark of one of the NRTLs recognized to test and certify these types of products. That means either third-party safety certification by an independent and OSHA accredited testing lab or approved US or Canadian (for Canada) standard for safety of electrical equipment.
Many Rittal products have such internationally recognized approvals such as Underwriters Laboratories, CUL and CSA (Canadian Standards Association).
What does this mean in concrete terms for Rittal products? Enclosures that are intended and used for low-voltage switchgear enclosures to IEC 61 439 are subject to the provisions of the Low Voltage Directive, are evaluated in accordance with DIN EN 62 208, and are labelled with a CE symbol.
Empty enclosures for general and IT applications and mechanical accessory components are not currently subject to any valid EU Directive. Electrical appliances must meet all the relevant EU Directives with respect to their hazard potential, fields of application and the Directive definitions. All Rittal products which meet these Directives are labelled with the CE symbol, either on the product itself or on the insert. This symbol is also reproduced in the manual.
Do you like the way we do business internationally? You can learn more about Rittal in North America on our About Us page. If you're looking for more technical details on our enclosures, you can download our free enclosures guide.