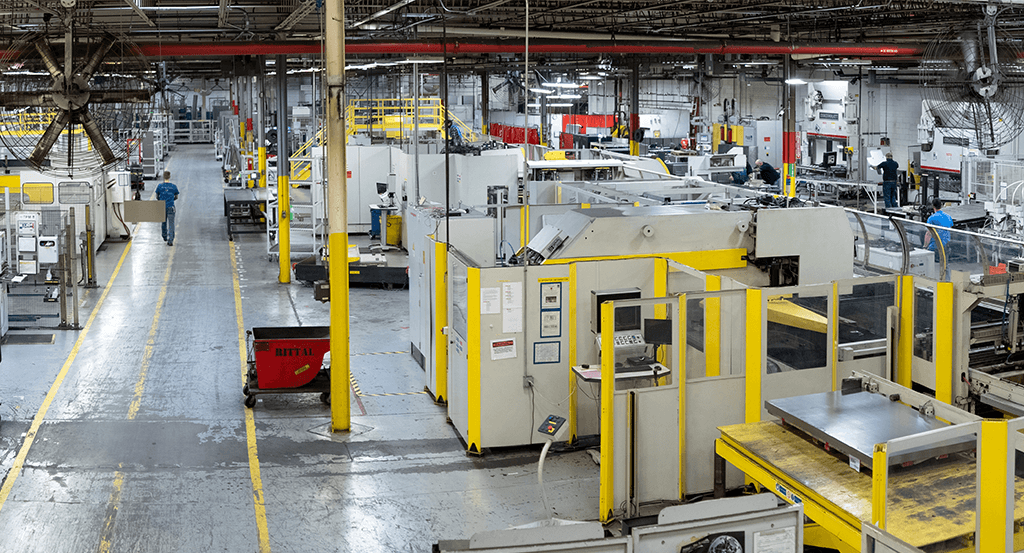 Rittal may be a global player, but when it comes to producing the best-in-class industrial enclosures, accessories, and services across such diverse industries as manufacturing, automotive, food and beverage, and retail and logistics, Rittal is proud to call Urbana, Ohio its home for North American production and distribution.
President Biden signed an executive order in late January to help maximize the purchase and use of goods manufactured within the United States as a boost to the U.S. economy. Located in the heart of the Buckeye state, Rittal's Urbana campus has become a critical hub for the production and distribution of some of Rittal's most acclaimed and popular freestanding and wallmount industrial enclosures and related accessories. For example, Rittal's popular TS 8 family of freestanding enclosures is just one enclosure produced at the Urbana facility.
The Urbana campus also produces some of Rittal's most highly-acclaimed data center products, including its TS IT Pro family of IT server racks.
The 105-acre campus combines cutting-edge production with in-house engineering and modification services to increase efficiency across each touchpoint of the Rittal value chain. The actual production floor features the longest non-automotive paint line in North America, stretching more than 3 miles in total length. The factory floor also houses more than half a million square feet of total manufacturing space.
In addition to the production facility, the Urbana campus is also home to an on-site warehouse featuring a fully-automated, 8-story storage and retrieval system. A second Urbana location also houses additional warehouse space and a 60,000 square-foot product and service distribution center.
Rittal's Urbana location is the latest in an already robust network of North American offices and hubs. Located in Chicago, Illinois, Rittal's North American headquarters features a large-scale production showroom to provide customers with an immersive, hands-on experience with Rittal's product lines. This location also serves as Rittal's Midwestern hub connecting all U.S.-based manufacturing and modification facilities.
Rittal also operates distribution, modification, and training centers in Houston, Texas and Sparks, Nevada, which provide reliable, efficient, and cost-effective service and products on a 24/7-365 basis.
Rittal North America is built on a strong tradition of innovation and takes pride in a progressive approach to engineering comprehensive and effective solutions that support our customers in the pursuit of their goals. With offices in more than 70 countries and major production facilities on 4 continents, Rittal is a proven global leader in the industrial and IT enclosure space.