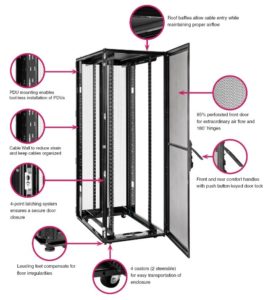 Ever changing technology requires flexible enclosure systems for many different applications. Cabinets must be able to accommodate the evolving requirements of the server and network gear – variable widths and depths, installation flexibility and baying versatility. It is vital that enclosures have cable management options, efficient use of interior space and reliable thermal management. Only one enclosure company can deliver this range of smart IT products – Rittal.
Rittal introduces the simplicITy line of ready to ship and easy to order data enclosures.Currently available in 20 different sizes with our most popular accessories installed, including Casters, PDU brackets, Leveling Feet, Cable Management Wall, and a low profile handle with locking inserts.
Contact us today at 847-240-4630 or datacentersales@rittal.us.