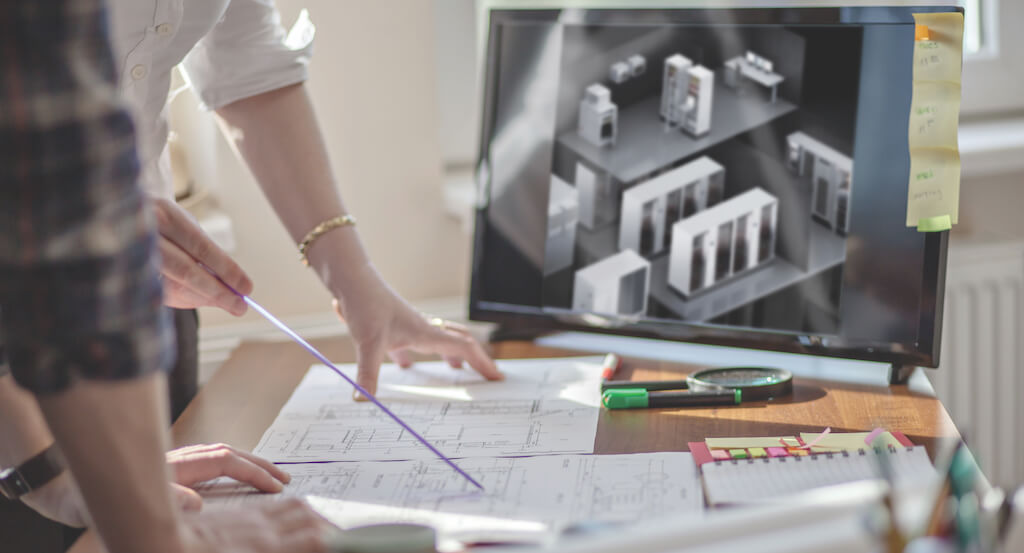 Capturing market opportunities — and making more money from them — is a foundation of business. That often includes thinking and acting faster than the competition. This need for speed is only one reason why Edge deployments are increasing in popularity: reducing data latency while increasing security, resiliency, and reliability in a repeatable platform.
Building and provisioning a data space also depends on speed. Yes, you want your Edge deployments to be complete, efficient, and reliable. However, you can achieve all of that while also speeding up installation and minimizing labor and materials costs.
Rittal pre-engineered Edge Standalone Platforms come fully packaged; all components arrive together, allowing the specific solution to be assembled (not actually built) or even simply dropped in place.
So, no more fabricating and modifying material to fit the physical space. Having it ready to go results in more speed. For a standalone Edge deployment, these pre-configured systems provide a physical "plug & play" installation to complement the same capability for your IT components.
For larger installations, pre-engineered modules can eliminate 2 to 3 months from a typical data center's timeframe to design/build/implement. High-end pre-engineered data center infrastructure solutions have been found to reduce deployment time by up to 30 percent. Yes, this solution costs a bit more upfront, but it drives quick and effective deployment.
What is a Pre-Engineered Bundle/Platform Design?
Any data center contains five major components or building blocks: the IT cabinet, power distribution, climate control/cooling, monitoring and security, and a fire suppression system. A sixth component — the thing that really pulls all of these together — is installation.
Whether provisioning a single footprint or scaling up to dozens of cabinets, the logical use of these components remains the same, although the magnitude may change. No matter what size, however, being able to quickly build and implement an Edge deployment is an advantage. That is where pre-engineered bundles shine.
Large Scale
It is common for one company to implement dozens of similar systems (which may be up to 10 racks each or more) throughout a region or city. Deployment in large numbers takes advantage of efficiency of scale, plus making them all similar eases the burden on managing the deployments. More custom = more time = more cost.
The basic idea of large-scale, factory-built modules (assembled infrastructure on a platform at the factory) is to ship it and drop it in place.
Small Scale
What about smaller Edge deployments? Installation in anywhere that is not a data/IT space. Single-rack or 2-rack cabinet solutions can also benefit from pre-engineered bundles. There are other considerations that demand additional focus to ensure reliable performance.
Edge deployments naturally have more environmental challenges than traditional, ultra-clean data centers, which must be accounted for while designing pre-engineered bundles. A factory floor, for example, is an uncontrolled space where dust, sparks, or water droplets are common. When deploying a self-contained Edge solution in a cabinet, or a stand-alone container, an IT manager's input is needed to properly design that particular pre-engineered bundle.
The Edge platform deployed indoors will be different from one installed outdoors. For instance, simply opening the outer door exposes the inside to temperature, humidity, and/or air quality challenges. Outdoor Edge installations require bundling expertise that not every network server/rack manufacturer has.
Pre-Engineered Bundles Are Perfect For The Edge
Repeatable Edge designs keep things simple, affordable, high-quality, and scalable. Instead of a company spending time on long-term planning — which may be hazy depending on market conditions — the decision to ramp up can be made instantly and confidently.
Installation consistency and quality is maximized, and complexity is minimized. The service experts intimately know that data center, how it should be installed, and how long it takes to install it. And not only is installation fast, the bundle can be custom engineered for that data center, as mentioned earlier.
Remove Second-Guessing (and Worrying) with Pre-Engineered Bundles
In a way, the benefits of platform design remove the need to constantly plan and evaluate for every individual Edge deployment. Whether a pre-engineered solution is integrated in the field or a factory-built module is simply dropped in place, the benefits received by customers is the peace of mind knowing that they are receiving a complete, reliable solution from a single vendor.
All the hard thinking is done for the customer. Instead of sleepless, worry-filled nights and unsettling days, the customer knows all components are designed to work together as a system, and installation is handled fully.
Why customers love pre-engineered bundles for Edge deployments:
One source for the five major components of an Edge deployment: IT rack, power, cooling system, security, fire suppression system
One experienced base of knowledge to ensure the solution will work in its environment
No need to piecemeal equipment together from various vendors
No pressure to make important decisions
Rittal is Well Positioned in the Market to Deliver Pre-Engineered Bundles.
Most companies do not consider "IT" as a core business strength. Yes, IT teams know what the hardware needs to do and what hardware to purchase. But, the team likely does not staff a strong facility mechanical or electrical expert to guide them on the best Edge bundle design.
Among IT cabinet manufacturers, Rittal has put in the effort to understand various industries and has the experience needed to guide customers to the correct pre-engineered bundles. Rittal's Competence Center provides a wide range of project management services, allowing the customer to focus on their core business.
Before exploring and purchasing a pre-engineered bundle, it is vital to dig deep into many considerations. Better yet? Have an experienced and competent team do that for you. Email any questions you may have regarding your Edge application to datacenterengineering@rittal.us.