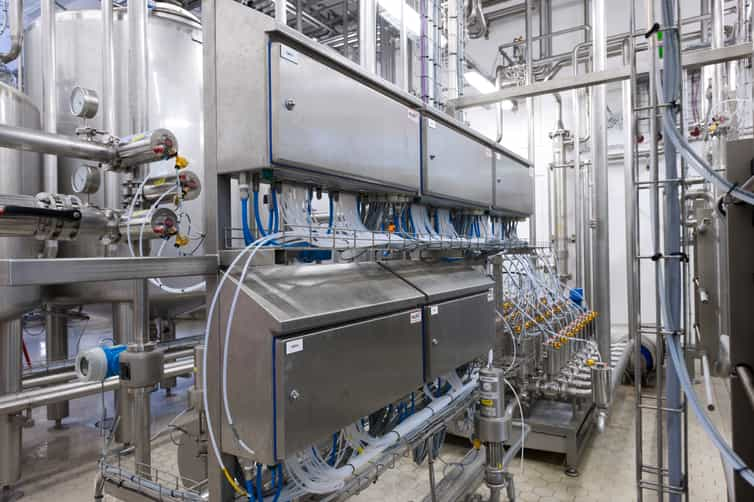 The stringent food safety standards contained in the FDA's Food Safety Modernization Act (FSMA) affect almost everyone involved in the U.S. food supply chain, from manufacturers to shippers to retailers. For food and beverage processors, preventing contamination means aggressive sanitation protocols that ensure equipment is clean at the microbiological level.
Enter hygienic design, an approach to enclosure design that puts the concerns of food and beverage manufacturers front and center.
What is Hygienic Design?
Hygienic design enclosures are stainless steel wallmount housings and free-standing enclosures that are designed and engineered to protect your mechanical and electrical control equipment while preventing food contamination, as well as preventing corrosion from frequent exposure to harsh cleaners and high-pressure hot water and steam. For food and beverage processors, hygienic design is a win-win, leading to lower risk of contamination and recalls, plus shorter cleaning times with less water and fewer chemicals required.
The bottom line: designing for hygiene from the start leads to more uptime in the long run.
Understanding Hygienic Zones
Food and beverage plants have different zones that require different levels of hygiene. Rittal engineers its line of hygienic design enclosures with these hygiene zones in mind.
Basic hygiene zones have no open processes where food could be contaminated, and thus no wash-down requirements. These areas include things like building systems and automation, power infrastructure and switchgear, packaging, palletizing, storage, and conveyers for finished product. Typical enclosure requirements are NEMA 12 and either carbon steel or stainless steel.
Medium hygiene zones involve beverages or food that are contained, mixed, or processed in vats, vessels, tanks, and/or piping. While there are no open processes, the equipment is regularly drained, flushed, and cleaned, along with the floors and other surfaces, which means equipment should have some resistance to water splashing, corrosion, and chemical vapors that may arise during the cleaning process. These are areas where beverage and bottling operations take place — think milk production, breweries, and distilleries. These areas usually require slope-top enclosures that are NEMA 4X and stainless steel.
High hygiene zones contain open processes where food is splashed on the machines, floors, and other surfaces. These zones require the highest degree of hygiene — they are sanitized with aggressive cleaning agents plus high-temperature and high-pressure water, which means the equipment must have the highest degree of water and chemical resistance. Typical applications include food processing equipment and conveyers for raw and unfinished product. Typically, enclosures must be IP69, slope-top, brushed stainless steel, and have gaskets made with FDA-approved materials.
By selecting the right enclosure for each individual hygiene zone within the plant, food and beverage processors can incorporate hygienic design into every step of the production process.
9 Hygienic Design Features to Look For
When choosing enclosures for a food or beverage processing plant, look for these key hygienic design features.
No gaps between the enclosure and its door or cover. For example, a continuous silicone seal door gasket will help prevent the intrusion of water, steam, or contaminants and can be easily replaced when worn.

A smooth surface grain that eliminates tiny pores that could harbor microorganisms.

Internal hinges mounted inside the sealed zone to simplify cleaning.

An integrated, non-detachable rear panel to guarantee reliable hygiene and sealing in an area that is difficult to monitor.

Side panels that are screw-fastened from the inside to eliminate threads or other crevices that could harbor dirt or bacteria.

Hexagonal screw fasteners without the head slots that could allow debris to collect and with external seals to keep moisture out of the enclosure.

Easy-to-clean stainless steel locks and cable glands.

Sloped tops and sealed access points to prevent water or cleaning agent infiltration that could result in electrical failure, unscheduled downtime, and expensive repairs.

An Ingress Protection (IP) rating that is consistent with the line's cleaning protocol. Common IP ratings for F&B applications include IP 66 (dust-tight and protected from high-pressure water jets from any direction), and IP 69K (dust-tight and protected from steam-jet cleaning).
Additionally, look for features that show the enclosure manufacturer understands food and beverage processing needs. For example, Rittal's hygienic design enclosures come with a blue seal. Why? Its distinctive color means that it's easily distinguishable from foodstuffs, which makes decontamination even easier.
Ready to learn more? Get to know Rittal's all-encompassing solutions for the food and beverage industry by downloading the Food and Beverage Buyer's Guide.
Download our Hygienic Design Brochure to learn more!