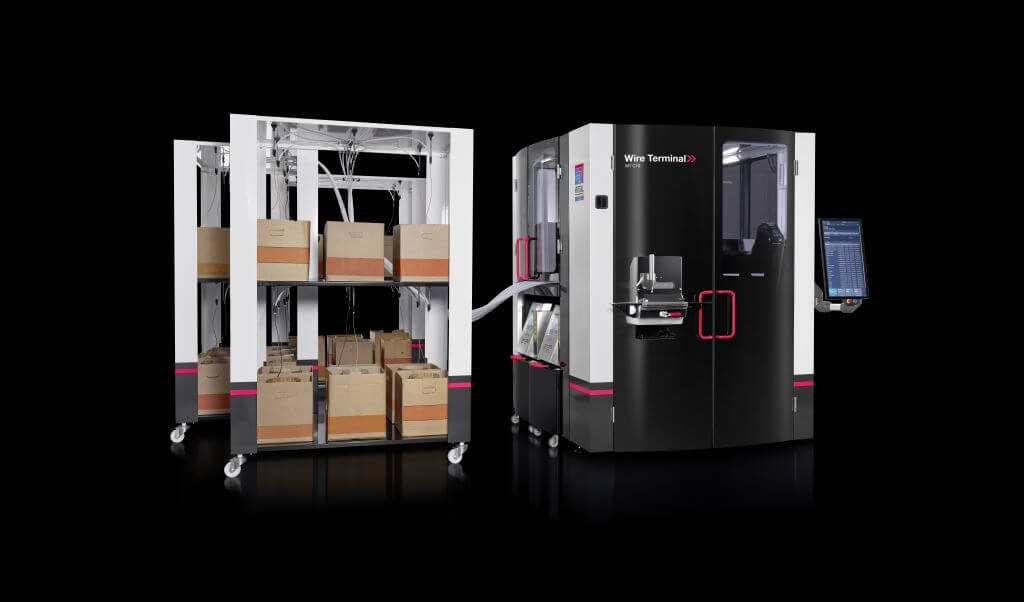 Wiring in panel building and control manufacturing is time-consuming – taking up about 50 percent of the processing time. The Wire Terminal WT C is the ideal solution for reducing the wire processing time. It offers flexible configuration, a quick-change system for wires, process reliability, three wire output methods, and a digitally supported process. Two options for the WT C are available: WT C5 and WT C10 – both allow further expansion to full functionality for wire applications.
The WT C5 has five vibratory bowl feeders for wire-end ferrules and a wire-end treatment feature for wires with cross-sections ranging from 0.5 to 2.5 mm² and the WT C10 has ten vibratory bowl feeders for wire-end ferrules with wire cross-sections of up to 6 mm². Both WT C machines cut wires to length, labels, and crimps. In addition to the 24" display for easy operation, additional features include:
Vibratory Bowl Feeder – Enables a safer process to input loose wire end ferrules and easy refill capabilities
Crimper – Easy processing of wire end ferrule lengths ranging from 8 – 18 mm
Stripping – Stepless partial and full stripping options for wire ends up to 20 mm
Three Feed Block Wiring – Allows wire feeding for up to 36 wires, 12 per feed block and a quick-change system to seamlessly change feed blocks
RFID Transponder – Secure the wire feed automatically to easily change the complete wire magazine
The three wire dispensing options including ejection, rail system, and chain bundler allow flexibility for wire distribution. The rail system can hold up to 2,100 wires making wire sorting unnecessary. The pre-assembled wires are produced in wire rails as standard enabling lined-up wires to be processed quickly and efficiently. Processing time can be further reduced by moving wire rails to the Wire Cart and then taken directly to the point of wire assembly. Improve wire efficiencies even more with chain bundles so that wires are sequentially arranged.
Further streamline processes with EPLAN Smart Wiring to support downstream processes with consistent data and more efficient production. Centrally plan and control data directly with the Eplan and Rittal engineering and manufacturing ecosystem.
The WT C offers rapid, accurate wire processing of up to 36 different wires with cross-sections ranging from 0.5 mm² to 6 mm² without any changeover. This includes the processes of cutting to length, stripping, crimping as well as project-related labeling of the wires. The WT C may be fitted with a black, white, or pale blue marking system for source / destination labelling of the wires. Oscillating conveyors are used for process-reliable infeed of WEF quantities for easy refilling of the loose wire end ferrules.
Download the Rittal Automation Systems Brochure to learn more about how the WT C can reduce pre-production manual work to increase process speed by a factor of 10!