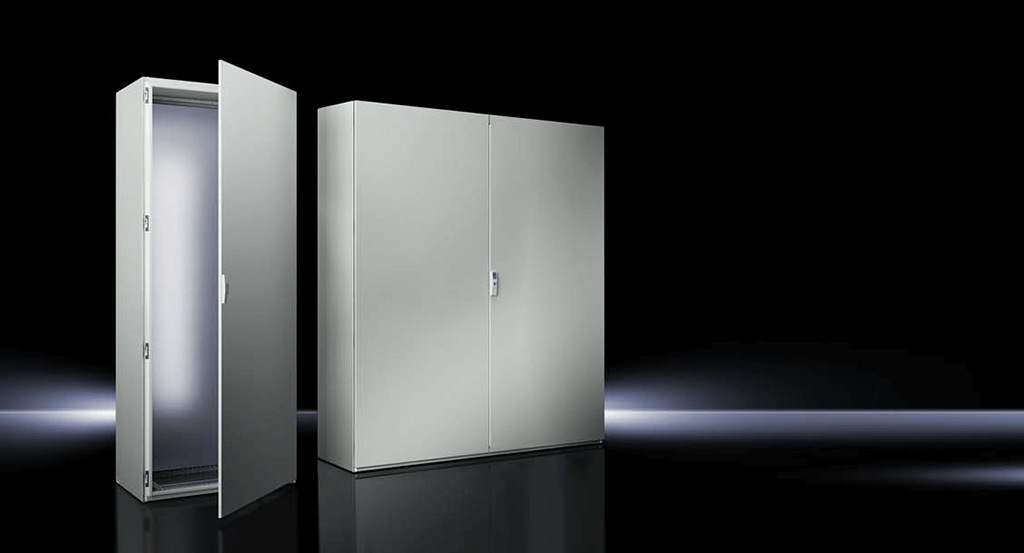 There's no such thing as a one-size-fits-all hat when it comes to industrial enclosures. Every application is unique, each industry has its own set of demands and requirements, and every company looking to compete on a global stage or in a variant-rich marketplace needs to be flexible and agile to respond to unpredictable market forces.
Whether it's the automotive or food and beverage industry, companies need modular, customizable enclosures without a long lead time. Rittal's commitment to industry-leading products and services extends beyond the production of modular enclosures to include best-in-class custom modifications to not only help companies meet the demands of their industry but also help them better understand their business potential and goals by reengineering their entire value chain.
This is where Rittal's value proposition as a partner in the industrial enclosure and automation space reveals itself. To put it simply: Not only do we make the most efficient, durable enclosures in today's market, but we also tailor them to exact specifications in a cost-effective and scalable manner.
Benefits of custom modifications
A large component of Rittal's commitment to enhanced, end-to-end efficiency and streamlined processes from design to delivery is the capability to offer custom enclosure modifications without creating disruptions in existing workflows. This includes eliminating or significantly reducing things like:
Repetitive manual tasks that not only create logjams in production but reduce the ability to allocate talent and labor pools to more pressing or lucrative tasks
Elevated production costs stemming from non-standardized or inconsistent material sourcing and increased lead times as result of varying delivery windows
Traditional panel building processes leveraged on legacy CAD systems that lack integration and data communication capabilities to troubleshoot potential roadblocks in efficiency
Time-consuming project set-ups that lack the ability to be scaled appropriately or result in specialty, one-off workflows without a replicable structure for future jobs.
Rittal provides automated panel building and switchgear engineering with a comprehensive range of solutions from manual tools to fully automated engineering solutions. In addition, Rittal's modification services encompass implementing exact modifications for individual panels.
Our suite of automation solutions from our Rittal Automation Systems line also provides plant engineers and system integrators with the power to see further into their production future than ever before with computing capacity to make real-time alterations or adjustments that increase uptime and provide a more strategic view into the entire value chain.
Elements of Rittal custom modifications
When you think of Rittal custom modifications, you may not think of cities like Houston, Texas and Sparks, Nevada respectively, but these two cities, along with our U.S. manufacturing homebase in Urbana, Ohio, are home to state-of-the-art facilities where we perform our modification and customization services.
Our Houston facility specializes in both stainless steel or carbon steel wallmount, junction boxes, and TS 8 enclosure modifications per customer specifications. Our high degree of workflow automation allows for custom orders to be scaled based on the demands of a variety of industries including automotive, food and beverage, and retail and logistics, and our ability to execute precise cuts for both standard enclosures and mounting panels results in cost and time savings across each stage of the enclosure build process.
Rittal's Houston modification center also houses a 85,000 square-foot warehouse with more than $3 million of inventory to provide enclosures and accessories to customers in a fast, effective, and efficient manner. Our 5X Modification Program further streamlines workflows by providing companies with wallmount enclosures, junction boxes, and mounting panels in a matter of days complete with custom modifications upon arrival to create even faster assembly and integration processes.
The Sparks, Nevada production facility features a 47,000 square-foot facility that is designed to provide our standard, modular enclosures from the warehouse floor to your front door within 15 days, setting an industry standard and reimagining the global value chain in industrial automation.
Like our Urbana, Ohio facility, our Sparks modification center is home to our PrimeXpress Program to provide a more streamlined path from enclosure modification to integration with existing infrastructure and systems.
In addition, Sparks showcases our Perforex BC Machining Center, which has helped companies reconceive their definition of modified enclosures relative to the value they can provide their customers. These systems also allow us to provide:
Fully automated, precise, and reliable milling or laser machining of enclosures and cases, plus cut-optimized machining of cable ducts and DIN rails
Enhanced assembly efficiency with automated production of clamping strips and ergonomic component mounting systems
Professional and practical solutions for wire machining and processing featuring simple and reliable handling
Fully automated and optimized wiring of mounting plates, offering efficient wiring and intuitive control
Best-of-breed manual tools to optimize handheld, manual tasks
Already a global player in the production of modular industrial enclosures and automation systems, Rittal's modification centers and the investment in the cutting-edge tools and software in these facilities have helped Rittal emerge as an industry-leader in rapid, precise, and cost-conscious modification services.
Our ability to provide manufacturing companies with reliable modification services and solutions — especially during the unpredictability of the COVID-19 crisis — has enhanced Rittal's value proposition as a critical partner in the industrial automation space.
Take a behind-the-scenes video tour of our Modification Centers!