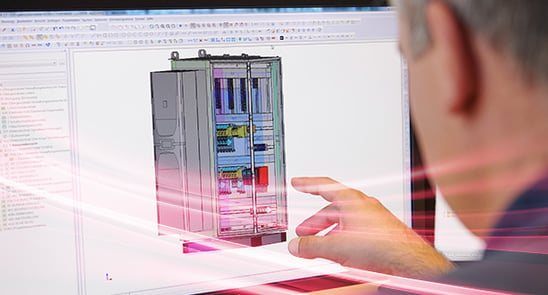 The control panel market is heavily focused on custom projects. As a result, time frames for design, approval, and manufacturing can be lengthy – typically 8 to 14 weeks – lead time. However, the need in industry today is to get solutions much faster.
Watlow Electric Manufacturing, a designer and manufacturer of industrial heaters, temperature sensors, controllers, supporting software, and assemblies with a focus on the semiconductor, energy markets, and other markets, recognized the need in industry for reduced lead time. They wanted to be able to pre-engineer solutions that could be tailored to specific needs more quickly than the industry average.
Founded in 1922 and headquartered in St. Louis, Watlow has over 900 patents issued to them. In 2016, the company opened an advanced manufacturing facility in Houston to redefine how control panels are created and distributed.
The Partnership and the Product Solutions
To achieve their goals of streamlining time-consuming processes, Watlow chose to partner with Rittal. Both companies share the same goals — to increase efficiency, reduce turnaround time, and eliminate waste.
"Our standardization starts in design, so we designed something to be pre-engineered yet configurable, that lets us make a very controlled situation with constructions — it's highly reliable and highly repeatable," says Jeff McClanahan, general manager for Watlow in Houston. "That's important to our customers because many of them have mission-critical needs."
Watlow's main focus is in the energy field; the company provides complete immersion and circulating heating solutions to customers in oil, gas, petrochemical, nuclear, and other industries. Their Houston location focuses on control panels for thermal solutions, which is where Rittal and our platinum-level distributor, Rexel, played a pivotal role in helping Watlow streamline their processes.
To support Watlow's pre-engineered solutions, Rittal provides wallmount enclosures through Rexel, including the standard cutouts that Watlow requires for its control panels. The finished product includes one standard set of cutouts that accommodates a highly customizable panel installation. This eliminates the need for engineering to touch each one.
Going Green
Another need that Rexel meets for Watlow is an enclosure container that allows items to ship with zero waste and no packaging. Watlow requested enclosures that can be shipped without the standard cardboard box, going beyond recycling while adding the efficiency of not having to unbox enclosures.
"We have a specific way that we package the Rittal enclosures for Watlow that really separates us from any other distributor," said Rexel's Clayton Bond. "We built special shipping and storage containers for the enclosures that allow them to be transported and delivered to Watlow leaving no cardboard or other packaging behind."
The Perforex Brings Automation and Speed
Rittal and Watlow's partnership doesn't stop at sustainable products. Watlow further invested in Rittal integration through the Rittal Automation System (RAS) program. The company invested in a Perforex automated CNC machine as a way to further streamline their processes while reducing the chance for human error.
With the help of the Perforex automated CNC machine, products are pre-engineered and then custom built. When an order comes through, Watlow is able to get one of 200,000 to 300,000 different configurations cut into the enclosure with record repeatability and delivery.
Watlow relies on the quality of the cutouts to prevent rework problems, as well as the speed offered by both the Perforex automated CNC machine and pre-engineering process. Combined, they put Watlow squarely ahead of their competitors when it comes to delivery. In an industry that usually has an 8 to 14-week lead time, Watlow's pre-engineered panels ship in just two weeks – this is game changing availability.
Learn more about Rittal Automation Systems.