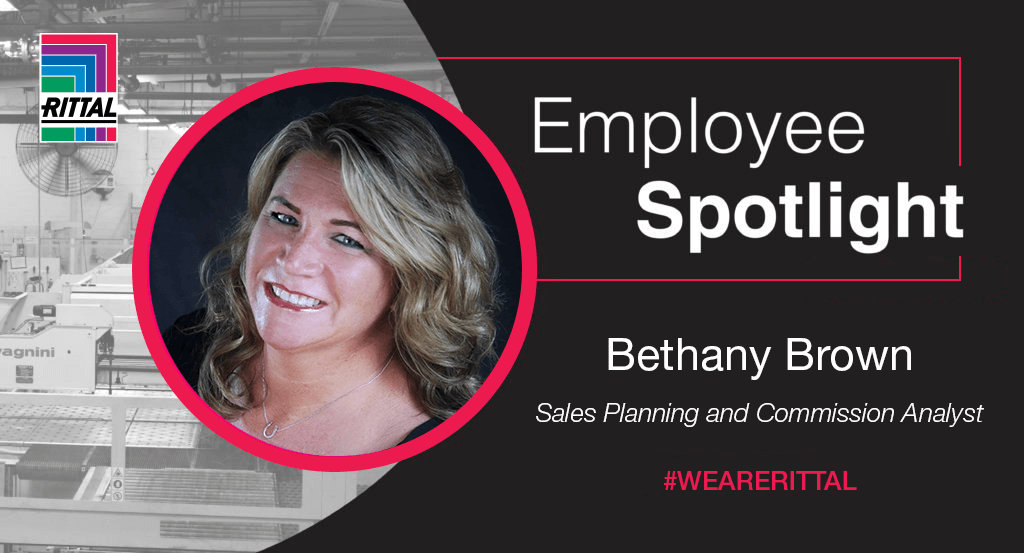 Bethany has been with Rittal for 15 years and has enjoyed the variety of positions she's held.
However, her favorite positions are those where she can support teams and help them achieve their goals. She now enjoys watching her son grow within the company and reach his professional goals. Bethany delights in spending time with her family, including the four-legged members, on their horse farm or participating in other outdoor activities in her free time. Bethany values those around her as they've helped her develop in her various roles and is thrilled to provide that mentorship to others.
How long have you worked at Rittal?
15 years.
Tell us about your education and career leading up to your current role. What did you study, and what other roles have you held?
I began my career at Rittal in Customer Service and developed that role over 7 years. When a position in the Training Department became available, I pursued that and became the Rittal IT Trainer. I thoroughly enjoyed being part of the Training Department, but it was only a yearlong role. I then moved into the Tech Support Team where I worked for 6 years and enjoyed learning something new every single day.
While I enjoyed my time with the Tech Team, I saw the opportunity for a Sales Planning and Commission Analyst position and really wanted to get back to interacting with the sales team and managers daily while helping them to grow the business. I transitioned into this new role in June of 2021 and have absolutely loved every minute of acclimating to this new position.
What inspired you to pursue a career with Rittal?
Having experience working with a large lender and holding my realtor license, my husband and I opened a real estate office in Urbana in early 2005. During that time, I discovered how much I enjoyed sales and working with people to find solutions to their questions and needs. When the real estate market began to slow down in 2007, I started looking for an opportunity where I could continue to work with customers and help them to reach their goals. I came across an open position on the Customer Service team with Rittal, and I joined Rittal on my 30th birthday.
What's the coolest project you're currently working on?
When I was hired into Rittal, I was impressed by the "family" feel and general camaraderie. I came to realize that much of this atmosphere was due to great leadership. Marianne Trimble has always inspired me by her selfless and tireless leadership. She is always available to provide direction and guidance to help her team grow and be the best they can be.
Do you have any advice for new hires at Rittal?
Give yourself time – you will get it. Rittal has its own language and such a huge catalog of products. It takes time to learn the industry as well as the many ways Rittal can help benefit customers in that industry. It's easy to get overwhelmed by the sheer volume of information available, so ask questions – a lot of questions – the products and industry are constantly changing and it's OK to not always understand exactly what the answer should be. It all comes in time so be patient and know that we've all been in similar positions.
What does true leadership mean to you?
To me, true leadership isn't the person who can give the best orders, but it's the people who lead by example and work to encourage and grow the members of their team. Great leaders "see" their team members and understand that people succeed and grow differently. One of my favorite quotes is: "Leadership is not about being the best, it is about making everyone else better."
What's been the proudest moment of your professional career?
I have had the opportunity to move and grow within Rittal and each of these new opportunities has given me a sense of pride in my career. However, I'm ultimately most proud to now watch my son grow with this same company that has afforded me so many amazing opportunities.
What do you like to do for fun?
I have a small horse farm where I live with my husband and son along with all my four-legged kids. I have five horses of my own and two boarders (whom I also consider "my" horse family), two dogs, and two cats along with a multitude of wildlife that I feed. Working, maintaining, and constantly improving the property with my family is my most favorite thing to do. Away from home, we enjoy boating, camping, riding Harleys, and an occasional horse show when I can find the time. Just spending time in the barn makes any day a great day.
Join our team and discover how rewarding a career with Rittal can be!