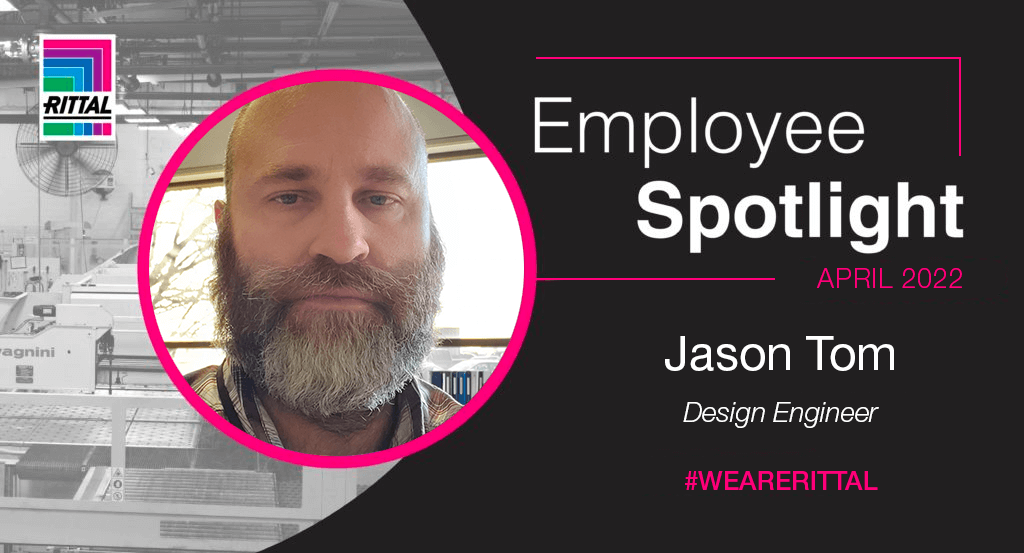 For Jason Tom, working for a company that values their employees is key. He has been given the flexibility he wanted to enjoy more time with his family and gain additional skills through growth development opportunities. Rittal's global presence and focus on collaborations has provided Jason the ability to work on innovative projects with team members across the globe.
How long have you worked at Rittal?
12 years.
Tell us about your education and career leading up to your current role. What did you study, and what other roles have you held?
I attended The Ohio State University where I earned my Bachelor of Science in Agricultural Engineering. After graduating, I worked as a design engineer for 11 years at CSC Worldwide (Columbus Show Case Co.).
What inspired you to pursue a career with Rittal?
I was looking for an opportunity that provided flexible hours, a convenient location, and great benefits. When I found a position with Rittal, it was an obvious fit professionally and personally so I could focus more on my family.
What's the coolest project you're currently working on?
I am currently working on a series of outdoor climate units with forced air for temperature control. These will be standalone enclosures, but air intake and discharge components can be fitted to a standard wallmount unit as a conversion if customers require a unique enclosure size.
Who or what inspires you?
I enjoy listening to Jordan Peterson, Ben Shapiro, Matt Walsh, and Stephen Crowder. I find inspiration in people who stand on their principles and resist the pressure of conformity regardless of where it is coming from. I always try my best to do the same. I approach every situation with an open mind and willingness to obtain further knowledge on the problem and possible solutions so that I can make an informed decision. I keep my family, community, and the company at top of mind when deciding on the best resolution. This enables me to be confident with my decisions when I look at the person in the mirror at the end of each day.
Do you have any advice for new hires at Rittal?
Three things I believe will help any new hire go far are: be on time, be helpful, and continue to learn and grow so you become better each day. There are many development opportunities provided for those that demonstrate a desire to grow their knowledge, skills, and responsibility. Throughout my time with Rittal, I've noticed that they identify internal candidates with capabilities to fill open positions and prefer to hire from within.
What does true leadership mean to you?
True leadership can come in many forms, but the core characteristics for all leaders are honesty and accountability. True leaders are open and receptive; they are honest with their team with good and bad news, take responsibility for their decisions or actions, and create an environment for their team to thrive. They are the foundation for the team creating balance and setting the tone for behaviors.
What's been the proudest moment in your professional career?
Glenn Byrne and I worked together with our coworker from Germany, Thomas Kleiner in developing the base / plinth for the VX series enclosures. It was most fulfilling when our design was awarded a patent.
What do you do for fun?
I enjoy time with my family, going back home to the farm to help my folks with hay or building a fence and watching my kids participate in their many extra-curricular activities. I am also an avid bowler.
Join our team and discover how rewarding a career with Rittal can be!