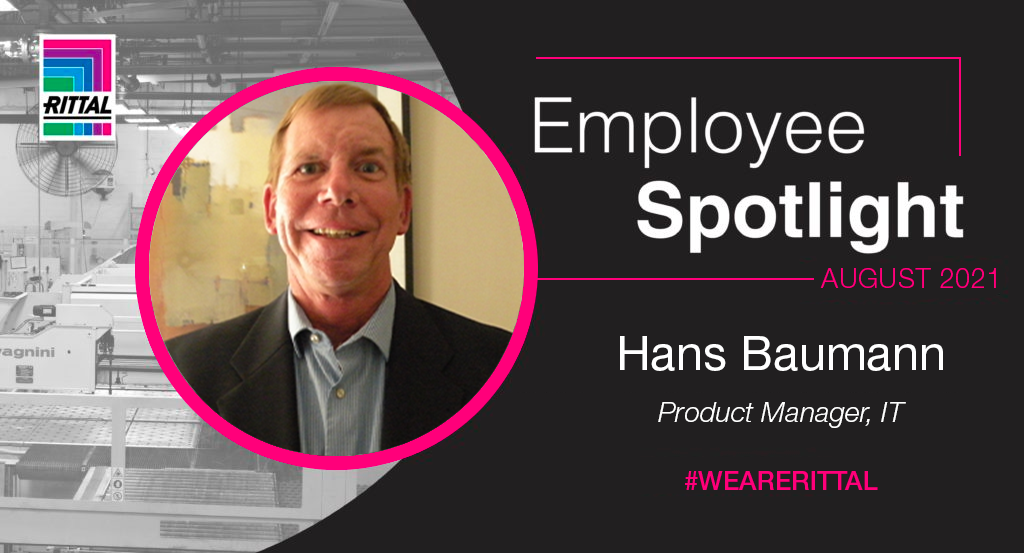 We build our corporate culture on team spirit and this would not be possible if we did not put importance on building long-term relationships with our team. It is because of our talented team that we have seen continuous growth and will continue with a bright future. Our team is #RittalResilient #RittalStrong and together, We are Rittal!
Introduction
Hans Baumann is a man of many interests. With degrees in both engineering and finance/marketing, he finds value and satisfaction in exploration and discovery — whether that's in his professional role as an IT product manager tasked with pushing the boundaries of what IT equipment can accomplish in data centers or industrial applications , or in his personal life with his love of the great outdoors. In any event, it's easy to understand how his endless pursuit of learning fits Rittal's mission and culture like a glove.
How long have you worked at Rittal?
I've worked for Rittal for six years.
Tell us about your education and career leading up to your current role. What did you study and what other roles have you held?
I have a Mechanical Engineering degree and an MBA concentrating in Finance and Marketing, both from Northwestern University. In my professional career, I've held several strategy and product management positions.
What inspired you to pursue a career with Rittal?
I was attracted to Rittal's strong engineering focus, its global footprint, and its reputation for quality products. The role of product manager at Rittal has a wide range of responsibility and interacts with almost all North American departments. In addition, the support from and collaboration with colleagues in Germany and other countries is not always the case in other multinational companies.
What's the coolest project you're currently working on?
The deployment of IT equipment outside of traditional data centers is being driven by massive amounts of data, limitations in bandwidth, and the need to make real-time decisions on factory floors, in hospitals, and even in retail and entertainment venues. Leveraging Rittal's solutions to address the unique challenges found in these applications is a very rewarding experience.
Who or what inspires you?
I've always been inspired by people that find solutions to problems from seemingly unrelated fields. The ability to recognize the value of solutions in different circumstances reminds me to keep an open mind and a broad range of interests.
Do you have any advice for new hires at Rittal?
The importance of communication can't be overstressed. Quality decisions are made based on the information we create and the clarity with which it is shared.
What does true leadership mean to you?
True leadership is to influence others by empowering them to make choices. It is achieved through empathy, communication, accountability, and a vision.
What has been the proudest moment of your professional career?
The development and launch of Rittal's new line of TS IT Pro racks was certainly a highlight in my professional career. It was very gratifying to work with a dedicated team around a common purpose under tight deadlines and deliver what we had set out to do.
What do you do for fun?
I enjoy sailing with my family and the occasional long distance motorcycle trip to one or several of the many great national parks.
Join our team and discover how rewarding a career with Rittal can be!