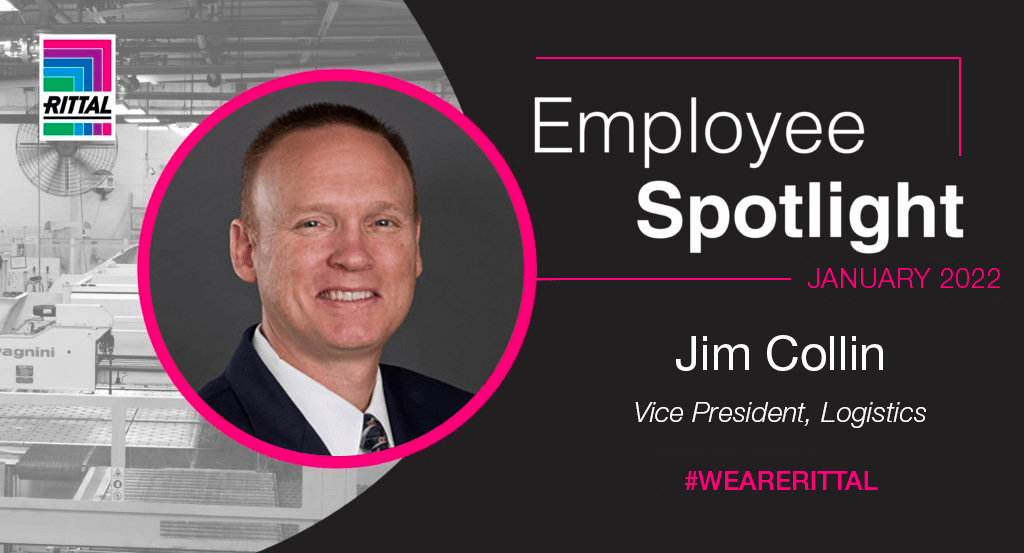 We build our corporate culture on team spirit and this would not be possible if we did not put importance on building long-term relationships with our team. It is because of our talented team that we have seen continuous growth and will continue with a bright future. Our team is #RittalResilient #RittalStrong and together, We are Rittal!
Introduction
For Jim Collin, the best leadership strategy is to lead with honesty, empathy, and belief in those who are working with you. That's in part why his time with Rittal, while relatively brief, has already yielded some incredible outcomes for both his team and the organization as a whole. Jim's wide-ranging experience in a variety of industries is evident each and every day in the well-rounded perspective he brings to our logistics team, and his inquisitive nature and drive to succeed have served to inspire our logistics team to do some of our best work yet.
How long have you worked at Rittal?
One and a half years.
Tell us about your education and career leading up to your current role. What did you study, and what other roles have you held?
After high school, I enlisted in the United States Army for three years and was stationed in beautiful Ansbach, Germany. It was an incredible learning experience in so many ways. After being discharged, I put myself through college at night on the G.I. Bill and worked during the day. I graduated from Northeastern Illinois University and since then my entire career has been in operations, warehousing, logistics, and inventory for U.S. and Canadian companies. I have worked for multinational companies in healthcare, logistics, electrical supplies, and cleaning products. Working in the shipping space with big box retailers for 17 years has taught me a great deal about meeting high customer expectations.
What inspired you to pursue a career with Rittal?
I was intrigued with the job responsibilities and the synergies with my background. During the interviewing process, I was impressed with the openness and candor from everyone. The honesty about the opportunities and challenges was refreshing.
What's the coolest project you're currently working on?
Adding strategically located warehouses in the U.S. to shorten delivery times, expand customer service capabilities, and improve customer service. This will really expand Rittal's U.S. footprint for more responsive enclosure delivery to integrators, OEMs, machine builders, panel builders, and data centers.
Who or what inspires you?
My goal is to be the best boss that people have had for their entire career. I believe people like to be led but not managed. Give them support and the tools, then get out of their way…they will absolutely amaze you. I'm competitive and I love it when we succeed or win.
Do you have any advice for new hires at Rittal?
Ask questions and seek out knowledge from your co-workers. Many have been here a long time and have a wealth of Rittal knowledge.
What does true leadership mean to you?
Being a leader is easy when everything is going well. The challenge is when things are not going well. Leadership is determination and action, not a position. You must support your team in good times and bad. They must know you have their back. Be honest and approachable, but also hold yourself and the team accountable.
What's been the proudest moment in your professional career?
While I was working for a manufacturer of cleaning products, we successfully exchanged warehouses with a manufacturer of gloves and slippers in Canada. We needed more space, and they were consolidating, so we moved into their warehouse at the same time they moved into ours. It was the most complex project I have ever worked on that included moving racking and a mezzanine. To make the move more complex, both companies had to be operational every day throughout the month-long initiative.
What do you do for fun?
I enjoy getting outside when the weather is nice. I'm married with three awesome kids and I try to spend as much time with my family as possible. I work out to P90X3. There is almost always a home repair or project that is "in progress". I like to travel and vacation in Hawaii every other year with my extended family.
Join our team and discover how rewarding a career with Rittal can be!