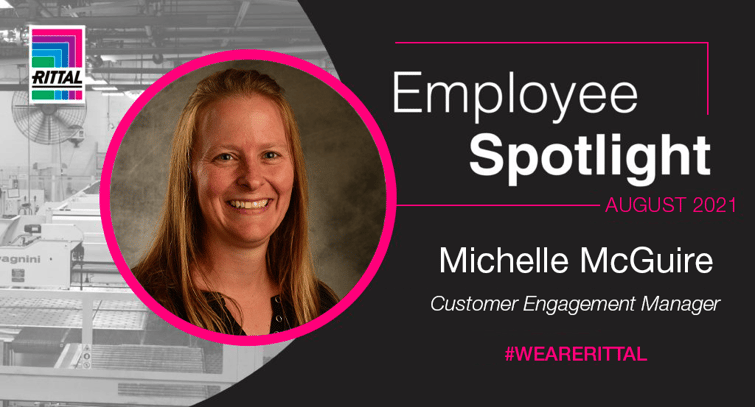 We build our corporate culture on team spirit and this would not be possible if we did not put importance on building long-term relationships with our team. It is because of our talented team that we have seen continuous growth and will continue with a bright future. Our team is #RittalResilient #RittalStrong and together, We are Rittal!
Introduction
After working with Rittal in a variety of different positions over the last two decades, Customer Engagement Manager Michelle McGuire is truly a woman of many hats. While at Rittal, she has held several roles within marketing, legal, sales, and more. She demonstrates the leadership qualities of accountability, integrity, listening, and setting up teams for success.
How long have you worked at Rittal?
I've worked with Rittal for 20 years.
Tell us about your education and career leading up to your current role. What did you study, and what other roles have you held?
I started at Rittal as an Admin Assistant to the OEM Engineering Manager. Within a few months, I was promoted to Assistant to the VP of IT Sales. I've held multiple roles at Rittal in sales, marketing, and support throughout my career – everything from analyst to legal support to sales productivity. I've been fortunate to have been exposed to many facets of our business which has kept me from ever feeling stagnant in my professional development.
Five years ago, I was asked to fill in temporarily as the leader of the customer service team and shortly thereafter I was offered my current position as customer engagement manager. My prior bosses had asked before if I would be interested in a management level position, but the timing was not ideal for me then due to my other job as a mom. The CE Manager offer came as my son entered his pre-teen years and I felt it was the right time to choose an opportunity for growth.
What inspired you to pursue a career with Rittal?
That was so long ago, but Rittal offered stability and great benefits, two things that still hold true today. The employees that I work alongside have always been like a second family to me. Let's face it, we spend as much time — or more — in the workplace than we do at home. The level of care for other people in the organization has been critical in helping us all navigate through challenges.
What is the most satisfying aspect of your current role at Rittal?
I love to problem solve. Every day at Rittal gives me an opportunity to assist in solving challenges for our customers. My team is great at coming up with solutions to meet our customers' requirements.
Many of my team members and I assisted in production areas in the midst of the pandemic. I'm proud to be part of a team that is willing to do what is necessary to pitch in and help — even if it's outside our traditional job responsibilities.
Do you have any advice for new hires at Rittal?
Learn as much as you can — Rittal is a great company for growth opportunities. After 20 years, I still learn new things all the time.
What does true leadership mean to you?
True leadership means having integrity, being accountable, listening actively, helping others realize and reach their potential, and setting the team up for success.
What has been the proudest moment in your professional career?
My proudest moment has been seeing team members develop and being promoted within the organization.
What do you do for fun?
I enjoy watching my son play basketball and soccer. I love to travel — usually to a beach. I also love listening to music and enjoying time with my family and friends.
Join our team and discover how rewarding a Rittal career can be!