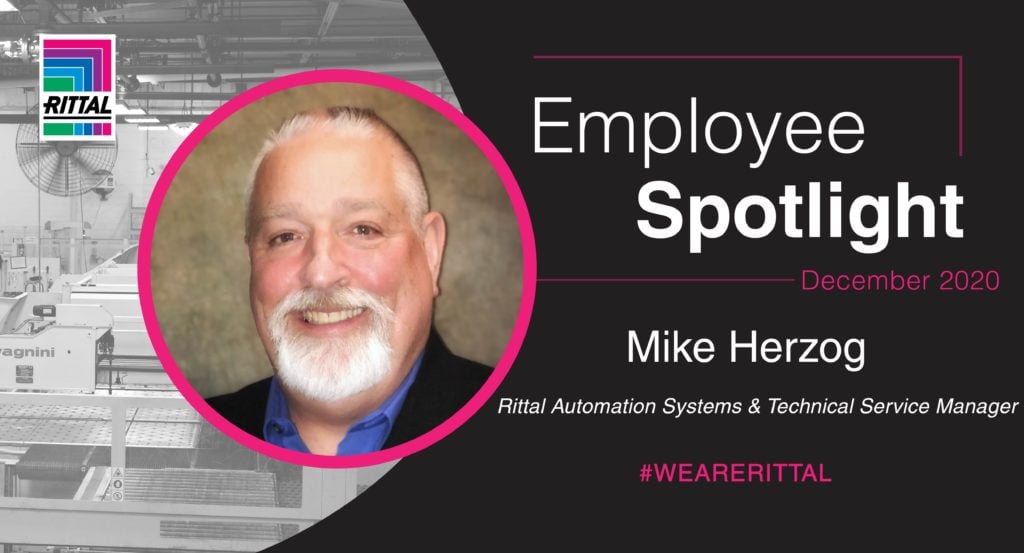 We build our corporate culture on team spirit and this would not be possible if we did not put importance on building long-term relationships with our team. It is because of our talented team that we have seen continuous growth and will continue with a bright future. Our team is #RittalResilient #RittalStrong and together, We are Rittal!
Introduction
Mike was born and raised in Springfield, Ohio, and joined Rittal in 1988 in the role of Trade Show Manager/Mobile Design Center Driver/Field Service Technician. Those positions were followed by Product Manager, Inside Sales Manager and Specials Manager. Currently, Mike is working with the Service Team and is the Product Manager for Rittal Automation Systems.
Question and Answers
Q: What has been a significant highlight of working at Rittal?
The people. I have had the opportunity and pleasure to work and learn from numerous people both in the USA and Germany. I also appreciate the growth of Rittal in the USA; sales growth but especially the growth of the people and our continued expansion of Urbana.
Q: What's the coolest project you're currently working on?
That is easy…Rittal had an opportunity to quote control enclosures that would be used on the launch tower for a NASA's manned solid booster rocket for the Constellation Program. Very interesting and challenging application.
Q: Who/what inspires you?
Definitely my wife. Her attitude is so cheerful and positive. She is always looking to help others…especially dogs!
Q: Do you have any advice for new hires?
Be flexible to change and learn about the products and processes.
Q: What does true leadership mean to you?
Leading by listening to feedback/suggestions and being open minded, providing positive feedback, encouraging others to find solutions on their own but not criticizing mistakes and projecting confidence that the leader will stand up/behind and support team.
Q: What was the last experience that made you a stronger person?
COVID-19! Unprecedented challenge for all of us.
Q: How do you balance your career and family?
This is difficult right now since I am working from home. Normally (what was that?), my wife and I agree to end our workday at a reasonable time and leave the laptop and cell phones off when we get home. We like to take mini-vacations over a long weekend.
Q: What is the proudest moment in your professional career? Your personal life?
Professionally - there have been numerous challenges that were moments of achievement but they are short lived because there is a new challenge waiting in the wings.

Personally – Marrying my wife and then her double lung transplant that allowed her to breath.
Q: What do you do for fun?
Fill out personal surveys. Just joking…

I enjoy crafting stained glass panels, lamps, etc.

Take a drive somewhere, I try to take back roads to see what is hiding out there.

Tinkering around and fixing things. I built two 5-gallon margarita machines using a ¾-HP garbage disposal. Don't worry, the disposals were not used.
Q: What is your favorite childhood memory?
Family vacations to Arizona, Colorado and Indian Lake.
Q: What is the best vacation you've ever had?
25th Wedding Anniversary in Key West.