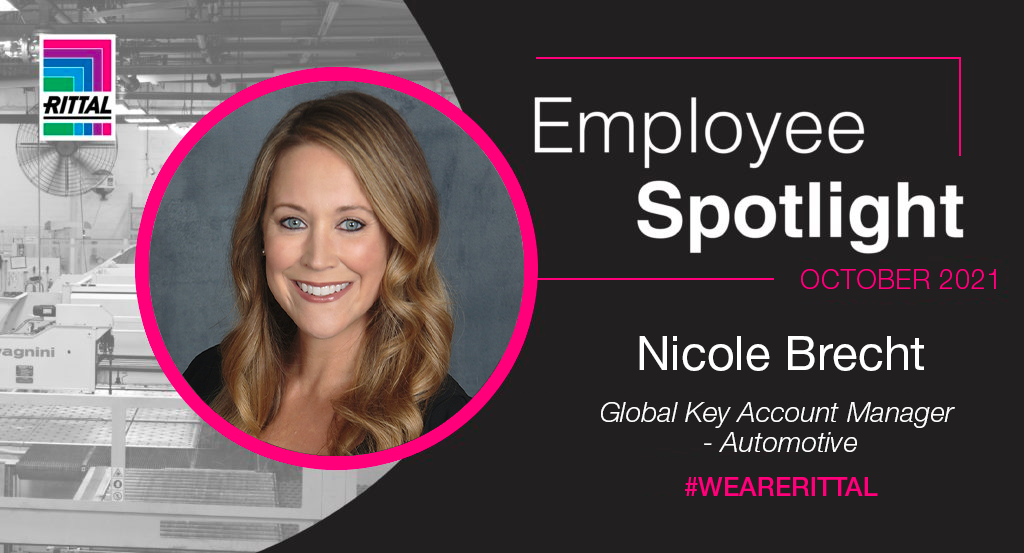 We build our corporate culture on team spirit and this would not be possible if we did not put importance on building long-term relationships with our team. It is because of our talented team that we have seen continuous growth and will continue with a bright future. Our team is #RittalResilient #RittalStrong and together, We are Rittal!
Introduction
Nicole Brecht is a self-motivated person. Whether it's completing an advanced degree at Michigan State University, learning the ins and outs of the interior design space of the automotive industry, or taking the reins of program and account management in the electrical supply industry, Nicole's entrepreneurial spirit has served her well. Her love of learning and ability to embrace a challenge has helped her reach a number of professional heights, including her current role with Rittal as the Global Key Account Manager for Automotive.
How long have you worked at Rittal?
I have worked at Rittal for about 3 and a half years.
Tell us about your education and role leading up to your current role. What did you study and what other roles have you held?
After receiving both my bachelors and masters degrees from Michigan State University, I started my career as a textile colorist at the Kmart headquarters where I gained the knowledge for my transition to an automotive interior fabric supplier. While working in the fabric supply business, the management team encouraged me to transition to a program manager role. After many years as a program manager, I was approached to fill an account manager position at a large electrical supplier.
What inspired you to pursue a career with Rittal?
Rittal was seeking an entrepreneurial-minded person for this position, which is what interested me in it. Most companies do not encourage entrepreneurial thinking, so Rittal really caught my eye. It was my opportunity to use my business sense to benefit a large yet still privately-owned company.
What's the coolest project you're currently working on?
I am currently working with a diverse team of individuals on a global project with a cutting-edge automotive manufacturer. We are strategizing and sharing resources to ensure that the long-term needs of this customer are taken care of today and into the future. If successful, Rittal will have built a strategic partnership with this leading global automotive key account in order to help design and develop new, innovative opportunities that will promote sustainability and a forward-thinking approach to our work.
Who or what inspires you?
I have always been inspired and motivated to do what's right. That's why I believe I am a good advocate for Rittal and the global automotive accounts I am responsible for. I am able to step away from the question or concern and determine the best outcome that will benefit Rittal and our customers. I seek to ensure that Rittal is viewed as a collaborative partner and not just another component supplier.
Do you have any advice for new hires at Rittal?
Every position at Rittal North America is important to the overall success of our team and of our company. If you have a question: ask. If you have a process improvement suggestion: share it. If something doesn't feel right: say something. It is important that we communicate and understand that each and every one of us has the ability to influence the success of our business and that there is a solution to every problem.
What does true leadership mean to you?
A true leader is an individual that acknowledges and learns from their mistakes. They can connect with everyone they encounter to build empathy and create trust, which in return, creates loyalty. Most people seek encouragement and need to be motivated for them to feel as if they are more than just a piece of the vision — but the truth is they actually are the vision. A true leader is more than a great communicator; they must believe in the message if they want to spark the interest of those they are trying to influence.
What's the proudest moment of your professional career?
When I was hired at Rittal in 2018, I was given a monumental task. As an entrepreneurial-minded person, I had to examine what strategies were previously executed and understand why those attempts were not successful. In my mind, if I was successful, it was my personal return on investment to the company that took a chance on me when they hired me. The proudest moment in my professional career was when I received the email confirming Rittal would become a new strategic partner with a leading global automotive key account.
What do you do for fun?
At this point in my life, I enjoy watching the quiet moments shared between my eleven-year-old son and my six-year-old daughter — the moments when they believe no one is watching. For instance, when my son is helping his sister learn to read; when he explains to her why math is important; or when he tries to calm her fears about going to school in-person this year. I also enjoy camping, family game nights (even though I usually lose), cooking, spending quality time with family and friends, and impromptu karaoke nights at home.
Join our team and discover how rewarding a career with Rittal can be!