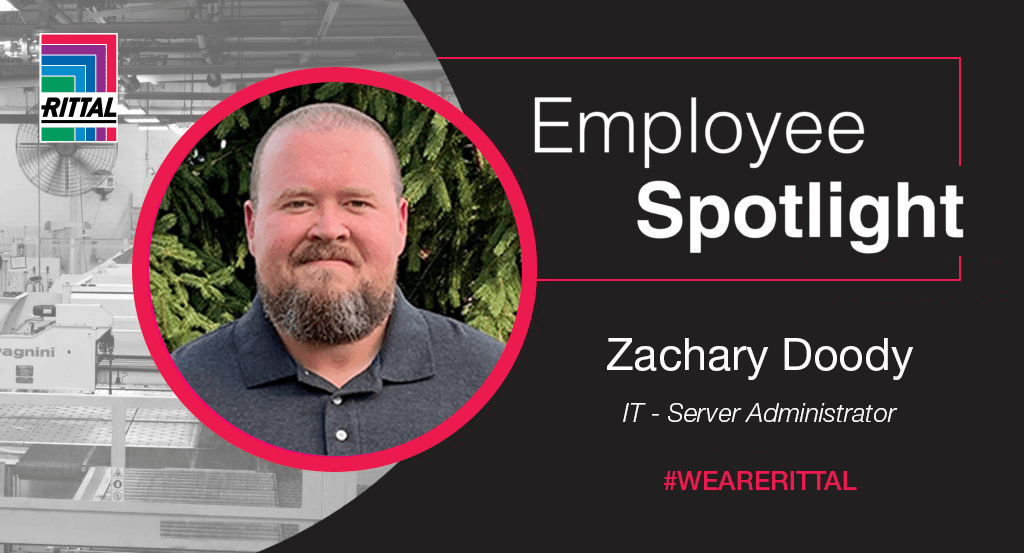 Zach has had a passion for IT since he was in grade school, he enjoyed the challenge of an ever-changing industry and wanted to continue pursuing a career in this field. He values his close friends and teammates, thriving in an environment of collaboration and respect. Zach continues to face challenges head on as noted in his proudest moment of a two-day, unplanned core infrastructure rebuild project. When he's not tackling another challenge, Zach loves spending time with his wife and puppy, gaming, or learning about new technologies.
How long have you worked at Rittal?
I reached five years in July.
Tell us about your education and career leading up to your current role. What did you study, and what other roles have you held?
Like many professionals in the IT field, most of my skills were acquired with self-study, on the job training, and endless amounts of research. I started working in IT during high school, doing HTML updates for the school website. During college, I realized the IT field would always be evolving and challenging, and it would continue to interest me. I've been working in IT ever since – from standard help desk to various forms of systems and network administration.
What inspired you to pursue a career with Rittal?
Prior to Rittal, I worked in IT for an aerospace company and had the opportunity to work with a few Rittal products over the years. A longtime friend and current Rittal employee suggested I apply for an opening on Rittal's MIS/IT team. It was a great professional move – I'm able to work alongside some of the smartest and hardest-working people in the industry.
What's the coolest project you're currently working on?
That's a tough question, as I tend to think even the most mundane projects are cool. We are currently merging our Global IT organization into international teams. Working with teammates around the world discussing and solving global issues is very rewarding. On the technical side, I'm merging and standardizing our virtual infrastructure with our international team, with a focus on automation.
Who or what inspires you?
The Ukrainian people's ongoing fight for freedom continues to fill me with awe.
Do you have any advice for new hires at Rittal?
My advice is to always talk to your team, ask questions, and embrace documentation.
What does true leadership mean to you?
True leadership involves consistency, focus, and integrity with the end goal to always grow and develop the skills within your team.
What has been the proudest moment of your professional career?
There are a few things that come to mind, but one in particular stands out. An unscheduled 45-hour core infrastructure rebuild for multiple hardware failures is quite memorable. The successful resolution, over just two days, was the result of teamwork and tenacity.
What do you do for fun?
I enjoy learning new technology, automation, and computer gaming. My wife and I also enjoy watching good streaming shows. Our one-year-old rambunctious puppy, Peaty, fills just about all of our spare time.
Join our team and discover how rewarding a career with Rittal can be!