Direct to Chip Liquid Cooling 101
Decrease energy consumption. Increase density. Maximize space. These are three of the most critical mandates guiding the decisions of data center Facility Managers and IT Managers around the world. And it's getting tougher to comply; intense data-crunching needs of AI workloads are becoming commonplace and there is a growing need for HPC capabilities to enter mainstream data centers.
So, how does a data center owner create a strategy to accommodate high-performance, high-density servers while conserving energy? Liquid cooling is the answer, and one of the most effective of these methods is direct to chip (sometimes referred to as direct-on-chip) cooling. Direct-on-chip keeps processors at their optimal temperature at all times, under any load, in all climates. However, not all direct-on-chip liquid cooling is created equal. Specifically, waterless, two-phase liquid cooling is the most effective way to go beyond the limits of air and mitigate the risk of IT failure.
The Benefits of Direct to Chip Liquid Cooling In Your Data Center
In direct to chip cooling, a liquid coolant is brought via tubes directly to the chip, where it absorbs heat and removes it from the data hall. Because this system cools processors directly, it's one of the most effective and efficient forms of data center heat removal. Waterless, two-phase liquid cooling using dielectric fluid uses an elegant, highly efficient, two-phase boiling and condensation process to efficiently move large amounts of heat off chips and away from servers. With this unique combination, data center owners can cool the highest powered chips pushing to 1,000 W and beyond.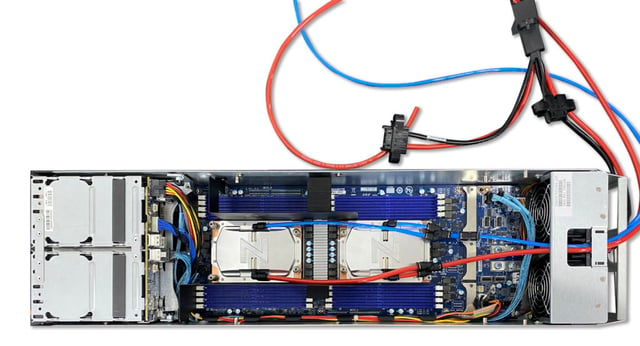 Presented with the density challenges on the horizon, data center professionals know that air cooling alone won't be able to handle the demands put on them by tomorrow's powerful processors; at the same time, pressure to reduce energy consumption will increase. In other words, the industry will continue to ask data centers to do more – but spend less. A switch from traditional methods to direct to chip rack-level cooling will deliver on all expectations of tomorrow's data centers:
Reduced energy

. Compared to traditional air cooling, liquid is a more efficient way of transferring heat away from electrical components than air; in fact, liquid's heat-carrying capacity can be up to 3,500 times greater. There's also a greatly reduced need for fans in a liquid cooling system, as the amount of air flow needed can be cut by up to 90%

Increased processing capacity

. Because direct to chip liquid cooling is precisely targeted and therefore more effective in isolating and dissipating heat, equipment is able to support greater CPU and GPU densities

Reduced space

. Rack-based liquid cooling solutions keep cooling inside the enclosures, eliminating the need for in-row cooling units

Reduced downtime

. Because it's more effective in removing heat, chip-level cooling means less likelihood of equipment overheating, a major cause of data center downtime
Rittal Introduces Its First Direct to Chip Cooling
Rittal recently introduced its HPC direct chip cooling solution, a partnership with ZutaCore, a direct-on-chip, two-phase, waterless liquid cooling company. The line combines Rittal's German-engineered modular IT enclosures (sometimes referred to as cabinets) with the direct to chip evaporative cooling solution from ZutaCore. This easily scalable "all-in-one" solution eliminates data center hot spots, meets all edge computing requirements, and minimizes the risk of IT failure.
The product line includes a rear-door-air (RDA) solution – a compact unit that incorporates the cooling components directly into the rear door, saving valuable rack and data center space. This option can be quickly deployed into existing data centers without modifying existing infrastructure

The other option is the In-Rack Edge solution, available in both air-cooled and water-cooled versions. The air-cooled option can be installed into any rack in almost any environment, answering growing demand for high-powered processing at the edge or in the data center. The water-cooled option offers energy efficient cooling of up to 70 kW of processors in a single rack
You can learn more about Rittal's HPC Cooled-by-ZutaCore solutions by going to our website, or by reaching out to our team. Our experts bring valuable knowledge and insights into every engagement, and they'll work closely with you to understand your needs and make recommendations for cost-effective, energy-efficient cooling that helps you future proof your data center.
In the meantime, take a look at our High Performance Cooling Whitepaper to learn more about the best methods for efficiently managing today's data centers.