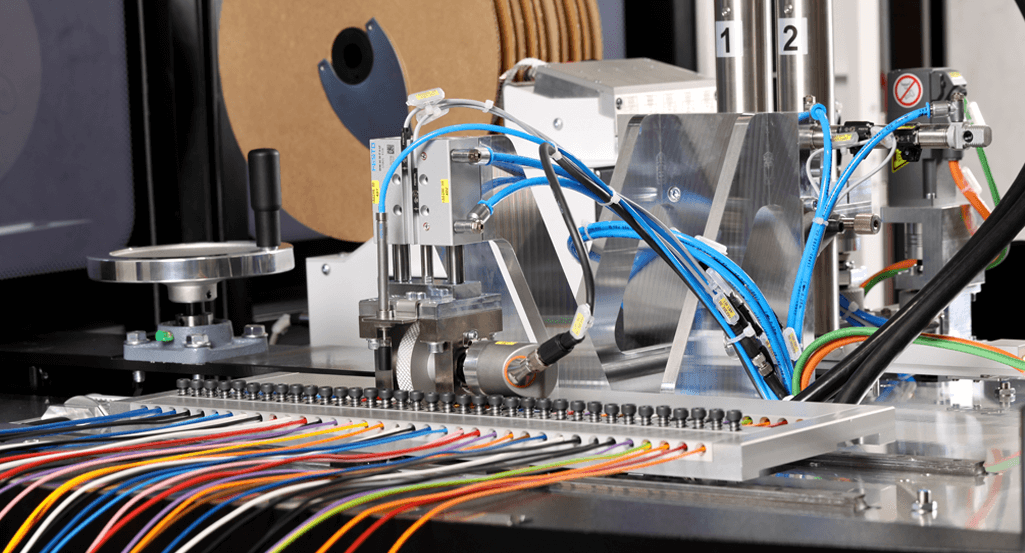 Imagine putting together a 15,000 piece jigsaw puzzle by hand. That's quite the endeavor. Now imagine a machine that precisely assembles the puzzle for you in a fraction of the time and in a way that can be easily replicated with other puzzles of varying sizes and difficulty. Now translate that same theory of automation to accelerate throughput times of a manufacturing process. It's safe to say that would be an incredibly valuable machine.
Rittal Automation Systems (RAS) functions on this exact same principle for system integrators, control panel manufacturers, and in some cases even OEMs when it comes to solutions for the design, production, modification, and assembly of industrial panel and switchgear manufacturing. RAS products help manufacturers reduce labor costs and improve delivery times by streamlining processes, and optimizing their machining, assembly, and wire processing.
With these elements in mind, let's explore Rittal Automation Systems and how it can help you solve your own industrial automation puzzle.
RAS solutions: tools and machines
RAS is a suite of solutions from tools to fully automated machines that eliminate the manual interventions of industrial panel modification and switchgear assembly. These machines are engineered for precise cutting, tapping, milling, and wire processing that manufacturers in any industry encounter as today's enclosure applications become more varied and unique. The variety and flexibility of cuts or wire processing these machines provide allows for repeatability and scalability based on customer demands or market forces.
The workhorses of the RAS suite of solutions include Rittal's milling, laser, and wire terminal machines:
Perforex MT milling terminal

: The Perforex MT milling terminal

provides fully automated, fast, precise and reliable machining (drilling, thread-tapping, and milling) of mounting plates, doors, roof plates, side panels, gland plates, or unibody enclosures. Ideal for Rittal's most popular carbon and stainless steel enclosures, the Perforex MT leverages an intuitive user interface where drawings can be viewed and updated in real-time for maximum job flexibility and repeatability.

Perforex LC laser center

:

Built for stainless and sheet metal applications, the Perforex LC uses laser cutting technology for precision, speed, and optimized machining of up to 5 surfaces simultaneously. The LC completes highly-customizable machining can run up to 20x than conventional milling processes with easy loading for increased ergonomics., The LC a powerful and easy-to-use cutting machine that, when combined with EPLAN's powerful design software, provides unparalleled insight and visibility into each step of the machining process.

Wire Terminal WT

: processing and assembly machine can produce

24 to 36 different wires with cross-sections ranging from 0.5 mm² to 6 mm² without any manual intervention. The variety of wire assembly, easy job setup and modification, and compact nature of the machine itself helps manufacturers with high volumes of wire processing jobs work faster and more precisely to meet changing customer or market demands.
In addition to machining, RAS also provide smaller worktop machines such as time-saving wire processing machines to virtually eliminate the manual processes of wire stripping, crimping, and other time-consuming tasks. With Rittal's wire processing tools, tasks that take 10 seconds to complete by hand can be reduced to just 1.5 seconds via process automation. This drastic uptick in productivity also boosts precision and significantly decreases instances of human error that result in downtime or production gaps.
The EPLAN connection
While it's not necessary to use EPLAN's suite of design software in conjunction with RAS machines, the benefits of such a pairing are impossible to ignore. EPLAN's 3D visualizations, digital twins, faster schematic creation, real-time alterations, and reduced design transfer time work hand-in-hand with how RAS automates the machining process.
This seamless passing of the proverbial baton between design and machining helped frac, oil, and well service equipment manufacturer Prime Well Service Instrumentation (WSI) discover the value of pairing EPLAN and RAS solutions with the assembly and modification of their popular pump control boxes.
Combining EPLAN and RAS machines used in Rittal's network of modification centers, Prime WSI experienced streamlined design, assembly, and modification processes that reduced the need for manual intervention and increased their efficiency. Integrating EPLAN with RAS tools also helped Prime increase their productivity and offer a superior product to customers, which in turn drove growth and profitability.
Real-world value
What are the real-world benefits of Rittal Automation Systems and why should systems integrators and panel builders pay attention? Imagine a customer requires the machining of 10 enclosures. Completing this order manually can, depending on the nature or complexity of the job, take up to 45 minutes per enclosure] and involve elevated chances for human error.
However, the same machining with a RAS machine like the Perforex can slash the production time to a mere 3 minutes per enclosure with significantly increased precision, and the integration of an EPLAN design program can store and share the program for additional machining down the line.
Multiply this scenario by four or five times and it's easy to see how using a RAS tool for machining or wire processing provides real-world value in an industrial marketplace where speed is prized, and adaptability is just part of the game. Other concrete value propositions include:
Elimination of the manual processes that are costly and time-intensive.

Increases in productivity through end-to-end automation and optimization.
Reduction in machining or modification costs via reducing human error found in manual tasks.
More precise, complex machining for a wider variety of industrial or manufacturing applications.
A more fully-automated industrial ecosystem that provides deeper, more profound insight into your holistic panel and switchgear production process.
With Rittal Automation Systems, a replicable pathway for speed, precision, and productivity is more accessible than ever before.
Talk to a Rittal Automation Systems specialist to learn how RAS can help you save both time and money!