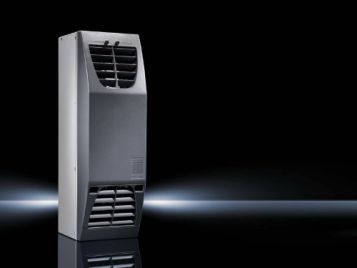 Climate control inside your electronics enclosures is key to the survivability of the electronics residing there. Temperature rise in enclosures can be caused by contact problems with live conductors or incorrect dimensioning of switchgear and conductors. Also, when operating a low-voltage switchgear assembly, short-circuit losses occur, leading to a temperature rise in the enclosure's internal air and, connected with this, inferior heat dissipation via the surface of the installed components and assemblies. This can lead to component damage.
Heating and cooling control depend on a few key components:
Enclosure heaters—to heat or stabilize an enclosure's internal temperature compared with the outside environment's ambient temperature, thus either avoiding condensation or achieving minimum temperatures for switchgear and controlgear. This is also critical for protecting pneumatic and control devices from frost.
Enclosure fan and-filter units—to dissipate heat from the enclosure and to distribute heat evenly, thus avoiding condensation. This setup is typical in situations where there are no aggressive media and no excessive dust in the ambient air.
Air/air heat exchangers—to dissipate heat from enclosures. Thanks to two separate air circuits, no ambient air is able to enter the enclosure and, therefore, this may be used in an environment contaminated with dust and aggressive media.
Air/water heat exchangers—to dissipate heat and to cool enclosures to below the ambient temperature in extreme environments (temperature/dirt).
Enclosure cooling units—to dissipate heat and to cool enclosures to below the ambient temperature. In this case the ambient air is separated from the enclosure's internal air.
Direct Cooling Package (DCP)—to effectively dissipate heat directly from the component. A water-cooled mounting plate dissipates the heat loss directly from the component, and is completely silent.
Recooling systems—to supply air/water heat exchangers, DCPs and machines/processes with cold water. These systems are distinguished by a high level of temperature precision.
Over-temperatures occurring in isolated locations where there is no natural air movement to dissipate heat, known as hot spots, are particularly critical. The cause of the over-temperature may lie in the fact that the operating equipment is too densely packed, the components and conductors are incorrectly dimensioned, or there is poor contact between individual live conductors. Another potential cause, particularly in power distributors with high currents, may lie in the formation of eddy currents in the assembly components and metallic surfaces adjacent to the conductor.
More information on Rittal Enclosures
Take a look at our climate control products for electronics enclosures. Our free guide provides thermal management solutions for both industrial and IT settings.