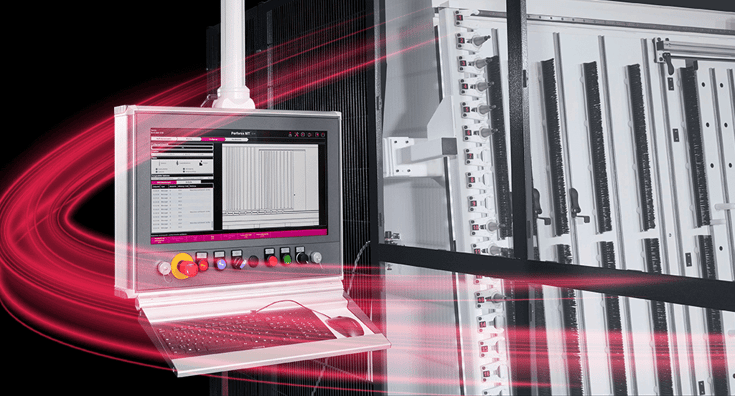 One of the biggest topics of conversation at the most recent International Manufacturing Technology Show (IMTS) was the challenges manufacturers face in executing enclosure and mounting panel modifications in the event of labor shortages and supply chain bottlenecks. For many, overcoming these challenges means localizing their supply chains and bringing automated enclosure and panel modification in-house to control process quality and reduce lead times.
However, bringing enclosure and panel modification under your roof also comes with some important considerations in terms of the infrastructure and technology required to leverage modification equipment to its fullest potential. One of these considerations is whether in-house modification equipment requires additional software for optimal use.
Rittal's Perforex MT automates panel modification tasks to increase the speed, precision, and visibility of each job without the need for additional software. But this important distinction is just the start of how the Perforex can help manufacturers begin their digital transformation in a way that optimizes their entire value chain.
With this in mind, let's look at a couple of reasons why manufacturers make the Perforex MT their panel modification machine of choice.
The Perforex MT is designed for superior precision
When manufacturers are looking to automate their panel modification tasks, one of the top concerns is whether such automation will help increase the precision and accuracy of jobs such as drilling, tapping, and milling. Another concern is whether an automated modification machine can execute precise threads, holes, and cutouts on a wide range of panel or enclosure surfaces.
Not only is the Perforex MT engineered to help manufacturers increase the precision of standard modifications, but it can also help manufacturers facilitate more complex drills, cuts, or holes with greater accuracy. The Perforex's high-precision rack and pinion drive system allows for repeatable modifications on all three axes at +/- .01 mm on a wide variety of materials, including painted stainless steel, stainless steel sheet, and aluminum, copper, and fiberglass.
What's more, the Perforex MT features a patented pressure plate system that stabilizes the panel during modification to reduce vibration without the need for added suction cups or magnets behind the workpiece. This stabilization can help manufacturers complete more advanced modifications with increased speed, accuracy and quality while also extending tool life.
With the Perforex MT, manufacturers can experience significant time savings in more than one arena
As with all of the products and solutions in the Rittal Automation Systems suite, the automated nature of the Perforex MT helps manufacturers reduce their lead times and increase their efficiency by up to 85%. As a result, the Perforex has demonstrated the ability to reduce the amount of time necessary to complete enclosure processing and modification by two-thirds.
But the Perforex also helps manufacturers unlock significant time savings outside of the modification process.
For example, the lead time with integrating the Perforex into your existing shop infrastructure is dramatically reduced due to the lack of required software necessary to integrate the Perforex into your shop floor workflow — in fact, manufacturers can typically bring their Perforex online in less than a week following delivery. And while the Perforex is easily compatible with the Eplan suite of CAE software, manufacturers can bring the Perforex online without integrating an Eplan platform.
When it comes to cleaning and maintenance schedules, the Perforex MT uses floor sealing around the entire machine to prevent metal shavings and dirt from accumulating in difficult-to-reach places. This not only reduces overall cleaning time, but it also helps to prevent the intrusion of harmful particles into modification sequences, which can result in unplanned maintenance and downtime.
The Perforex MT makes a more connected value chain a reality
Not every manufacturer is ready or equipped to make the transition to a completely digital production process, and while that may complicate the relationship manufacturers have with other automation partners, Rittal's Perforex MT makes it possible for you to experience the value of a more connected value chain regardless of where you are in your digital transformation journey.
For starters, the Perforex MT can be programmed by the universal CAD drawing format DXF. A simple DXF import creates a quick and easy interface to upload critical specs into your database, and this allows manufacturers to view, share, and edit modification data in real time. Additionally, RiPPC has a direct 2D layout capability without an external CAD system.
From a job efficiency and quality perspective, the Perforex's standard software interface features notifications and alerts in the event the system is not calibrated properly. For example, the interface includes an overcurrent protection alert to notify the operator if a foreign object is preventing the spindle from operating properly, which in turn can impact the precision of the machining.
What truly differentiates the Perforex MT from its imitators is the speed, precision, and visibility it provides into panel processing and enclosure modification tasks. With simplified, rapid integration that doesn't depend on additional software platforms, the Perforex MT empowers manufacturers to get the most out of their investment.
Finally, you may wonder what type of volume customers need to have in order to see value in this investment. Well, users of the Perforex MT are not only for shops who have high volume, serial production. In fact, customers with low quantity runs of highly variable and custom designs reap the most benefit from using the Perforex MT.
Learn more about how the Perforex MT can help you automate your panel modification processes and begin your journey toward a digital transformation.