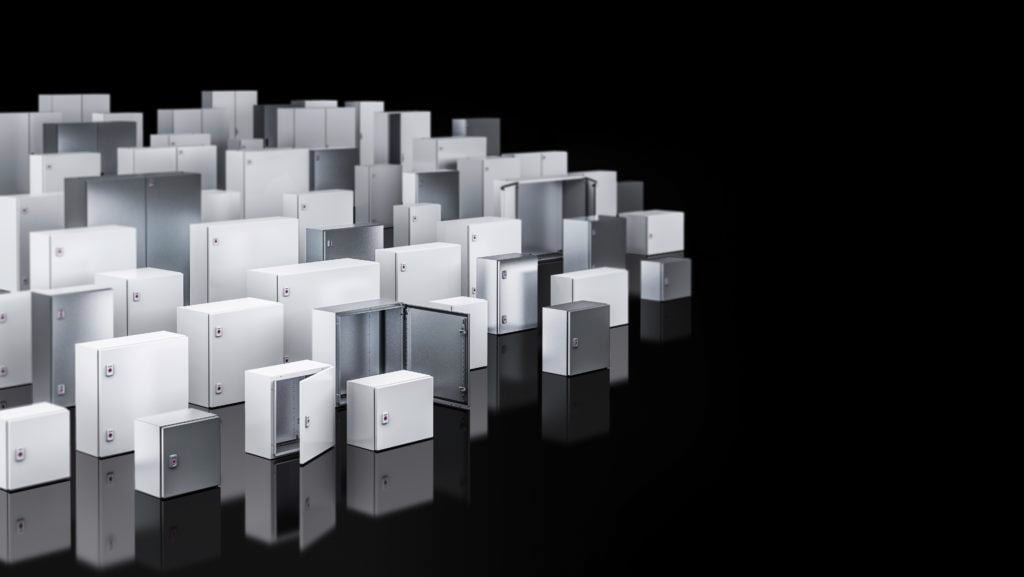 In today's industrial space, automation architects must respond to a variety of market pressures to design and engineer the ideal industrial panel and enclosure solutions — two of the bigger pressures being the ability to save time and money.
The variant-rich nature of the industrial space and the fact that manufacturing can take place virtually anywhere in any environment only complicates an engineer's task, and, as a result, engineers are finding an easier path in working with industrial automation partners that can provide durable, state-of-art enclosures, climate control, and power distribution systems in ways that reduce lead times and costs.
Rittal can help machine builders, panel builders, and systems integrators cut the complexity of sourcing the ideal automation solution for any application by offering standard products that can be seamlessly integrated into existing systems with an emphasis on optimized efficiency. With this in mind, let's look at a couple of key reasons why engineers are consulting with Rittal before they even begin their design process.
Removing the number of links in the supply chain
The recent disruptions in global supply chain logistics, labor shortages, and slowdowns in production have served to increase lead times and costs for manufacturers in sourcing the right industrial panels or enclosures. This means engineers need to spec panel automation systems that can actually be provided in a timely manner and in a way that helps manufacturers reduce the downtime associated with building, installing, and integrating new equipment.
Rittal's dedication to manufacturing industrial automation solutions here in the U.S. helps machine builders, panel builders, and systems integrators remove a number of links in their supply chain before the design and engineering phase even begins. With production and modification centers in Urbana, Ohio; Sparks, Nevada; and Houston, Texas, we can provide our innovative industrial automation products to manufacturers across the country quickly and in a cost-effective manner.
Our regional network of distribution centers helps us better serve customers by providing a robust inventory of products and solutions for fast order fulfillment and reduced delivery timelines. This further helps shrink a manufacturer's supply chain and provides greater peace of mind about the engineer's design that can be produced without prolonged disruptions in production programs.
Plus, our new RiPanel enclosure configuration tool helps designers visualize enclosure solutions in 3D and export the configuration data as CAD, assembly instructions, and more to further streamline the design process and simplify your supply chain logistics.
Standardized enclosure solutions for a variety of applications
The variety of manufacturing applications leads many engineers to believe they need custom industrial automation designs that are specific to each application. And while this level of customization certainly can have value in solving unique challenges in industries as disparate as food & beverage to automotive to material handling, engineers can actually design and spec standard automation solutions that are flexible enough to accommodate the needs of a wide range of industrial applications.
This is particularly relevant to industrial enclosures. The modular thinking and flexible nature of Rittal industrial enclosures is part of the reason why machine builders, panel builders, and systems integrators partner with Rittal on standardized enclosures that can solve specific challenges for a variety of manufacturers.
For example, the TS 8 modular enclosure is designed and engineered specifically with durability and toughness in mind for use in industry applications, such as automotive where faster, more efficient configurations, simplified installations, and interchangeable panels help create optimized efficiency by streamlining tedious, time-wasting manual processes. Coupled with IP 66 and NEMA 4 protection options, the TS 8 is a versatile industrial enclosure that can be deployed in a variety of environments for optimized efficiency and productivity.
This same level of standardized production and unparalleled flexibility also applies to our VX SE free-standing enclosure. The space-saving nature of the VX SE allows system integrators to scale based on demand or space constraints of the production room floor. The VX SE offers a wide range of dimensions with widths up to 1800 mm to replace up to three baying enclosures, and depths as shallow as 300 mm for confined production applications. With a unibody construction and IP 66 and NEMA 4/4X protection options, the VX SE is equipped to go wherever today's manufacturing industry takes you.
Emphasis on efficiency
It's no secret that optimizing efficiency is the name of the game for manufacturers regardless of their industry. It's also no secret that sustainable manufacturing is a top-tier concern for manufacturers as the global emphasis on green production programs continues to develop and advance. The good news for manufacturers is that there is a strong link between increased efficiency and sustainability, and the winning move for engineers is working with an automation partner that has the experience and solutions to help reduce energy consumption and costs without putting undue stress on production sequences.
Designed and engineered with Industry 4.0 and IIoT principles in mind, Rittal's line of industrial climate control units and accessories not only helps manufacturers reduce energy usage and costs, but our climate systems also provide more targeted cooling to help extend the service life of mission-critical panels and enclosures.
For instance, our Blue e+ cooling units use innovative cooling technology via a hybrid cooling process that increases airflow throughout the enclosure. A combination of active and passive cooling mechanisms provides precise, consistent cooling outputs that can reduce energy usage by up to 75%.
In addition, Rittal's line of Blue e + air conditioners provides high output and energy-efficient climate control with superior plug-and-play capability to reduce the need for customizations or accessories for seamless integration. This ease of installation and integration with existing automation frameworks helps manufacturers upgrade their climate control systems quickly to reduce downtime or disruption in production.
While our Blue e+ line of industrial cooling units is a powerful climate control solution for manufacturers to consider when analyzing the efficiency of their climate systems, our extensive climate control line offers solutions to fit a variety of facility needs. The air-to-air heat exchangers, air-to-water heat exchangers, chillers, and filter fan units also help facilities create consistent, reliable cooling for long-term production and energy savings.
Discover how easy online enclosure design can be with our new RiPanel configuration tool and configure your ideal enclosure.