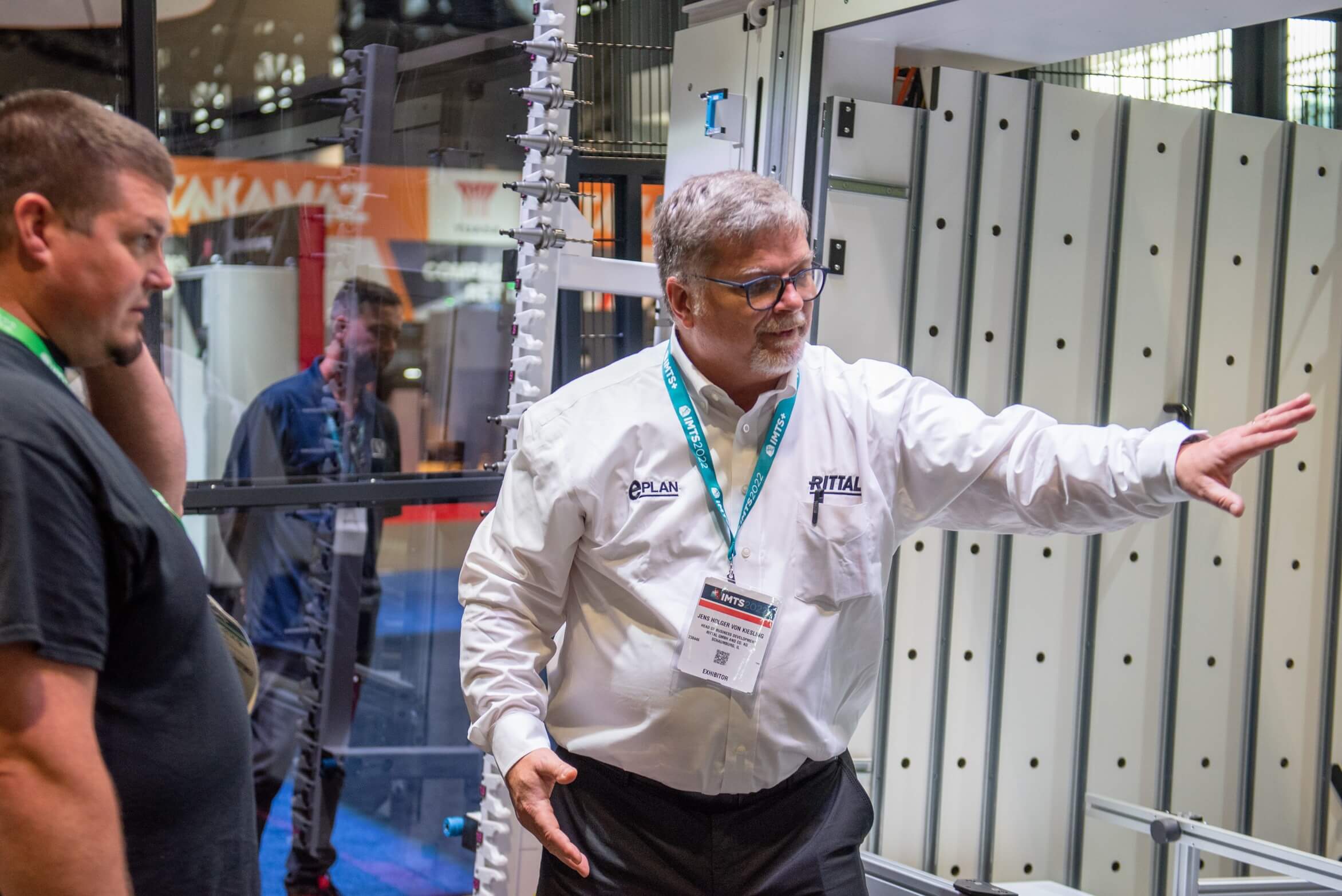 This year's International Manufacturing Technology Show (IMTS) took place last month in Chicago, Illinois, and after nearly two years of virtual meetings and conferences, it was a breath of fresh air to attend this year's IMTS in person and reconnect with so many of our colleagues, partners, and customers.
Throughout the six-day show, we had the privilege of participating in a variety of interesting and substantive conversations about where automation is today, future speculations, and the products and solutions manufacturers need to set themselves up for success going forward.
Let's look at six key takeaways from this year's IMTS that can help manufacturers make the most of their automation solutions in 2023 and beyond.
1). More and more manufacturers are bringing plan modification in-house
If the last couple years have taught manufacturers anything, it's that localizing their supply chain and vertical integration have emerged as top priorities for reducing lead times and controlling costs. And for many manufacturers, this starts with bringing panel modification and wiring under their own roof to help create a more connected value chain.
Rittal's Perforex MT 2201 Milling Terminal is the ideal solution to help manufacturers transition to automated enclosure modification and simplify the logistics of panel modification and wiring. As part of our Rittal Automation Systems suite of products, the Perforex MT helps manufacturers navigate labor shortages and costs by reducing manual interventions and increasing panel modification efficiency by up to 85%.
Plus, the combination of the Perforex and Eplan's CAE platform gives panel builders increased flexibility and end-to-end visibility into each stage of the panel modification process.
2). Proactive enclosure climate control remains critical for uptime and productivity
80% of equipment failures in manufacturing facilities stems from underperforming or failing enclosure cooling systems. Understanding the state of your climate control system is essential to creating a more proactive approach to climate control that uses Industry 4.0 and IIoT principles for more targeted cooling that reduces energy use and costs — Rittal's IoT modular can help you create a more proactive approach to climate control.
Our team of climate specialists can help you understand the viability of your existing climate control system with a climate control efficiency analysis. Plus, our climate inventory analysis provides a behind-the-scenes look at what our climate experts look for when conducting an efficiency analysis to help you better understand the process from start to finish.
3). Powerful cooling with a small footprint is a hot topic
It is increasingly important to find targeted, efficient cooling solutions that can adapt to the move to smaller or retrofitted production facilities by manufacturers. Rittal's new Blue e+ S cooling unit is designed specifically to help manufacturers pivot to smaller automation footprints without compromising cooling performance.
In addition, the Blue e+ S helps minimize carbon emissions while at the same time reducing energy consumption by up to 75% to help take smaller, smarter, and sustainable cooling to the next level.
4). Preventing arc flash begins with the right industrial enclosure
The best way to help prevent arc flash incidents remains a lively conversation for manufacturers. While the best way to help prevent these events is controlling access to an enclosure when it's electrified, specifying an industrial enclosure that's designed to mitigate the risk of arc flash from the start can also help manufacturers avoid this hazard.
Rittal's Power Isolation Enclosure Selector Tool helps engineers design their ideal industrial enclosure to separate low and high voltage equipment in just three easy steps. This online tool allows you to design the right power isolation solution for your specific needs and provides all required parts such as plinths, interconnect rods, partition wall and door handles for a complete power isolation enclosure solution.
5). Automated wiring process is not just valuable — it's essential
Panel wiring can account for over 60% of the time it takes to process and assemble industrial enclosures. Variables such as labor shortages, supply chain disruptions, and high degrees of customization can further complicate this process.
However, with Rittal's Wire Station WS 540, panel shops and systems integrators can significantly reduce the time and resources it takes to execute panel wiring tasks, and they can also significantly reduce the likelihood of errors associated with manual wire processing — and EPLAN's Smart Wiring gives clear guidance during wiring with the ability to view schematics in real-time. Plus, the WS 540's ergonomic design makes wiring tasks less physically demanding to help you stay in the game longer. For even higher efficiency gains, see how the RAS Wire Terminal machine optimizes the panel wiring process even further.
6). Human Machine Interface (HMI) durability is still a common challenge
The combination of industrial automation equipment and human intervention that breeds efficient, reliable production is still something that eludes too many manufacturers. The durability of Human Machine Interface (HMI) components such as sagging pendant arms is a specific challenge manufacturers must overcome in order to help optimize production uptime, navigate labor shortages, and control costs.
Rittal's HMI pendant arms are designed for superior durability and efficiency regardless of the industry application. In addition, our entire HMI suite of products helps manufacturers work faster, safer, and more efficiently.
Did we miss you at this year's IMTS? Learn more about how Rittal can help you simplify your automation and processes to help get the job.