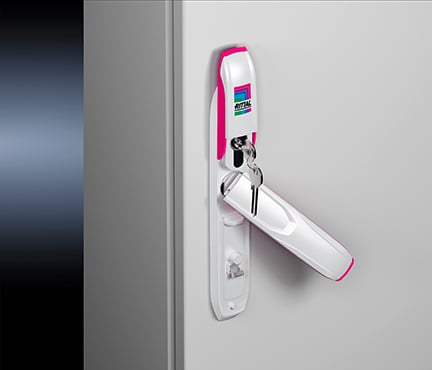 In their effort to keep your electronics and critical process equipment safe, wallmount enclosures face numerous challenges. From extreme weather conditions and temperature fluctuations, to caustic washdowns and hazardous airborne particulates, an enclosure must be built to withstand the operating conditions of the specific environment that it's put in.
But your wallmount isn't alone. There are a number of wallmount accessories that you can add to the design of your enclosure to help optimize its effectiveness. To improve upon the efficiency and performance of your enclosure, Rittal offers the following wallmount accessories:
1. Enclosure Mounting Components
Installing the enclosure in the field sometimes provides challenges. Having the correct mounting option is important.
Wall-mounting bracket kits and standoffs are used when enclosure is mounted to a wall or a platform. Rittal offers different versions of wall mounting options depended on the total enclosure weight.
Pole-mount kit is available for applications where enclosure is required to be installed to a pole.
Floor stand kits, leveling feet or plinths are offered in situations when a large wallmount enclosure is going to be used as floor standing.
2. Viewing Windows
Frame window kits or deep hinged window kits can be used as viewing window where access to components mounted behind the window is required, without compromising the structural integrity of the enclosure design. Both options come with polycarbonate window that offers advanced UV blocking technology that promotes outdoor weathering performance and resistance to color shift.
3. Swing Panels Kits
When you need easy access to reading gauges, meters, switches, pilot lights, push buttons and other sensitive components that need to be mounted directly behind the enclosure door, there is no better solution than Rittal's WM swing panel. The swing panel also provides a barrier against incidental contact with live components during routine maintenance.
4. Drip Shield Kits / Rain Canopies
Suited for outdoor applications, drip shield kits and rain canopies provide a means of protection of the door against rain and falling liquid contaminants. They are easy to install and do not jeopardize the ingress protection rating of the enclosure.
5. Lock Systems Additions
Rittal offers variety of lock inserts, handle options and padlock accessories for improved security and protection against unauthorized access. Customers can choose their preferred enclosure access mode – using a key, standard or special tool, or simple padlock, depending on the application.
6. Print pockets
When wiring diagrams or manuals have to be stored inside the enclosure, Rittal's print pockets are the perfect solution for it. Self-adhesive or screw fasten options are available.
7. Door stops
Door stops are commonly used in applications when the enclosure door needs to be able to be secured in the open position. Depending on the size or type of wallmount enclosure, Rittal offers couple of different versions of doors stops for both top or bottom installation.