Great for Small, and Cool for All
Your data center can build up heat quickly from your computer hardware. This can be dangerous for your computer and your data! If the "comfort temperature" isn't maintained, shortened service life or even total system failure is a real threat.
The IT Climate Control specialists at Rittal designed the Liquid Cooling Package Direct Expansion (LCP DX) just for small- and medium-sized data centers. If you have devices cooled by room air conditioning, a ceiling plate or 19" mounted rack fan, the LCP DX solution is efficient, economical and easy to install. All the thermal energy is released at the external condenser, keeping the data center ambient air cool.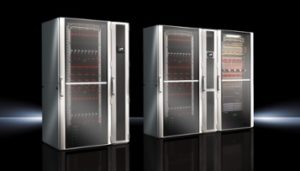 A common misperception is that air/water heat exchangers and cold water cooling solutions are too costly for most small and medium IT centers. But longer equipment service life, greater energy savings and increased space efficiency easily offset initial resource commitments.
Simple Installation
The LCP DX is laterally mounted with the cold air being directed either to the right or to the left in a 19″ rack. It consists of an integrated, speed controlled compressor, EC fan technology, an electronic expansion valve and other refrigeration components, such as the external condenser. No active control components are required to operate the external condenser: the speed of the fan is determined only by the pressure of the refrigerant.
LCP DX may be installed using existing pipelines, for example, from an existing climate control system, to be used for the condenser. All the elements of the controls are integrated in the LCP chassis; the condenser itself only has a 230 V power supply for the two built-in fans. No additional wiring is needed.
With its compact and largely pre-assembled design, any certified refrigeration specialist can set up and operate LCP DX systems quickly. The control unit display is easy to read, and parameters can be set and read with the touch of a button. Any maintenance is a snap, with the separation of this cooling system from the racks. By request, or as your cooling needs grow, the LCP DX is expandable, and can be integrated in Rittal's RiZone management system to monitor operating parameters and control the system.
See how Rittal is engineered better. Download our Change for the Better Fact Book to see how Rittal products are better than the competition!