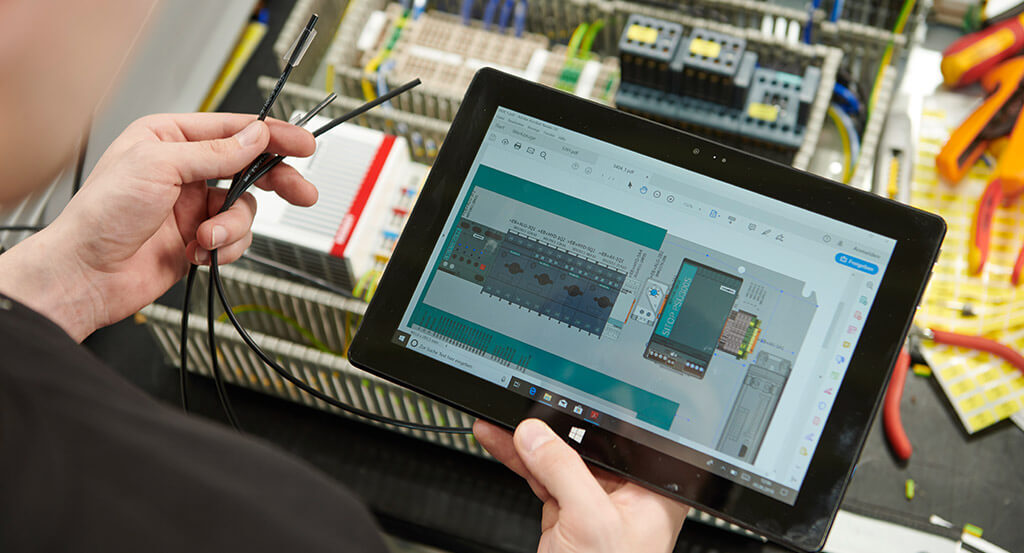 "The machines do almost everything themselves."
That's what Oliver Curty, employee of Elpex AG, says about the work processes in his company. Since 2016, the Swiss control and switchgear manufacturer has relied on automation in production. Automation is worth its weight in gold, especially in switchgear construction: almost half of the production time was previously spent on wiring.
Wiring a typical control cabinet takes up to 54 hours. A very time-consuming process for Elpex, which supplies its products to the food, automotive, and construction industries, but also to machine builders and automation companies. One way of making this step more efficient is the Wire Terminal WT 36 fully automatic wire processing machine, which Elpex has recently been using. With Rittal and EPLAN products, the company manages to optimize all processes along the value chain.
In addition to the Wire Terminal WT 36, the panel builder uses the EPLAN Electric P8 software in conjunction with EPLAN Pro Panel Professional. The Secarex AC 15 cutting center and the Perforex BC 1001 HS milling center from Rittal Automation Systems are also used.
"It's a completely different feeling that everything is now automated with the Wire Terminal WT36." Oliver Hirsiger, Mitarbeiter von Elpex
The Wire Terminal automates the wiring. This enables large increases in efficiency in the process. Wire processing is eight times faster with the machine than with the conventional method. The designation WT36 stands for the number of wires that can be produced with the wire assembly. This makes it possible to automatically produce 36 different wires with cross-sections from 0.5 mm² to 6 mm² and to print them in different colors, black and white, without retooling. The Wire Terminal completes several work steps in one device: cutting to length, stripping, and crimping are carried out without an employee having to intervene.
While these steps previously had to be carried out manually, the employees at Elpex are now greatly relieved and can turn to other tasks. The machine is used to assemble the wires for 400 control cabinets per year. With manual wiring, this means that 21,600 hours are required for each 54 working hours per control cabinet. With the Wire Terminal, work can be completed eight times faster – in just 2,700 hours.
Without data, however, it would not be possible to use the wire assembly so efficiently. Elpex has already laid the foundation for this with the EPLAN Electric P8 and the Pro Panel. This is used to carry out electrical planning and construction planning so that the required data - including wire lengths, cross-sections, and colors or wire end treatment - can then be seamlessly transferred to the Wire Terminal.
"We used to have to either do everything by hand or outsource it. Now, thanks to the three machines, we can do everything ourselves and follow every step," says Oliver Hirsiger.
Process acceleration through efficiency
At Elpex, automation ensures that a lot of working time is saved. By networking with the EPLAN products, the employees always keep an eye on the entire process and can be sure of receiving standardized wires for further processing thanks to the high quality of the wire terminal. This not only reduces production time, but also simplifies the work process and ensures higher quality.
The Perforex MT is the current model, an updated version of the Perforex BC which has been phased out. Using Rittal Automation System's Perforex MT 2201 helps integrators and original equipment manufacturers (OEMs) increase efficiency up to 85% compared to manual enclosure modification while reducing labor demands and turnaround time with the needed repeatable accuracy and reliability. Customer feedback drove the many ergonomic enhancements to the Perforex MT 2201 model to upgrade the operator's experience as well as the functionality of the machine, including:
Floor sealing around machine for easy cleaning
Improved vacuum hose design and added chip-breaking cycle to reduce clogging and downtime
Ergonomic pendant arm option and pneumatic clamp actuation
Improved plexiglass safety barrier
Optical automatic tool and broken bit measurement
Larger 24" HMI display size
The Secarex AC 18 is the newest model featuring fast, accurate, and ergonomic cutting of cable ducts, cable duct covers, and support rails.


Together, Rittal and EPLAN can simplify your business, watch the video to learn how.