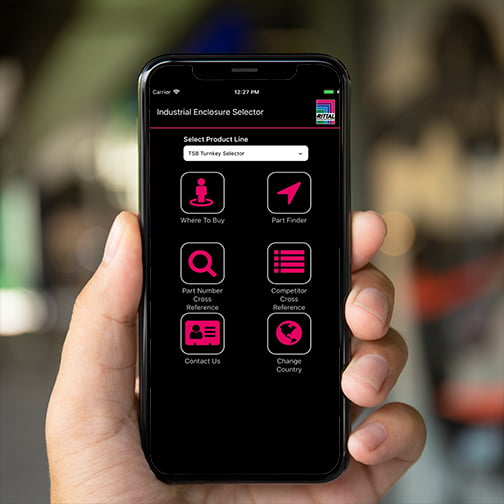 Finding the right enclosure for your specific application can be a long and arduous process. From material selection and enclosure dimensions, to NEMA ratings and added accessories, there's a lot that goes into specifying an enclosure. Depending on your application, you could be facing any number of the following:
Fluid/particulate intrusion

Harsh weather conditions

Extreme temperature fluctuations

Caustic washdowns
And that's just for starters. More niche applications or those under the tight standards of regulatory agencies will face additional obstacles. Fail to properly prepare for any of these challenges and you could be risking the life of your enclosure… and the valuable components inside.
Needle in a Haystack
Unfortunately, finding the right enclosure is often difficult for engineers to do as they design their equipment and processes. Rather than sifting through countless webpages or stacks of datasheets, it's easier to just pick an enclosure that's "good enough" and move on.
But the easy way would always cost you in the long run… until now, that is.
A Better Way
Here at Rittal, we know how important it is to get the right enclosure. To simplify the selection process, we wanted to create a way to put the power of specifying an enclosure back in the hands of design engineers. Literally.
That's why our experts designed the Rittal Industrial Enclosures Selector mobile application. This easy-to-use tool will help you find your next wallmount or freestanding enclosure no matter what your needs are. The app's versatility has caused it to quickly become an important tool for new and experienced engineers alike to help educate themselves on enclosure selection.
With the Rittal Industrial Enclosures Selector's part finder, you can rest assured that you're making the right choice. To find what you need, you can streamline your search by sorting enclosures by their defining characteristics, such as:
Category (junction box or wallmount)

Height

Width

Depth
In addition to determining Rittal part numbers via the finder, you can also use the app's competitor cross reference feature to quickly and efficiently compare enclosures based on what you're looking for. This intuitive tool lets you see a side-by-side comparison of Rittal's enclosures with what our competitors have to offer. That way, you can make your decisions based on hard facts rather than marketing jargon.
Need an enclosure quick or want to work with a supplier that's close to home? The app also offers a handy mapping feature that allows you to quickly find the closest Rittal distributor near you.
With the Rittal Industrial Enclosures Selector, choosing the right enclosure is a simple as ordering takeout. So take the power back into your own hands and get designing today.
Click below to download the app, available on both iOS and Android devices.