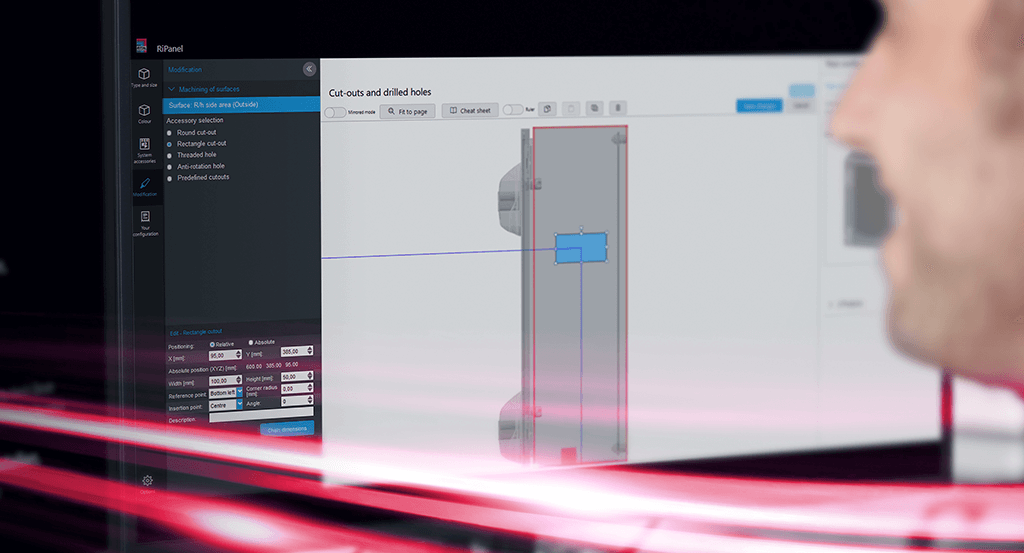 Today's machine and control system design engineers are being asked to do more with less, and this task begins with finding faster, more precise, and more efficient platforms to design and customize industrial enclosures. Engineers need enclosure configuration solutions that help digitalize each stage of the design process for optimized transparency and visibility due to the variant-rich nature of modern manufacturing.
The challenge is that many of the enclosure configuration platforms on the market lack end-to-end digitalization for a more connected value chain or they can't support the necessary user-friendly interface to truly streamline the enclosure design process.
However, Rittal's new RiPanel Online Panel Configurator makes it easy for machine and control system design engineers to individually configure industrial enclosures through integrated interfaces and ultimate connectivity.
In this blog, we'll provide a brief overview on how you can configure your ideal enclosure in just four simple steps by using the new RiPanel Online Panel Configurator.
How does the new RiPanel Online Panel Configurator work?
Configuring your ideal enclosure and populating it with necessary accessories is simple with the RiPanel solution. By answering a few simple questions about your industrial panel and enclosure needs — your ideal enclosure system, accessories, and customization needs — the online configurator will provide a 3D visualization of your enclosure complete with pre-defined drilling patterns and a direct connection to EPLAN's Pro Panel for a unified design and production process.
In addition, RiPanel also allows engineers to import and place individual cut-outs on the enclosure to help ensure custom requirements are implemented without costly errors. Plus, RiPanel also generates CAD data with complete breakdowns of all machining tasks to help ensure superior quality control or assurance checks to reduce the likelihood of errors and downstream complications in enclosure manufacturing or customization.
What are the four steps in RiPanel online configuration?
With just a few simple clicks, machine and control system engineers can configure their ideal enclosure for a variety of industrial applications in an end-to-end digitalized environment — and right from any desktop or mobile device. Here's how the process works in four easy steps:
1). Select the right enclosure system for your production needs. Whether your manufacturing needs require a standalone or bayed enclosure of varying dimensions, the RiPanel configurator works with a variety of Rittal industrial enclosures including the TS 8, VX SE, AX/KX, and wall mount models.
2). Specify the accessories for your enclosure solution. Pairing industrial enclosures with accessories that easily integrate with control cabinets can be a tricky and error-prone process. However, the RiPanel configurator offers verification checks, visual presentations, and 3D modeling to help ensure the accessories you need will easily integrate with your selected enclosure.
3). Add machining options for easy, accurate customization. With the same degree of clarity, visibility, and precision as spec'ing accessories, the RiPanel Online Panel Configurator provides detailed views of a variety of machining options including pre-defined holes, threaded holes, and round or rectangle cut-outs.
4). Generate design and data sets including complete data packages with BOM in CSV file-formant, product lists, CAD data with full configuration review, assembly instruction, and machining data including EPLAN Pro Panel files.
What are the benefits of using the RiPanel Online Panel Configuator?
Machine and control system engineers need to reduce the time it takes to configure enclosures, decrease the likelihood of design errors, and reduce the overall costs associated with the design process. The RiPanel configurator checks each of these boxes and helps to create a more efficient, streamlined, digital panel configuration process. With RiPanel, designers and engineers will experience:
Significant time savings due to a simple configuration process
No more errors when selecting accessories or machining options
Ability to export the configuration's technical data as CAD and assembly instructions
Faster processes through integrated interfaces to EPLAN and Rittal software
With the RiPanel Online Panel Configurator, designers and engineers have a powerful tool to increase the speed, accuracy, and quality of their enclosure configurations while saving time and money. Try the RiPanel Online Panel Configurator and experience the benefits for yourself.