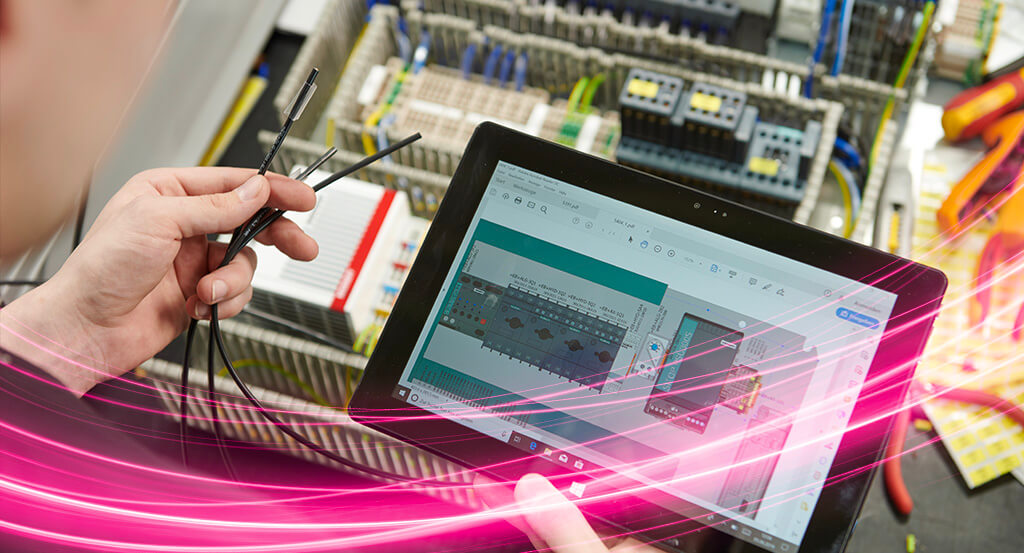 For any wiring project, it's essential for stranded cables to fit into screw terminals or spring connectors. Using ferrules, metal tubes that surround metal coils that can be compressed by crimping to hold wire strands together, makes it easier and faster to insert a wire into a terminal block.
A ferrule will help ensure the stranded wire does not break and will keep the wire strand together so that a "stray" wire does not come in contact with the adjoining terminal. Additionally, ferrules come in a variety colors that will help identify each wire's purpose and size. A loose or broken wire could put a long — and potentially costly — halt on production. Through the use of automated cutting, stripping, and crimping machines, you can reduce margin or error and save time in the process.
The cost, time, and potential for human error with manual labor doing the cutting and stripping of wires and more are driving factors to consider streamlining this process with automation. For example, typically it will take 10 seconds to manually strip and crimp a single wire; using an automated strip/crimp machine it will take 1.5 seconds, which leads to a savings of 7.5 seconds per wire.
Rittal Automation Systems feature a line of machines to help with complex wiring applications. Rittal wire processing machines automatically cut, strip, and install ferrules. In addition, a variety of cross-section wire sizes can be used with complete control over length, strip length, and size of ferrules. Here are some examples of the machines in the Rittal Automation Systems line that can help you save time and lower expenses by automating manual tasks.
Wire Cutting Machine C8+
The Wire Cutting Machine C8+ makes work processes more efficient by cutting stranded wires up to 10 mm² diameter and single wire up to 10 mm² diameter. Cutting length and number of wire length can be easily programmed. Cutting orders can also be managed, documented and transmitted to the wire cutting machine C8+ from a PC or CAE data interface (EPLAN Pro Panel) via USB.
Wire Stripping Machine S22
The Wire Stripping Machine S22 easily strips by setting a wire into the machine. It can be used to draw-off and strip to adjustable lengths from 3 to 20 mm and up to 6 mm2 diameters with linear control. The Stripping Machine S22 also features a pre-integrated spare blade inside the enclosure for easy replacements. A running total counter and daily counter are both featured on the easy-to-read touch display.
Wire Crimping Machine L8
The Rittal Crimping Machine L8 provides an electro-pneumatically driven wire stripping and crimping center that can process loose, insulated wire end ferrules. It can quickly and easily crimp and insulate wire end ferrules with diameters up to 2.5 mm2.
Stripping and Crimping Machine RC
The electro-pneumatically driven wire-stripping and crimping machine RC is suitable for processing wire end ferrules up to 10 mm lengths and provides UL Certified crimping in conjunction with wire end ferrules. The 5-way holder eliminates the need to switch between wire end ferrules for different cross-sections.
Crimping Machine R8 E
The R8 E crimping machine processes insulated wire end ferrules and standard PVC cables in cross-sections ranging from 0.5 to 2.5 mm2 with a crimping length of 8 mm and provides UL Certified crimping in conjunction with wire end ferrules. For flexible use in the workshop, all that is needed is a power connection.
Using automated processes to streamline wire processing tasks can help you increase efficiency, reduce expenses, and close the margin of error within your plant. Our mod centers are equipped with the efficiency of Rittal Automation Systems equipment. Take a tour of our Houston Mod Center to learn more.