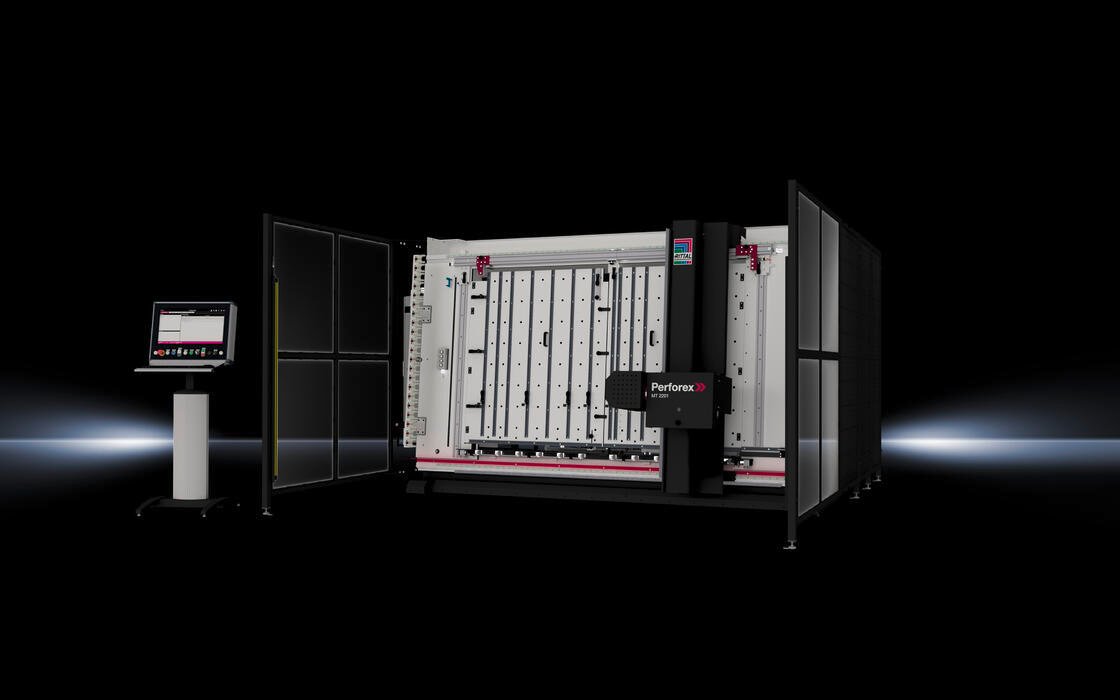 Elpex AG from Kirchberg in the canton of Bern in Switzerland has impressively demonstrated in its projects how efficiency in control and switchgear construction can be significantly increased with engineering software and automated machines.
With 40 employees, the company plans, builds, and supports complex switchgear for the food, automotive, and construction industries as well as for machine builders or automation specialists. Many systems equipped with Elpex controls are used worldwide. As part of the move to new production halls in Kirchberg, efforts were placed on modernizing production. First, engineering was brought up to date with the EPLAN solutions suite. EPLAN Electric P8 is now used for electrical planning and EPLAN Pro Panel for structural planning. This allows planners to implement the software-based design and construction of control cabinets, switchgear, and flexible power distribution systems in 3D.
"We are very satisfied with the Perforex. The employees believe the machine is very pleasant to work with and they no longer need to drill the enclosure panels manually." - Sandro Müller, Projektleiter, ELPEX AG
Workshop automation
The modernization at Elpex affects not only the engineering, but also the control cabinet production. The challenges in control and switchgear construction are quickly formulated: increase efficiency and innovation while reducing costs. This is mainly achieved by optimizing the various production processes. Until now, the control and switchgear manufacturer had hardly automated the processes in the workshop — drills and jigsaws were standard when processing flat parts, for example.
Work processes accelerated
Elpex has expanded its production with a Perforex machining center and a Secarex AC 15 cutting center from Rittal Automation Systems. Beforehand, the employees measured and cut cable ducts and rails by hand, a very time-consuming work process. That has changed with the Secarex cutting center. It is easy to use and cuts wiring ducts, cable duct covers, and mounting rails quickly, precisely, and safely to length. There is an integrated label printer for project-related labeling of the mounting rails and cable ducts. Overall, the cutting center contributes to improved quality, reduced waste rate, lower costs, and an accelerated overall process.
Elpex was able to increase this even further by purchasing a Perforex BC 1001 HS. With the processing center, all mechanical processing steps in the assembly of control cabinets, such as drilling, thread cutting, and milling of cutouts, can be carried out in one operation, thus speeding up the work.
Flat parts measuring up to 2,450 mm X 1,600 mm (8 ft X 5.25 ft) and cubic parts up to 1,600 mm X 1,400 mm X 1,600 mm (5.25 ft X 4.5 ft X 5.25 ft) can be clamped and processed in the Perforex. All materials commonly used in control construction such as steel, stainless steel, aluminum, copper, and plastic can be processed. The CNC machine is programmed with data that comes directly from the 3D planning with Pro Panel.
With this optimized interaction of engineering and automatic cabinet processing, Elpex achieves a process acceleration of up to 50%. Quality also increases - the control cabinets look better than if they were drilled and cut by hand.
Timely Completion and Customer Satisfaction
Thanks to the Perforex and the Secarex, the production of the control and switchgear manufacturer reduces the labor necessary to complete projects on time to meet customer expectations. The modernization of planning and production also opens up new fields of activity for Elpex. With the optimized equipment in engineering and in the workshop, the company can keep up with the competition, contributing to additional customer gains.
The Perforex MT is the current model, an updated version of the Perforex BC which has been phased out. Using Rittal Automation System's Perforex MT 2201 helps integrators and original equipment manufacturers (OEMs) increase efficiency up to 85% compared to manual enclosure modification while reducing labor demands and turnaround time with the needed repeatable accuracy and reliability. Customer feedback drove many of the ergonomic enhancements to the Perforex MT 2201 model, including:
Floor sealing around machine for easy cleaning
Improved vacuum hose design and added chip-breaking cycle to reduce clogging and downtime
Ergonomic pendant arm option and pneumatic clamp actuation
Improved plexiglass safety barrier
Optical automatic tool and broken bit measurement
Larger 24" HMI display size
The Secarex AC 18 is the newest model featuring fast, accurate, and ergonomic cutting of cable ducts, cable duct covers, and support rails.
Together, Rittal and EPLAN can simplify your business. Watch the video to learn how.